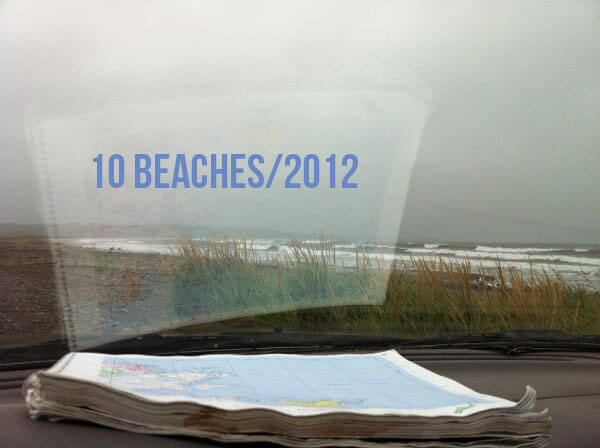 The ninth beach! Almost there!
And here is the story of how we found it.
My dear friend Mary Beth was visiting on her way home to Newfoundland.
She and I were able to spend a rainy Thursday together, as I didn't have classes and her flight wasn't until 4 pm.
First thing she wanted was waffles. So I asked my Facebook – "Where is a good place to get waffles in Sydney?" "Red Diner," someone responded. (I believe it was Alicia Penney, actually.)
So we went.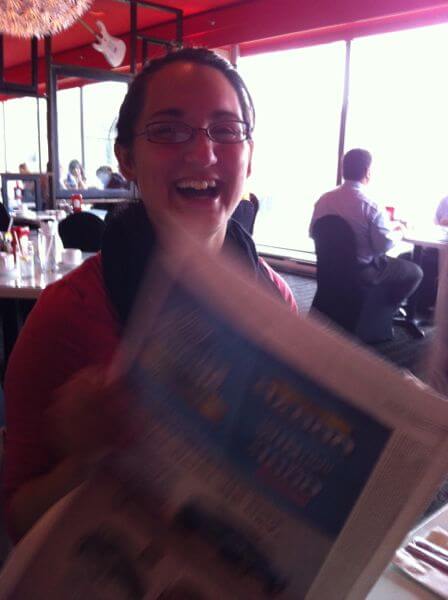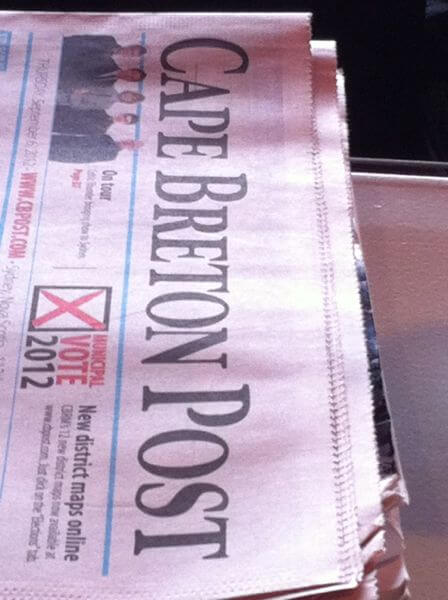 And read the paper, and ate delicious waffles. Then I put it to Mary Beth to choose the beach. We had several hours and could access a number of the beaches in the CBRM.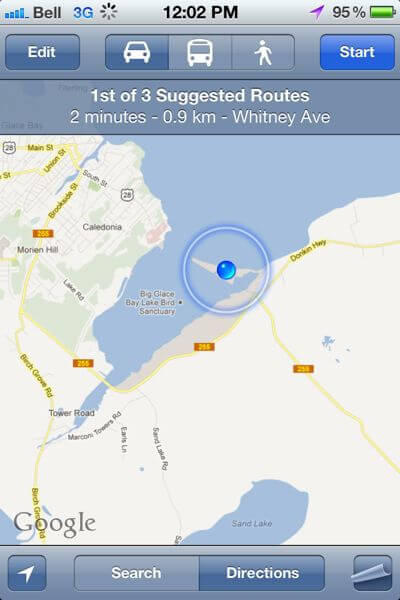 She chose Glace Bay. There was a bird sanctuary! Despite the rain, we went.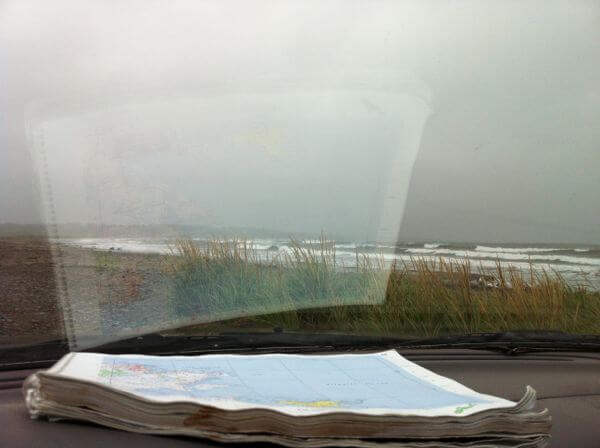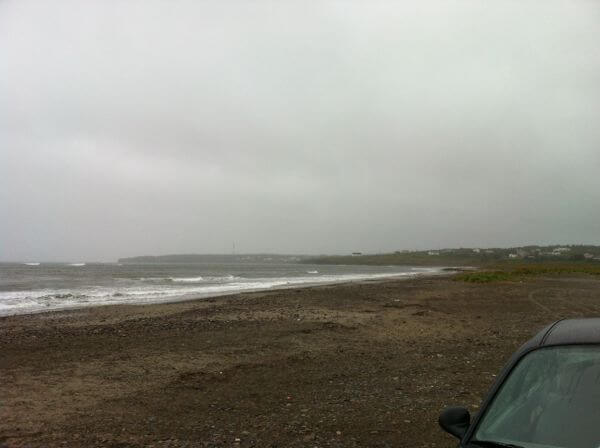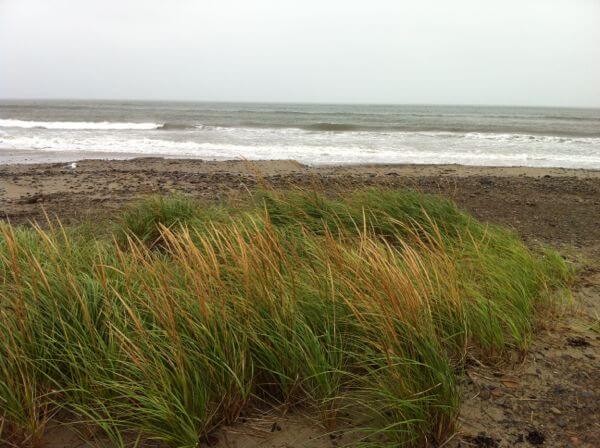 With the help of Google Maps, we found it. (That's the Nova Scotia Atlas on the dashboard in one of the photos up there.)
Despite the wind and the rain, we got out of the car and walked a little ways. (We're intrepid like that.)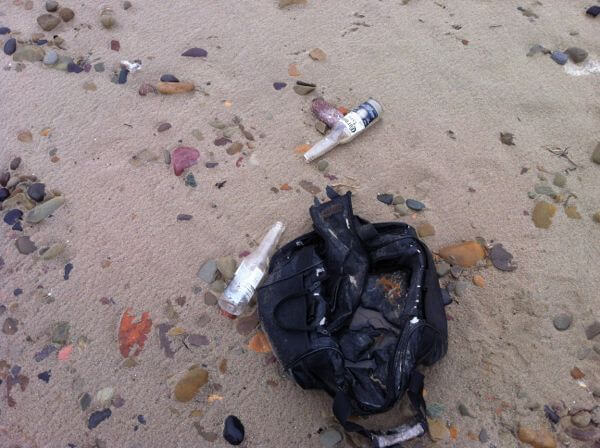 The first thing we found was this bag with beer bottles. Leftover from a sad drunk wandering the shores?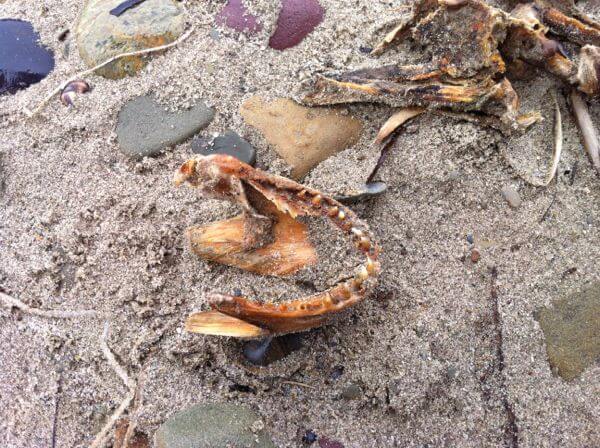 Then I spotted these teeth. "What are these?" I wondered. We poked at them. "I think maybe it's a fish," said Mary Beth.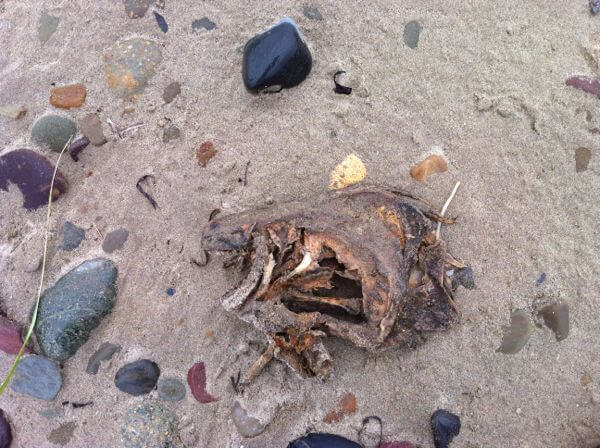 Then we came upon another one. "Man, these are gruesome!" I said. They reminded me of the movie Alien.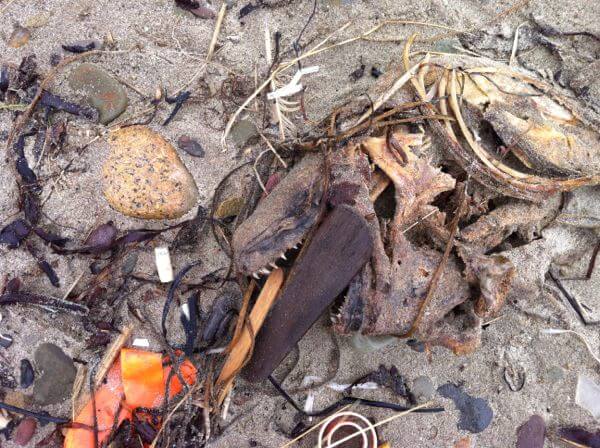 Then we realized they were all over the beach. Some were whole carcasses, others just heads or spines. Does the fish plant just dump the carcasses back in the water? I'm curious to know. I imagine one of you knows? Anyway, they made the beach feel super creepy!!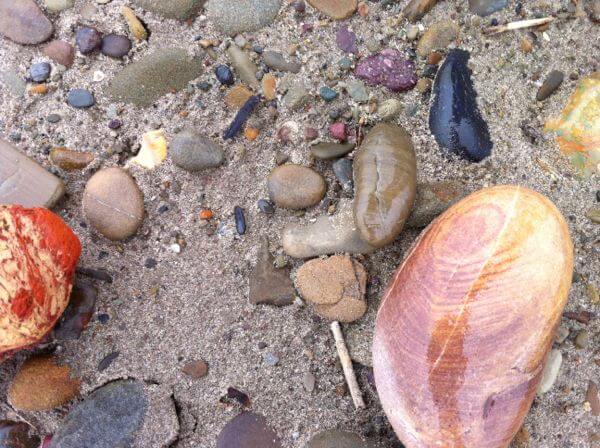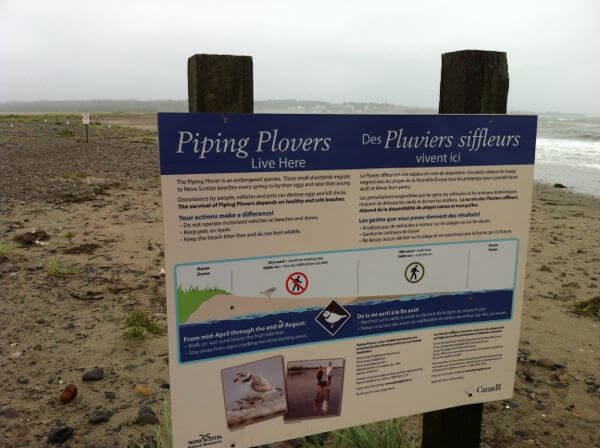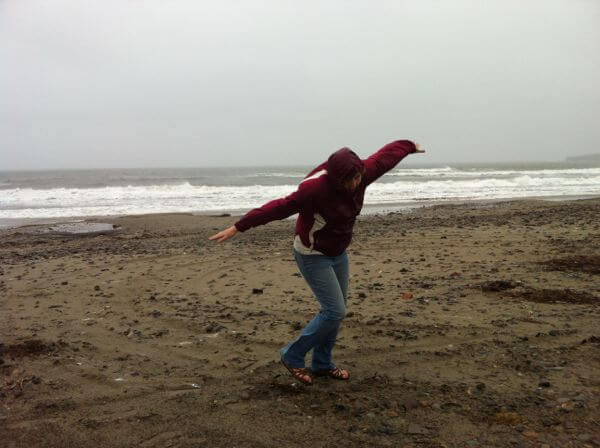 After a bit of goofing around we were soaking wet and a little freaked out by all the dead fish. So we got back in the car. We still had a couple of hours to kill, and I'd never been to the Marconi Historic Site.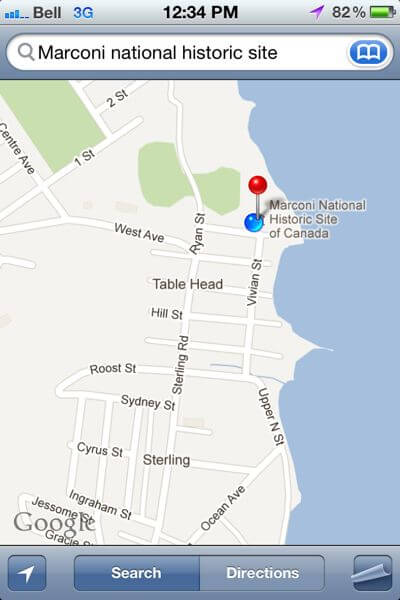 So we set off for that. A bit of construction seemed to thwart us at first, but we got around it and eventually found the Tablehead area, where the site is.
Before stepping through the doors, this is what I knew about Marconi: He was Italian. His first name was Guglielmo, but lord knows how to pronounce that. And, he set up some sort of wireless signal from here to England. He had something to do with Graham Bell. And for whatever reason, the campus of NSCC that I go to is named after him.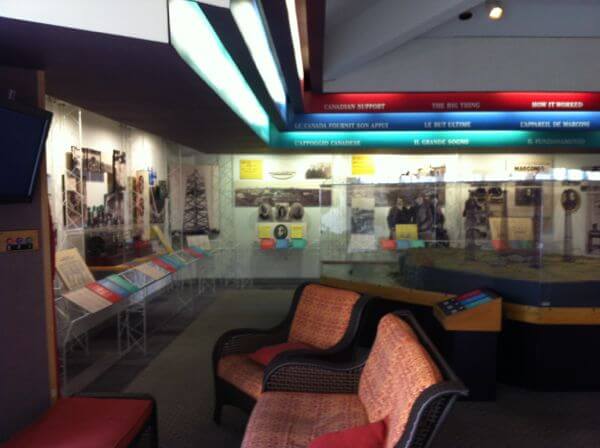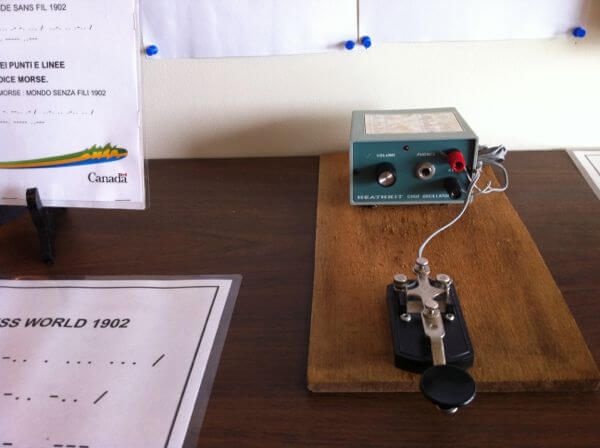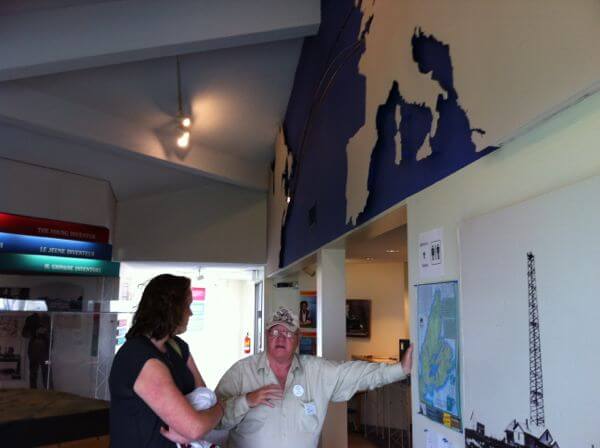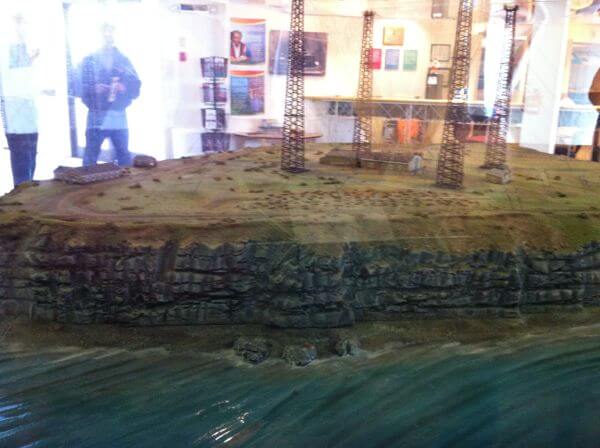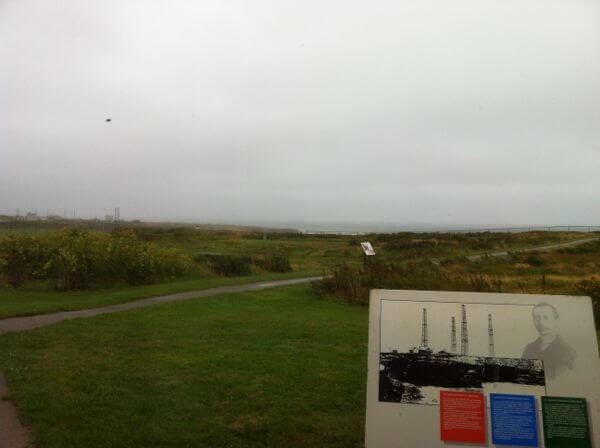 But after visiting this National Historic Site, I learned all kinds of stuff about him, including how to pronounce his name. Most importantly (at least to the existence of the national historic site) is that he sent the first wireless radio message from North America to Europe, in 1902.
This photo above is the site where Marconi set up his towers and the site where he sent the signals from.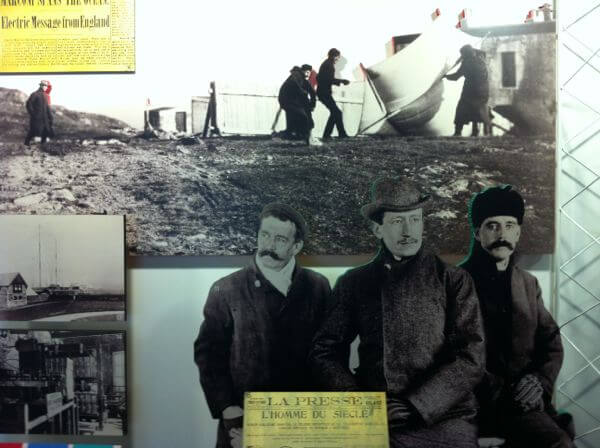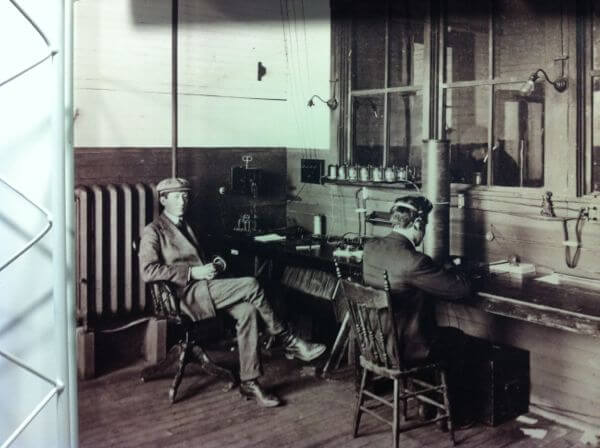 Chillin like a wireless-telegram-inventing-villain.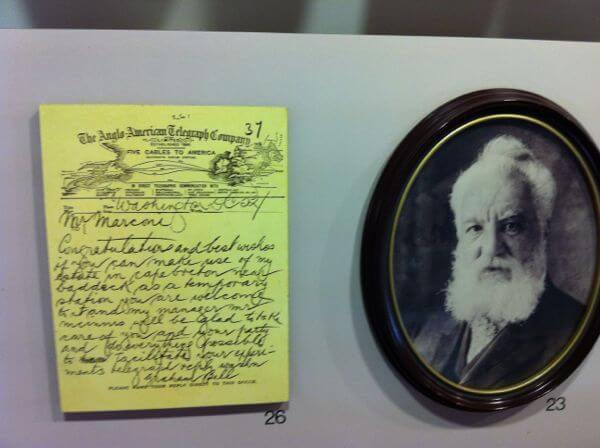 This is a copy of a letter from Graham Bell to Marconi that reads: "Mr Marconi – Congratulations and best wishes. If you can make use of my estate in Cape Breton near Baddeck as a temporary station you are welcome to it and my manager Mr. MacInnis will be glad to take care of you and your party and do everything possible to facilitate your experiments. Telegraph reply [illegible]. Graham Bell."
Aww, that Graham Bell, what a guy! (I grew up in Baddeck, so I have a special affection for ol' Alec.)
We encountered a lovely fellow who volunteers there, named Jim. He wore this button. We chatted about pies, and relaxing, and morse code, and what a true gentleman acts like.
So overall, Glace Bay was nice. The beach was kinda creepy, but I'd give it another chance, perhaps on a sunny day. The National Historic Site was lovely! Very informative.
To get there: Take a look at the Google Maps images in this post, which should show you where the places are.
Curious about my 10 Beaches/2012 project? Basically, this summer, I'm challenging myself to make it to ten separate beaches on Cape Breton Island. So far: Initial post, Point Aconi, Chimney Corner & Inverness, Gabarus & Fourchu, Kennington Cove, Florence, Dominion, Point Michaud, and now Glace Bay.