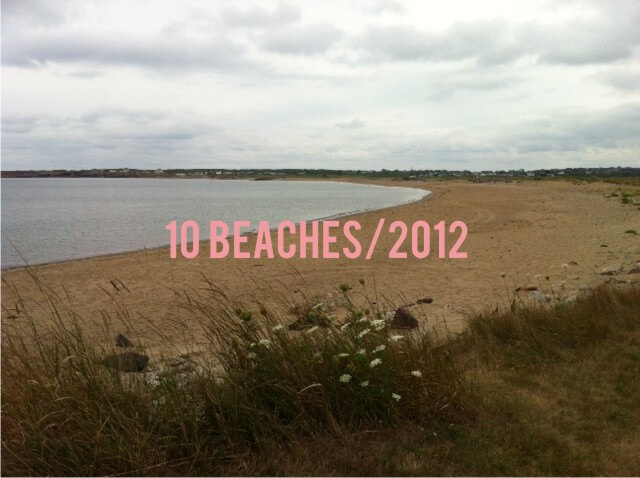 Florence Beach was kind of a tough one to find. I mean, on the map it looks easy enough to get there, but there aren't signs. I just had to drive along back streets towards the water, turning around at dead ends several times until I got to where I thought it was. I ended up asking some people and they said just to park and then walk through this one person's yard.
And I still think there are parts of it I didn't get to – someone told me later that there is another part of it. Hmm… an adventure for another day, perhaps.
Funny story – this is actually kind of a fake smile. I mean, I was content that day, but I wasn't overly happy, like thrilled or anything. It was an overcast day, threatening rain. The beach was quiet. There were seagulls and the odd tiny lick of a wave. It was just very still. So I sat and looked out at the water, and ate some salsa on corn chips with cheddar cheese (my go-to beach food) and watched the seagulls as they watched me.
I'd been wanting to try writing a word with pebbles. So, I did.
Watch your step! There was some broken glass by a big concrete block. I usually walk around beaches barefoot – and by usually I mean always – so I had to be mindful after I saw this glass.
Overall Florence is a nice beach. And close enough to where I'll be living (North Sydney) that it can be an easy getaway, a place to go to just sit and look out at the water, or take a dip. You know, I'm realizing, through doing this intentional "Beaches" project, that being by the water is incredible for me. It helps me relax. It's "going home" time.
Sitting there on Florence Beach, I wrote some thoughts in my notebook:
"It's easier to feel low on a day like today.
I'm thinking about post-industry – after industry like coal mining or steel making has been, and gone, what's left?
Remnants. This still beach.
Concrete blocks that today's teenagers paint with spray-on colours.
The land – sand, dirt, however it was modified.
The cliffs with black stains.
Quietness.
Houses.
Streets.
Names of people, names of companies.
A flat ocean, a grey sky.
Birds and grasses.
Spiders, mice, trees.
Descendants – people with memory, desire, love."
Edit: After writing this post, someone told me about a Facebook group of people who are interested in promoting Florence Beach and making better access to it. This is the link to that group if you're interested in joining: #/groups/260225230753514/
To get there: Looking on Google Maps now, it seems I took Pitt St off of Main Street, and then it turned into Shore Road. I drove all the way to the end. Then I turned right onto Nicholas St, and parked in a little lane that I *think* was marked "Beach Lane". From there you can see the beach and just walk about 15 feet across part of someone's lawn.
Curious about my 10 Beaches/2012 project? Basically, this summer, I'm challenging myself to make it to ten separate beaches on Cape Breton Island. So far: Initial post, Point Aconi, Chimney Corner & Inverness, Gabarus & Fourchu, Kennington Cove and now Florence.