Lorna MacLean is a self-proclaimed food enthusiast who lives in Middle River. Referred to as a "crazy hippie lady" by some of her friends, she can often be found baking delicious cakes, or complaining about the slugs in her garden. All photos courtesy Lorna MacLean.
1. What's your age (or age range – sometimes I say I'm a "twentysomething", or you can say whatever you're comfortable with).
25 years of age, with a much older soul.
2. CB born and raised? Or recent transplant? (Plus whatever biographical details you feel like giving).
I am born and raised on the Cabot Trail. I moved to Charlottetown, PEI for 2 years to get my Culinary Diploma, and when I graduated I moved to Wolfville, Nova Scotia to work for a year, and ended up back in Charlottetown for a year to get my Pastry Arts Certificate. I returned to Cape Breton after that.
3. "What are you up to these days?" I.e. what do you do for a living, what are you working on, are you a student, in the workforce, etc?
These days I work seasonally, back and forth between the gift shops and the kitchen at the Red Barn. When I'm off in the winter, I decorate cakes, here and there, for people in the community. Sometimes I get the urge to sew, and try to turn something old into something new. My most recent project was turning a burlap rice bag into a purse, it turned out pretty great.
4. You've worked mainly in the hospitality industry. What's your sense of this industry in Cape Breton – is it sustainable? Is it something you'd like to stay working in?
I like to think that if you have the right product, and the right determination, it can be sustainable. But, it's hard to say. Cape Breton has turned into such a tourist trap, and when the tourists leave, a large portion of the population is on unemployment. There's not much money left to go eat out after facing the reality of the cost of living here.
I would love to stay here, and be able to cook or bake for a living. Unfortunately, right now, unless I move to Sydney, the chances of finding year-round work, with a salary worth staying for, are slim.
It's a hard pill to swallow sometimes… and I often find myself searching for the same jobs in the Annapolis Valley. I can usually find a job I'd want to apply for, but nothing that pays enough to make me want to leave Cape Breton.
5. What are your favourite things to do out of doors, in CB?
I've developed a love for gardening the last couple of years. In general, I just love getting out into the woods, and sunshine. Hiking, snow shoeing, cross-country skiing, or even just walking.
My camera usually comes with me too, to document some of the lesser seen images of Cape Breton. I have a couple hundred acres of old farm land at my disposal, some of the most beautiful things I have seen are literally in my own back yard.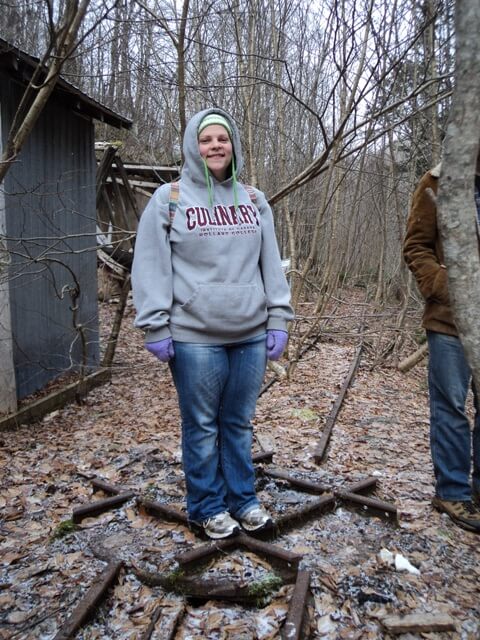 6. Favourite CB eateries, past and present?
Tough one. There are a lot of great places to eat in Cape Breton, and usually "the smaller, the better". The Dancing Goat in Margaree always delights me. The changes in soup choice and the sandwiches are great. The atmosphere is always so friendly and has an amazing community vibe. I always see at least one person there that I know, and probably haven't seen in a while.
I also love going to Oka Maki Sushi in Sydney! It makes me so happy that I can get sushi in Cape Breton, and get it from people who started off their business because they wanted to introduce Cape Bretoners to Korean food. [Note: Lorna wrote this interview in March, and Oka Maki Sushi has since closed.]
Does The Dancing River Sprite count? They offer such a unique dining experience. You will not find anything like it around; the atmosphere, the quality of food, and the fact that George sources as many of the ingredients as he can, locally. It's awesome that someone has done this!
7. What was it like to grow up in Middle River?
I loved growing up here. Mind you, I've come to learn, my "childhood" wasn't the same as those who grew up next door, even. I grew up on a dairy farm, and my father had a flower business that he ran out of my grandmothers' basement. I was exposed to a lot of things that most children aren't.
Plus, the community itself is pretty awesome. There's a great feeling of family in the community, and the school is the heart.
I loved every second of my elementary education. Maybe I am biased, but I feel like I grew up in a community where it was still like "the older days". We grew up knowing a lot of what we ate and drank (milk), came from the land, not from an unknown source beyond the grocery store.
The community is a lot different now from what it used to be. I remember "Family Fun Day", when there were enough farms and small businesses in the area to have a parade – on the Cabot Trail!. There was face painting, dunk tanking, fun! And all just a minute's drive down the road from home.
These days, you go into Baddeck on Canada Day to get an experience like that, but even then, it's just not the same. We had Jack Rabbits behind the community hall, cross-country skiing loppets, Little League T-Ball, they quit having it before I made it to the actual baseball level, COC and Explorers, bicycle safety courses, summer bible camps and as far as I know, there isn't even a Sunday School here anymore. I attended the Sunday School at the United church here from grade primary until I was 12 or so…and then spent my Jr. High and senior high years assisting teachers, and being a teacher until I graduated high school. It's kind of weird to sit here thinking about all of this, and realizing it no longer exists. It leaves me wondering what the children in this community do…
8. Are you planning on staying in CB? Why, or why not?
A. For now, I plan to stay here. I am in search of a year round job, which I have decided, probably will not be in the hospitality industry if I want to continue living in Middle River. But, I would forfeit hospitality, and "industry", to stay in Cape Breton, as long as I'm still doing baking or cooking in some form.
9. "Dream big" for a minute: what are some innovations or events or just plain old "big ideas" you think Cape Breton could use?
This is another tough one. I mean, Celtic Colors is on the right track. When I was backpacking in Ireland, most people needed us to dumb down our "Where are you from?" answer to "eastern coast of Canada." I remember running into a guy in his early twenties in a pub in Dublin, who kept getting us to be so specific, that when we finally said "Cape Breton", his response was "Oh! That's where that celtic music festival is!"
It made me think that the festival organizers were doing something right.
It just takes time. I think there is an opportunity to highlight Cape Breton food, but I'm not sure it has been properly explored quite yet. I don't know if it needs to be an event, or "culinary vacation"; But there could be something that highlights people and places that use locally and wildly, found produce. Mushrooms, fiddleheads, Jerusalem artichokes, dandelion leaves, and anything that grows here…it's all here. Chefs make caviar out of fruit these days…people, locally and from afar, should be introduced to the fact that Cape Breton can offer "crème de la crème" turnip and potatoes with a side of their next door neighbour's beef cow, and make it unrecognizable to what your mother cooked for you.
[If local food interests you, Right Some Good is a foodie event that takes place in August in Cape Breton. Also, check out my page "Eating Local in Cape Breton" for links to more local food producers and markets.)
10. Finish this sentence: Being from Cape Breton, to me, means…
…knowing where I come from, knowing my roots, and having a huge sense of culture. Bottom line, home and family.
This Q+A with Lorna is part of an ongoing series of interviews I do with people associated with Cape Breton in some way – mostly young people, but not necessarily. The complete list of interviews is here.