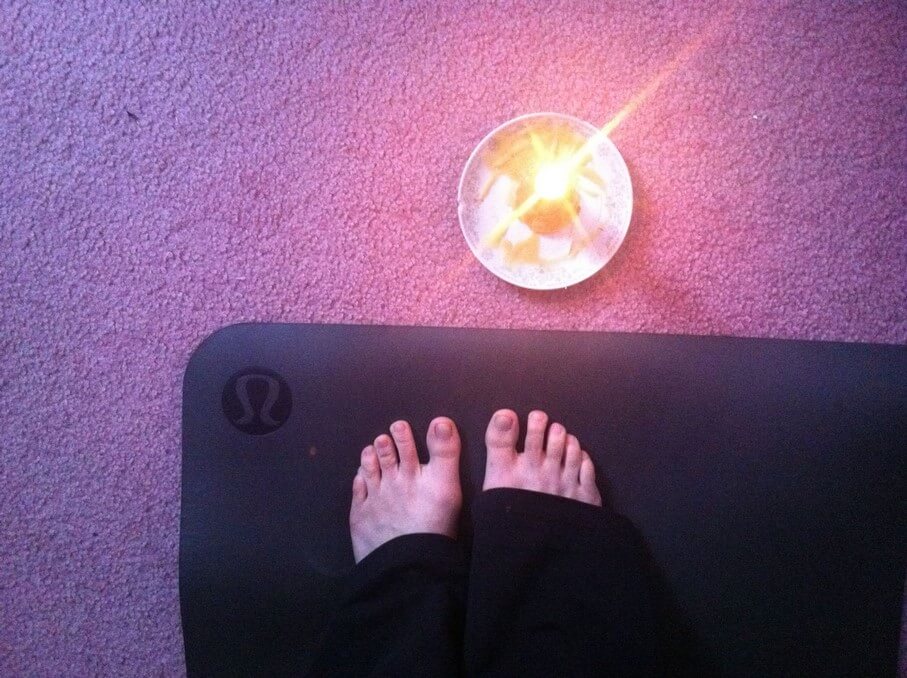 My doctor once said to me, "The medication you take is great for your anxiety, but for the mild depression you sometimes experience, really, exercise is just as good as this medication."
That was one of those things a person says that sticks with you. That was back in November of last year, and it's the main reason why I made the effort to get to the walking track pretty much every day. The days were short, I was really feeling the lack of light, and I knew that exercise could really make a difference. Like, as much as a pill could. That's powerful!
And it did make a difference, and it still does. So that's why one of my "four simple goals" at the beginning of 2014 was to move every day.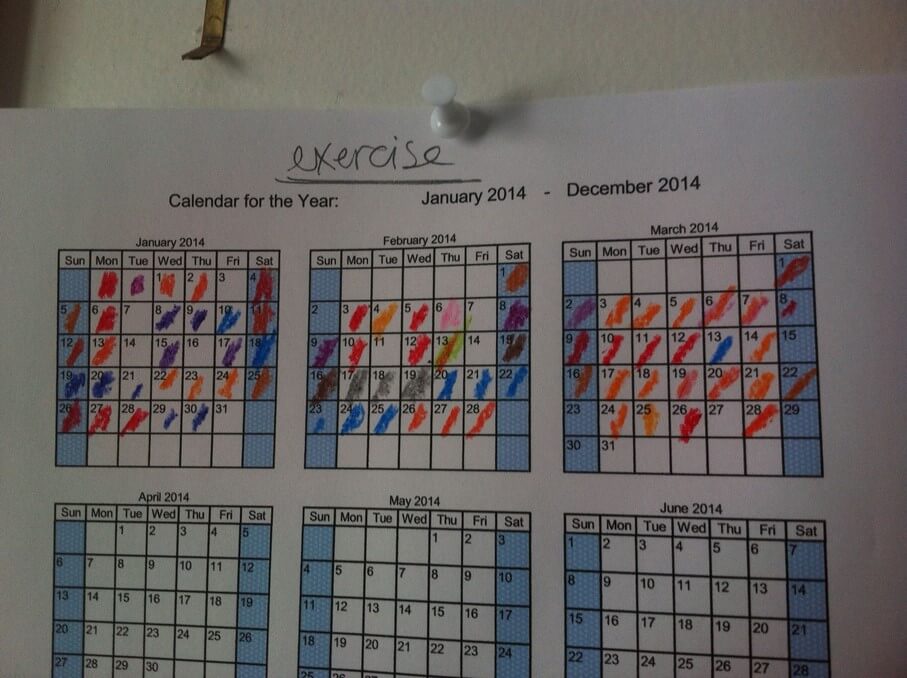 One thing I did to help myself with this goal was to print off a one-page calendar of the entire year. (I got it from here.) Then, each day after I've gone for a walk or done yoga, I take a crayon and make a mark on that day. The colour is random and just whatever crayon I pulled from the box. This way of tracking it was inspired by Elise (of course! She's my hero) but I have to say, it's really making a difference. To be able to see at a glance how much I've been moving, really helps me keep my momentum up. (You can see her post on running, and see how she tracked stuff, here.)
It helps that I was already walking pretty much every day — I didn't just start this habit from scratch on January 1st. But, I must tell you that my daily exercise is sometimes strenuous, sometimes not. Sometimes it's only 15 minutes eked out on my lunch break or after classes. But every little bit counts, and every little bit feels good.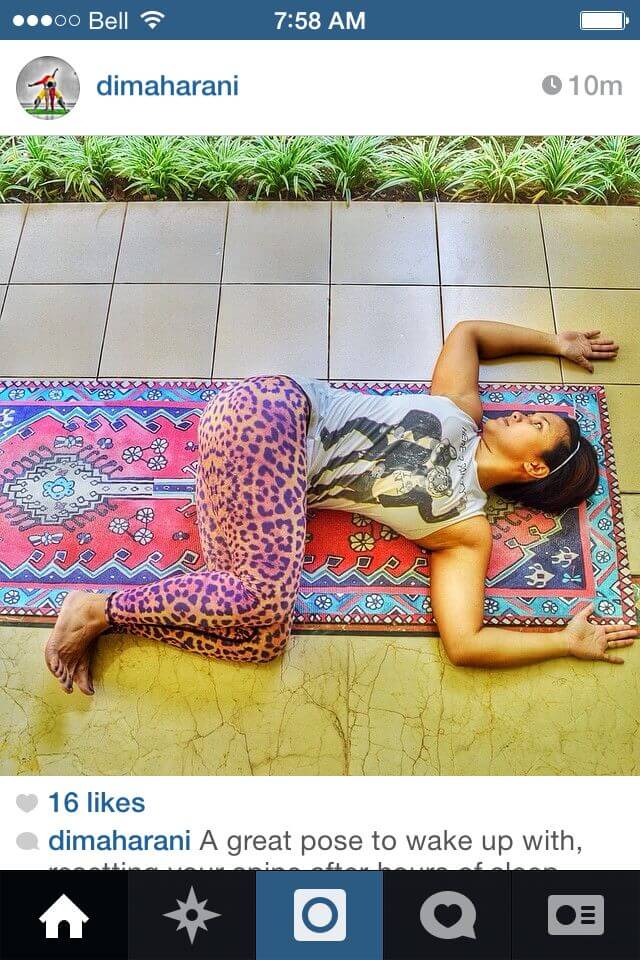 I also got back into doing yoga. I think it's important, with movement and exercise, to find the things you love and then do that. Swimming, biking, exercise videos at home, whatever: as long as it makes your body feel good, then it's the right thing.
And use inspiration, but be smart about it: if your inspiration is making you feel bad about yourself, instead of pumped and excited to exercise, then it's probably not the right inspiration. I like this gal (shown above) because her body looks like mine: meaty, round and curved. (I'm not trying to put down the ladies who rock a slim body, I'm just saying, my body shape isn't the majority that you see in fitness mags, but really, my body will likely always be curvy, no matter how fit it is.) And, because she's an amazing yogi who can do some crazy poses.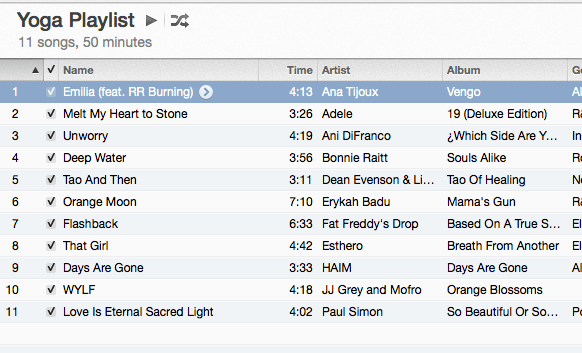 Also I find that making a playlist and doing my yoga to that is fun. My yoga teacher Sherry leads her class to music, and not just light flutes and gongs, but stuff like Bon Iver and Lorde, and fairly loud. I was used to taking classes in silence, so at first I thought I wouldn't like it. But it turns out I do. It adds to the yoga practice, boosts my energy, and it feels cool to do sweeping arm movements and flow into postures along with a great song. And when I'm doing yoga at home by myself, the playlist helps me to stay focussed and not get distracted and start picking at my toenails or leave the mat to start a load of laundry.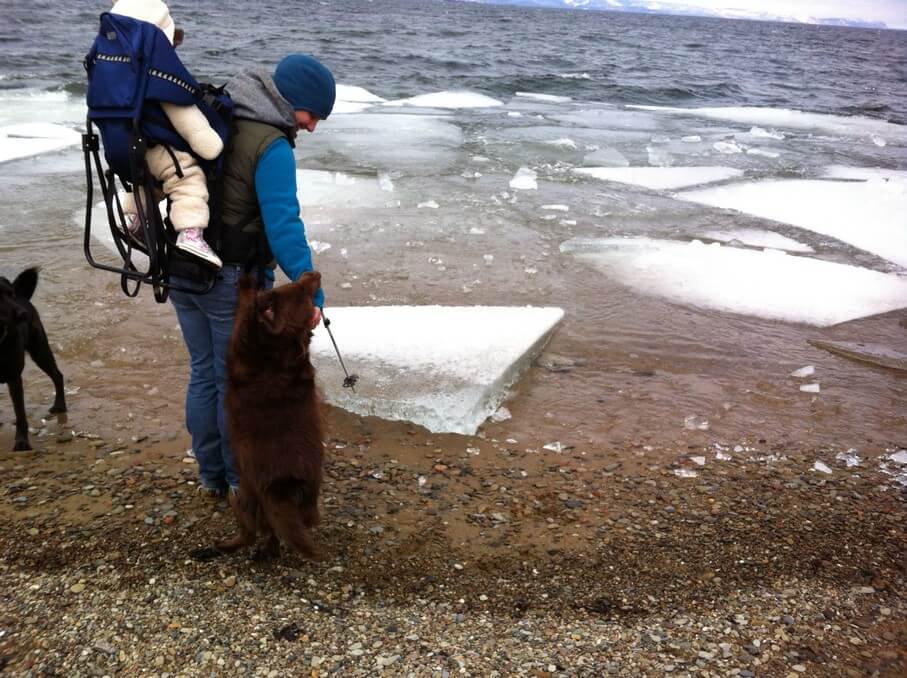 And lastly, I'm trying to get out and do more movement with other people. (This is my friend Katie and her little girl Rory, when we went for a walk at Point Aconi a few weeks ago.) The time flies, for one. It's fun, for another. Humans are social, and we're meant to move. Doing both at once, well, it feels good in our brains and it feels good in our bodies.
Something I'd like to add to my exercise regime is strength training, like with weights. When I have a bit of extra money I'd like to sign up at a local gym and spend a bit of time with a trainer, learning the right way to use the equipment to feel even stronger, and to make my body and my mind feel even better.
I also want to have more mini dance parties to shake myself up when I'm sitting at the computer too long!
Overall, movement feels good. That's what it comes down to. I'm creative, and I'm entering a creative industry, hoping to work in it for many years to come. My best ideas come when I'm moving and using my whole body, so I'm going to keep doing it.
What movement do you love?