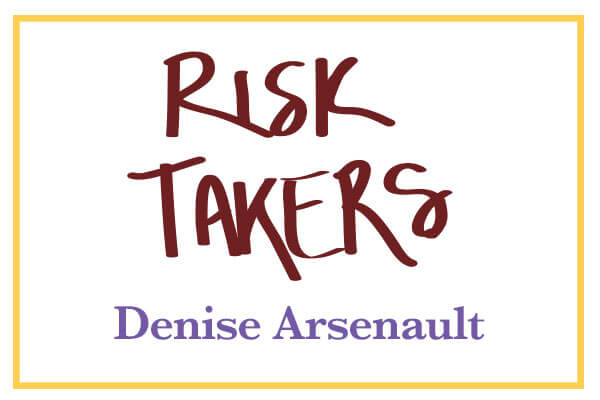 I've started a new interview series here on the blog, called "Risk Takers." The reason is that I'm feeling "poised" these days, on the edge of whatever will come after I graduate in June from my two-year design program at NSCC. (I'm wondering things like, Will I find a job? Where? Will I start my own business? But how? And so on.) All of this change happening in my own life makes me keenly aware of risk.
Risk is part of life, and it's possible to take risks wherever you are in your life, but it comes to the forefront when you're at a cross-roads, for sure. And then you wonder to yourself, should I take a risk? I'm often quite scared of taking risks, and feel anxiety about the unknown, just like everyone else.
So this is a selfish series, really! It's to inspire me and remind me that risks can be exciting, that they can bring growth and beauty. And that everyone goes through the anxieties of taking risks, and that you have to go through them to get something worthwhile on the other side. So I'm going to be reaching out to people who've taken risks and done interesting things, and sharing their stories, and I hope it brings you some of that inspiration too!
Today's featured Risk Taker is Denise Arsenault. She is my "birthday twin," we're both born on April 22nd. We met at a dinner at the Dancing River Sprite several years ago, and became fast friends. She is honest, open and down-to-earth, and I just love what she had to say when I asked her about taking risks. Here are her answers to my questions:
1) What is your name, age, and where do you live?
Denise Arsenault, 27!
I live in Cheticamp, Nova Scotia, where my parents moved when I was 3 months old, where we lived with my grandparents until we eventually moved into my grandmothers cabin that we transformed into our home. I was born in Sydney and had a lot of family there and we spent a lot of time there, but I always say I was born and raised in Cheticamp. Cheticamp is what has molded me.
2) What are your passions?
Motherhood, attachment/instinctual parenting, cheerleading/dancing/fitness/yoga, volunteering and helping others, green and natural living, saving the planet, reading (this is new), and learning!
So in short, I guess my passion is Life! And creating a better world for all to live in, creating a better life for myself, my family and all those around me. I feel that all the troubles in the world come back to kids, to these tiny little beings and that they have the power to change everything, but it's our responsibility to guide them to become world-changing beings, earth-appreciating humans. Children, babies, life: fascinates me. The idea that you can create living breathing babies, is just amazing, with all the intricate details of their organs, veins, teeny-tiny toenails. Just a few years ago I remember thinking how amazing it was that I could grow food out of a single tiny seed.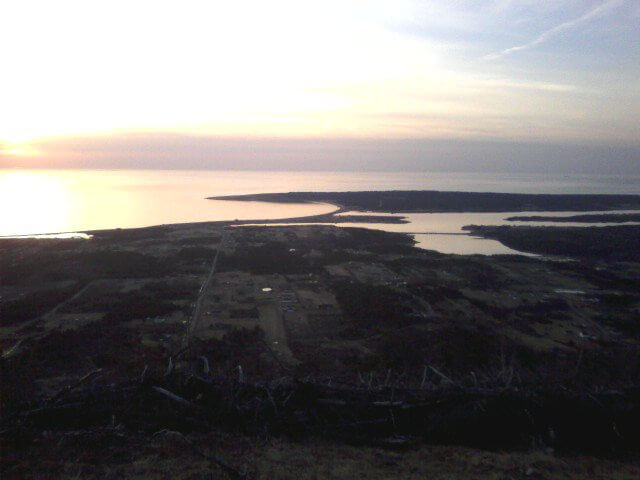 3) Do you take risks in business, or in life? What are they?
I don't think of myself as a risk taker, and I can think a lot and very hard and can't come up with anything awesome that I have done, although when someone else looks at my life, they think my experiences are so cool.
I've traveled quite a bit, starting when I was 13 and went on a choir trip to Ottawa, I went on to travel to Lousiana with a dance group, Paris with my graduating class, New York and New Jersey with my family, Cuba and finally, I flew out West to Calgary to pick up my partner to prepare for our cross-country journey home in a 1966 Chevy Biscayne (the radiator of which had blown up a couple nights prior). We went as West as Banff before driving for 2 weeks back to Cape Breton, stopping in every Province for a night, meeting people along the way and stopping in every community we could. When you think of it, we could have shipped the car and my partner could have flown home, but where's the fun in that? How many opportunities does one get to travel across their home country, native land?
I am always willing to try new things career wise, and I like to move ahead quickly. I've ventured into a few entrepreneurial businesses already in my short life and am always thinking in entrepreneurial ways, even about things that our communities need that may be business ventures.
I started a home-based business in direct sales when I was 19, selling makeup and skin care. This was an invaluable experience in mistakes alone! Then I tried my hand at direct sales of sensual products and I've been with the company for 4 years and doing great! I've learned so much with this company when it comes to sales, marketing, selling techniques, advertising and so much more!
I work on a ferry that crosses the Cabot Strait daily, and I guess that is a risk all of its own. I'm very forward about learning my ship and all necessary life-saving measures and equipment, which is much different than the rest of the crew in my department. My latest risk involving my career is surrounding a current opportunity with a company. I'm not divulging too much information yet because I need to complete a course, get certified and complete training before I can begin ground work with the company but this is an opportunity for me to stay at home (by home I mean my little jobless community I am so desperately trying to hold onto, for reasons unknown other than family, a few friends and sheer beauty of the land, this place has me by the heart and I can never find the right reasons to leave). This career will provide me with flexibility (geographical and schedule wise), income, a great work environment and an opportunity to help people where they need it the most!
Life has really changed for me since my divorce. I think hitting rock bottom really changes a person and for me, it made me realize that there is really nothing to be afraid of and you only lose by not taking advantage of opportunities that may present themselves. I used to be very calculated, and thought I could plan life, but now, we take life day by day, accepting whatever challenges and opportunities that come our way. I seem to be the first of my age group and peers to do things, buy a house, get married, have a baby. I make a lot of mistakes for that reason, I have no one to learn from. I guess, I have always taken risks.
I can remember my first day in university. I only knew 2 people that went there, who both lived on campus and never seen them, never went to frosh week and had just stepped foot on campus with no idea where to find anything and knew no one to ask. The cafeteria was packed, there may have been 1 table open. I got my food and I looked around the cafeteria, I walked over to a random group of people and asked if they minded if I sat with them! I did this every day for a week, and by the end of the week, I had made so many friends, some of them I consider best friends to this day.
Later in life, I volunteered for committees and groups, never knowing what I would get myself into. I've tried to get things off the ground for activities in my community for my son. I make suggestions that people don't think of, to make things better and enhance our quality of living. We are taking risks every day in our family, we never know where we are going to end up, we know it will be where God intends, and have faith that He's leading us in the right direction.
4) Have you ever felt discouraged, unconfident, or unsure of what you're doing? What do you do when that happens? (Think of this, too, as advice for others who might feel that way.)
I often feel discouraged. I don't know what it is about living in rural Cape Breton but I feel so often, any innovative ideas are shot down faster than game during hunting season! I remember when I first moved back home and I was a volunteer coach for a cheerleading team, and they needed a lot of funds! I had came up with all these great, new ideas, that no one had seen before, from my cheerleading days in university. People are always complaining about buying tickets or chocolate bars and so much of the money is lost. I came up with high profitability fundraisers, with little effort and they didn't even get a second thought after being mentioned. Same when I tried it with my brother's sports team. Well, it was enough to make me feel like shutting my mouth and never spouting an idea ever again! I went on to provide invaluable insight and ideas to more committees and projects that I can count so it was a good thing I didn't.
Feeling discouraged is a normal feeling, but it's important to remember that life goes on, your learn from whatever it is that made you feel discouraged. When I was 19, I invested $3500 in my little makeup business, that's before interest and other business expenses. I never made that back, I never broke even. That's discouraging, with my [now ex-] husband in the background telling me "I told you so" over and over. I don't dwell on that, or even regret it. I learned a lot from that business, it was an investment to learn how to run a business, and when I started with the next company, I knew that I didn't want an inventory. I shopped around for a company that would allow me to start without an inventory, and I've had major success!
I learned there is no shame is quitting… Sometimes, the circumstances are not right, it does not mean you are a failure. I quit the makeup buisness. I had so much guilt over quitting and it felt like a failure, but it had nothing to do with me. It had to do with my market, my customers, and my product. It wasn't what they wanted, I needed something more suited to my area, my customers, and my market.
I always try to find the positive of a situation, a lot of people get annoyed by it because they just want to vent and although I am never trying to discredit their feelings, I am trying to provide a positive that they may not see. The power of positive thinking is really an amazing thing, and I use it whenever my partner is having a hard day at work, at the other end of the country, and I tell him to keep his chin up, things will get better, hard days make us stronger. When he complains about how much work they did that day, I remind him how much easier it will be to go back to what they were doing previously!
When I really can't see the path out of the darkness, when I really feel like there is no end in sight or no light at the end of the tunnel, I simply pray. Pray for guidance, for strength and for courage to do the things I need to do. I go to bed, and its like magic! When I wake up, its a whole new day! Brand new, and I get to start over. On my worst days, I just think to myself, you've just gotta make it to the end of the day, because tomorrow, is a brand new day! One of the best pieces of advice I've ever received was in regards to my breastfeeding journey (but really can be applied to any facet of life): "Don't give up on your hardest day." You'll have good days and bad days.
If you really want to talk about feeling discouraged, doubtful, unconfident, then ask me about parenting, especially in a way that is different than the cultural norms. Judging and questioning your every decision becomes a way of life especially when you are getting so much mixed advice about what is the right way to do something, anything.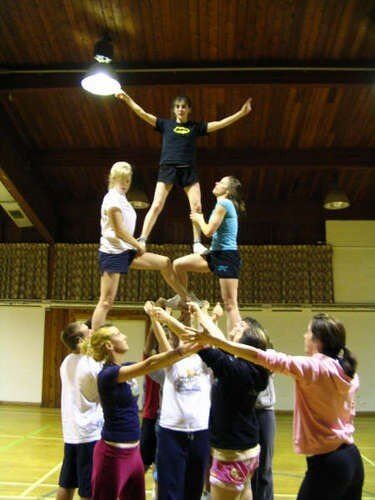 5) How has taking risks paid off for you? What good things have they brought to you, that you are grateful for?
Taking risks means gaining experience. Even if the outcomes are not as expected, it's never a bad thing. If you fail, you use that knowledge to propel yourself forward for the next time. I've made a ton of friends and networks that I can reach out to to accomplish anything. I have built myself a great reputation in town for being a hard worker, smart, dedicated, successful, and someone people can call on if they need something done or need someone they can count on. In turn, that means that I can seek the same from those people. When I do ask for help, there is a whole community at my fingertips who appreciate all the hard work I've put in volunteering and the difference I have made in the community.
I've gained so much experience, I've had so many experiences, without them all, I wouldn't be the person I am today. I fear I would be home, every weeknight, watching tv with my ex-husband, not contributing to the world. Not really feeling happy, but maybe just a void of being sad. That's not what I want, I want to give, I want to give back, I want to teach my son that you do great things in life without expecting anything in return. Sometimes, the only thing I get in return is the awesome feeling of having helped someone out! That's all I need.
What I'm grateful for, is the person I have become. A well-rounded, well-spoken, intelligent, problem-solving, innovative and forward-thinking individual, with like-minded aquaintances, with a partner that gives me all the freedom I need to be myself, and make mistakes, and learn who it is I want to be, and of course I'm grateful for the family we've built. I'm grateful for creating a place I can call home, a place I don't need to escape from and a place I don't need a vacation from! I'm grateful for a life I can be thankful for every day and think of how lucky I am to live here, with the most important people in the world.
The first two interviews in this series are with Jenni Welsh and Hailey Isadore. For more Q+As with rad Cape Bretoners go to my Interviews page.