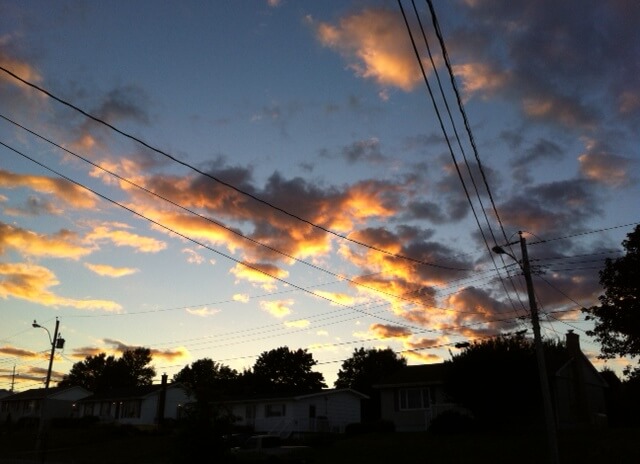 It was a good weekend.
I hadn't had a Sunday off from work (and not been travelling) in a couple of months. It was a "real" weekend and it was glorious.
Friday I had the day off, and that morning I had to go to Sydney for a meeting. I parked by the library and walked up the street, stopping first at Shoesmiths to drop off some Birkenstocks that had seen better days and needed some life put back into them. I had a really nice chat with the owner, Scott, about local business, giving tourists advice, and the local restaurant scene. Then I walked on up the street to the Bean Bank Cafe for my meeting. Afterwards, I drove home to North Sydney and had some lunch, then got ready for the wedding I was attending that afternoon.
The wedding was beautiful. A small and meaningful ceremony at a beautiful inn in Bras d'Or, then dinner and a dance at the Lingan country club. I met some lovely new people (Hi Ashleigh!), and danced in my bare feet to both country music and Arabic pop. (My friend from Cape Breton was marrying a man from Egypt, who is now living in Truro. The world is a big and beautiful place.)
Then on Saturday morning I took a walk around our neighbourhood and a sweet dog decided to join me from his driveway on. On the way back he stopped at the driveway, I told him to stay and he did. So that was nice. I miss having pets and hope someday soon to get a cat or something, but there is something so nice about walking with a dog.
That afternoon we packed up the truck and went 'over the mountain' (both Kelly's and Hunter's) to Adam's cousin's cabin in Middle River. (This is the post from when we went there last year.) There is no cell service or Internet there and I actually really liked that. I do find myself in my day-to-day life reflexively reaching for my phone when there is a lull in action, around twenty to thirty times a day, just to 'check in' with my various online selves (Instagram, email, Facebook), and so to not have that, and just have to focus on the action (or lack of it) at hand, was really relaxing.
We got back home mid-afternoon Sunday. Although my office is a frigging mess (and has been all summer), and I am just itching to get to it and organize things, I decided instead to finish out the weekend by putting all the camping gear away, doing a wash and hanging it on the clothesline, and then napping on the couch with Adam. Then we ordered pizza. Life is good.
*******************
Update on the Bell Museum stuff: there was a meeting on Saturday in Baddeck between Parks Canada officials, and the local municipal councillors. If you want to get on the mailing list from the anonymous "Concerned Citizens" who helped organize this community protest against reduced museum hours, email "keep.bellmuseum.open@gmail.com".
The latest email I received from them said:
The turnout yesterday at the Bell Museum wasn't great (but understandable considering the late notice and our not being able to give a specific time until the last minute) but the end result is fantastic!
Thank you to all those who emailed to say they wanted to come but couldn't because of work. (understandable on a Saturday in August in an area where employment is mainly in the tourism industry!)
Thank you to the news media for covering this story and helping make Parks Canada pay attention to the problem.
Thank you to the local business people and municipal officials for insisting on a meeting with Parks Canada officials. You were obviously very persuasive and the community is very grateful.
Thank you to Parks Canada for taking the problem seriously and then actually doing something about it. We hope that you will stick it out and not change course next season.
We hope that this has shown everyone that a few people can make change happen!
Now we have to work together to make sure that our tourism numbers stay up and to promote the Bell Museum to everyone that comes to visit us. It is a treasure that we are so lucky to have and unlike many other tourism attractions, has a story that is of interest to people from all over the world!
THANK YOU!