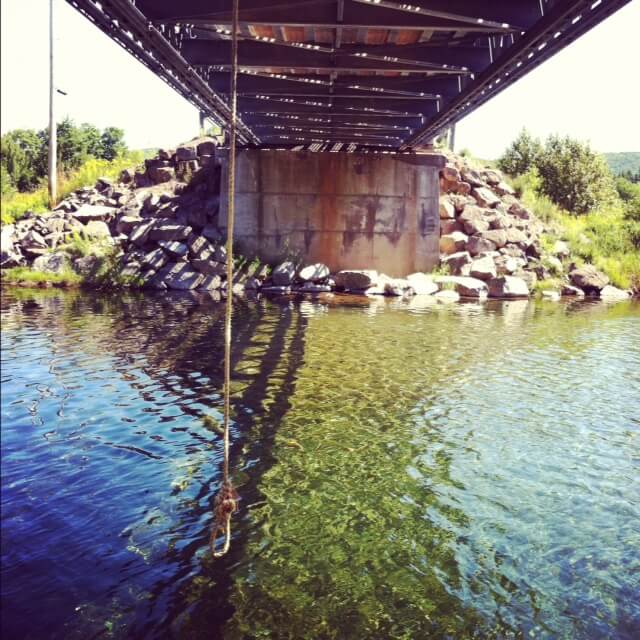 Yes, the water really is that clear. I took this shot with my iPhone and then ran it through an Instagram filter – maybe Valencia? Just to perk the colours up a bit. But that river doesn't look a lot different in real life. It's heaven here, I'm tellin ya.
We went for a "getaway" last weekend. We didn't get too far, just to Middle River, but that was far enough. Far enough to feel like a real break from normal life.
I had the whole weekend off, which felt AMAZING. I've been working Sundays all summer, so being able to sleep in on the sabbath is a real treat. (Thanks again Flossie for working that shift for me!)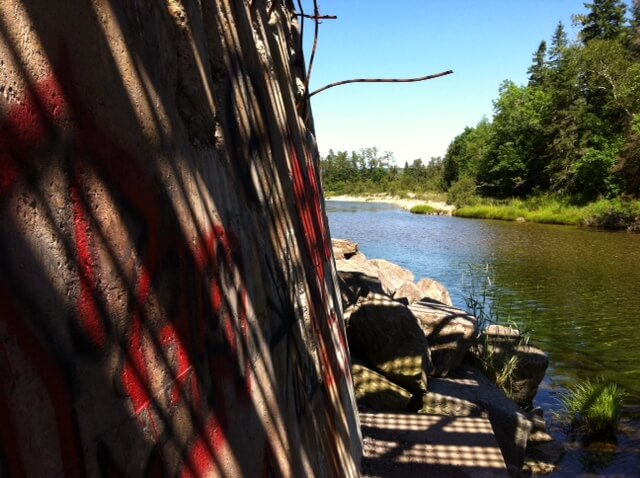 Adam's cousins (the same ones we visited around Canada Day) have a cabin out in Middle River. (And in case you were wondering, the bridge we swam under is the one by the two churches.) We got ourselves a tent, an inflatable mattress, some hamburgers and some beer, and went out to join them there.
There were three girls between 8 and 10 years old. Being around them was a little tiring – did I yell everything I thought at the top of my lungs, when I was their age? – but it was also inspiring. They were full of confidence, and physical energy. They danced and ran and swam and made up songs. They threw rocks and lay on the bank watching creatures, and talked about Justin Beiber.
Sitting by a river, reading a magazine, under a blue sky – the best. Oh wait, sorry, that's second best. Best is actually swimming in said river.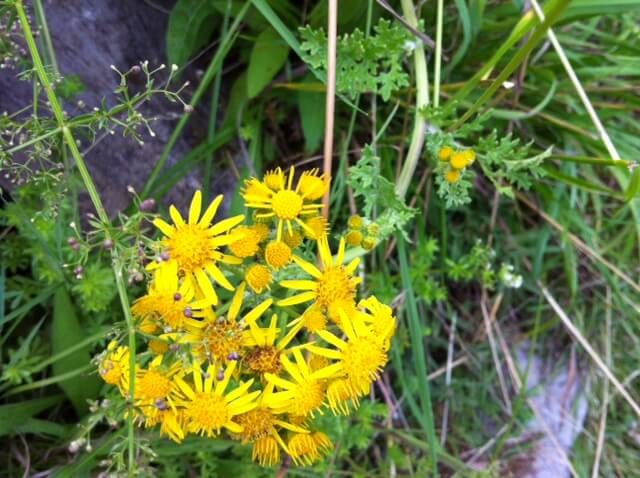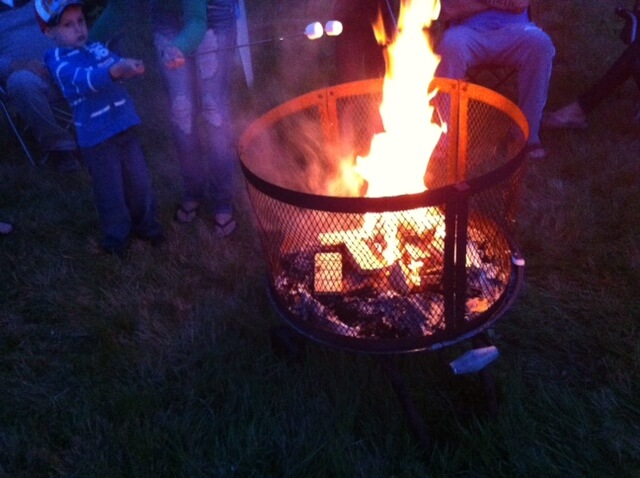 Now that's what summer is meant to be. Time with family and friends by a fire, roasting things! I'm so glad I got to get away from work and get out in the outdoors, where there was no cell service and no internet, and just be.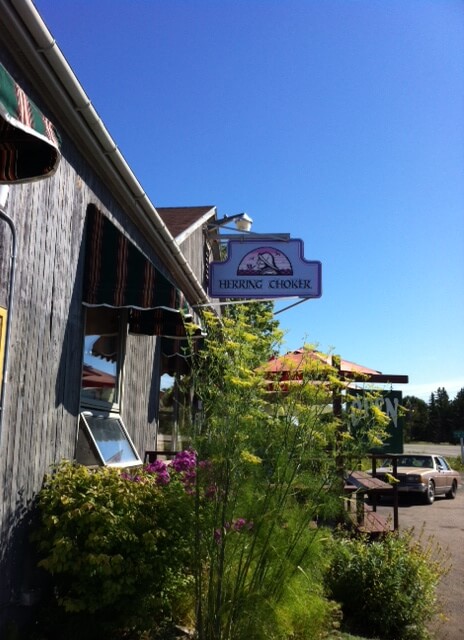 Sunday morning I was in the best shape of everyone to venture out of the valley for coffee. There was a Tim Hortons close by, but instead I chose to go to one of my favorite places on the whole island, the Herring Choker Deli, which was also handy.
(And no, I'm not just saying that the Deli is awesome because some dear friends own it and/or work there: the food has lots of flavour and is great value for your money, and the old converted warehouse/store has lots of character. Plus, their brownies are the kind you dream about at night. So freaking good.)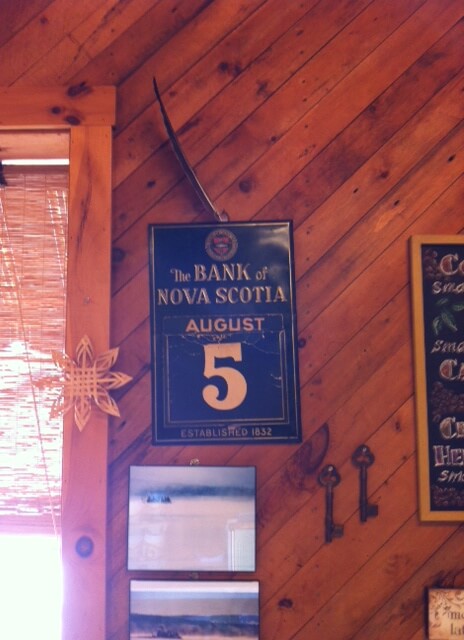 I love this old calendar. Cheryl thought it was from the sixties, perhaps.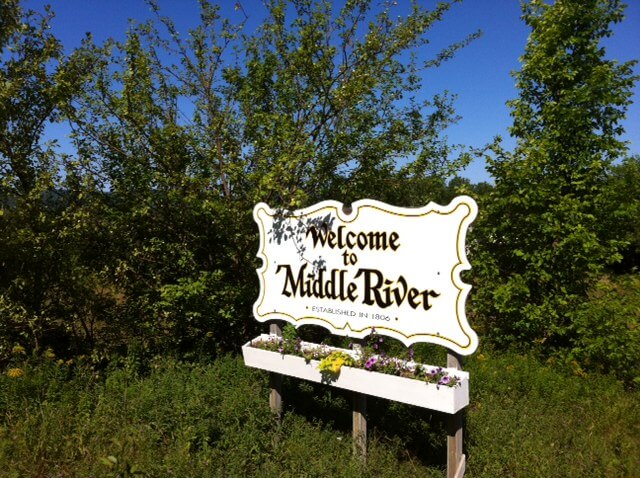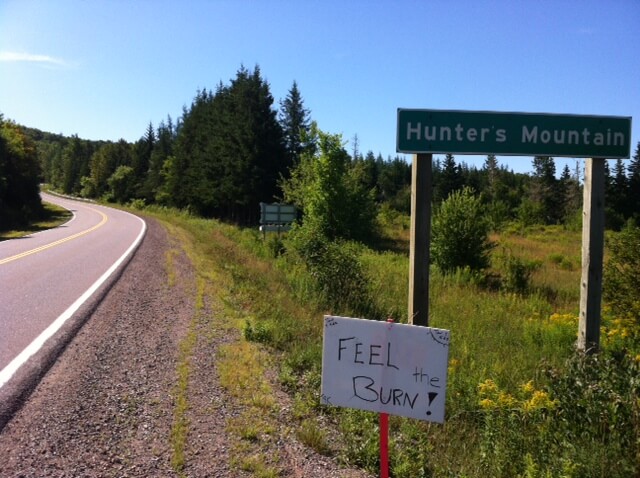 On the way back to the campsite from the Deli, I stopped to take these two pictures of signs. (Driving around these days, I stop by the side of the road a LOT more than I used to. It breaks up the flow of the drive, which I don't like, but it yields some great photos, so I'm glad for that.)
I love signs that welcome a traveller to a community. I always wonder about them – who designed them? who created them, put them up? who maintains them? Who plants the flowers in that box?
And the "feel the burn" sign was meant for cyclists participating in some sort of charity bike ride. Suckers!