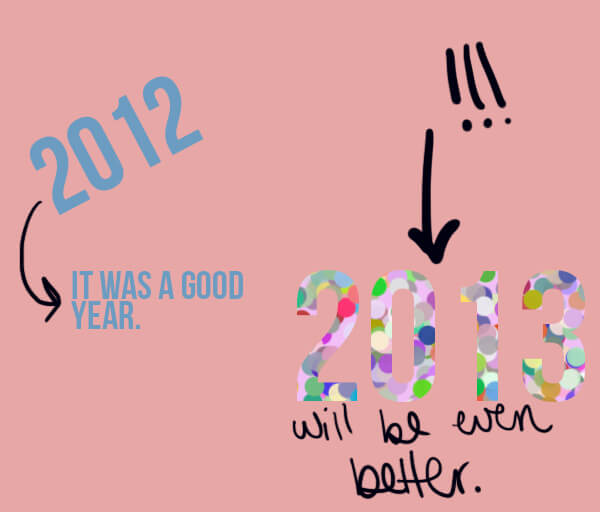 Holy cats, a whole year has gone by already!
They go by so fast. When you're a kid you think adults are nuts, the way they say that all the time. But, getting up into my twenties myself, I realize it's totally true.
Anyway, 2012. It's been a really good year. I took some risks that have added a lot of fun and creativity to my life: starting and writing this blog is one, and also enrolling in the Graphic Design course. I moved in with my fella, too, and all of these things combined, plus probably some other things, make this year feel like the one where I completely grew up.
I love all those "end of the year countdowns and top 10" lists, so I went through and picked out my favourite ten posts of the year.
Here We Go – the first post of the blog. I go back and read it from time to time when I find myself wondering what the heck I'm doing, or if something is worth posting, or whatever.
On Intuition, Creativity, and Following a Hunch – I re-read this one when I feel lost at sea, or beating myself up for not having a long-term, itemized plan, to remind myself that most of the magic comes from outside me, from the world around me, and is beyond my control.
Sydney Poet Jesse Ferguson – "Ovation" – I re-read this one when I want to look at a handsome man read a really great poem, and feel re-energized that there are great young people moving here, living here, writing here.
What I've Learned in Four Months – I re-read this one when I'm feeling bad or when I forget that action trumps perfection every time.
Dear 2012 High School Graduates… – I re-read this one for more encouragement. Geez, it seems like I need a lot of encouragement!
Going back to school at 28 – Sharing the story of why I came home to Cape Breton, the highs and lows, and why I decided to go back to school to study design.
10 Beaches/2012: Point Michaud – All of the 10 Beaches posts are my faves, really, because I love beaches. But this is my favourite of them all, because Point Michaud is heaven. on. earth.
The kitten video – This one surprised me by being one of my highest-viewed posts! Proving that it's not all about serious, problem-solving interviews and shite. Sometimes it really is about kittens.
Reflecting – A puddle on a street and some reflective months.
A year, more or less – Sitting and looking out the window of my office on a December morning, and thinking about where I've come in the last year.
So that's that!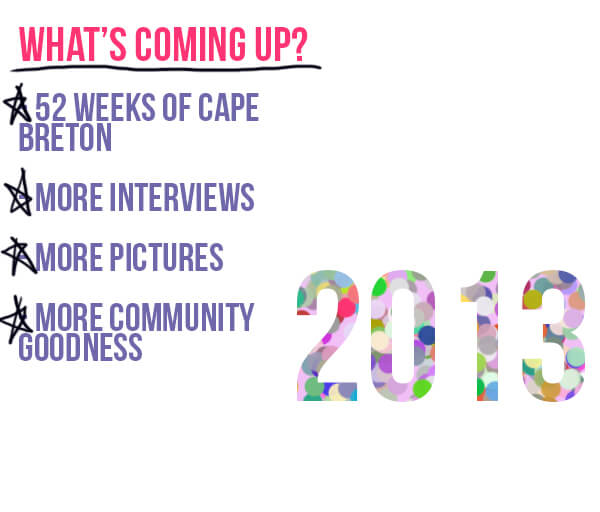 For 2013, my idea is something I'm calling "52 Weeks of Cape Breton." It's inspired by Elise Blaha's "Project Life" album, for which she did a layout once a week. I'm thinking it will be a documentation, a chronicle of the 52 weeks of 2013, of my life, on Cape Breton. I'm thinking creative, quick, intuitive, and fun – I don't want to stress about it. I want something hand-made, something not digital, something in a binder that will build over time.
I also want to challenge myself a little, too – I want to learn something new about Cape Breton each week. I want to visit somewhere new, go to new places on the island.
I'll come up with a plan of some kind, before I get started. Maybe ten things I want to encompass in the project? Something like that. If you have any ideas, do leave them!
In the meantime, I wish you a safe New Year's Eve and hope that you have some special folks to celebrate the change of the year with, or else that you're doing something fun that you love, whether that's dancing the night away, or curling up on the couch in your PJs watching movies. I've done both and honestly, both are great ways to ring in the new year.