If you are a farmer or know a farmer on Cape Breton, who is looking for funding for their enterprise, read this.
FarmWorks, an investment cooperative that invests in local agriculture in Nova Scotia, was formed just last year in the Annapolis Valley and has so far awarded over $200,000 in funding to farms across the province.
Two of them are on Cape Breton.
Jamie and Laura Jensen, also known as Kingsville Farm, and Jeremy and Melanie White, also known as Big Spruce Brewing, have been recipients of funding from FarmWorks, and found the experience very positive.
Now, FarmWorks is coming to Baddeck to put on an event called "Gentle Dragons' Den," where people looking to start a business in the production of food (sustainably) can pitch their ideas to the panel and to the audience.
Each entrepreneur will have five minutes and, if desired, up to 10 slides to tell their stories, followed by Q&A and comments from the "Gentle Dragons" and the audience.
It's on November 14th at 6 pm, at the Masonic Hall in Baddeck, and this is where you can get more information.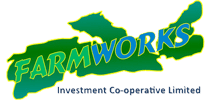 Jeremy White, the hops brewer from Nyanza, said that working with FarmWorks was painless: "The big advantage of FarmWorks is they invest based on your idea or business plan. There is no collateral required like with banks. They also work as a small board of directors, thus capable of making decisions to fund something very quickly."
He went on to say that Linda Best, the cooperative's secretary, who helped them with their application, is "very knowledgeable on the issues facing NS agriculture, and quickly buys in to ideas that promote sustainability and locally grown/produced goods. It was a great experience for us."
Best herself says, "We see farms and food production as a key to rebuilding rural Nova Scotia, so we're doing what we can to raise awareness of existing and new businesses with the potential to provide more food. "
Jamie Jensen of Kingsville Farm said that once they applied, "It was fairly simple and quick. Linda was very enthusiastic. They came up and did a farm visit, as part of the process." Now he and his wife Laura and getting funding for equipment to make value-added products such as pork pies, from rare breeds of pigs.
"If you sell it by the pound, you get commodity prices, but for a small farm, that doesn't provide enough to live on. When you do value-added, that's when you get a living wage."
So what are you waiting for? Everyone's welcome to attend the event, and if you'd like to pitch your idea, check out FarmWorks' press release for more information. Although the deadline has passed, there are still spaces available, so chat with Linda Best if you're interested.
And pass the word along to anyone you know who is interested in local food, about the event, and about FarmWorks!