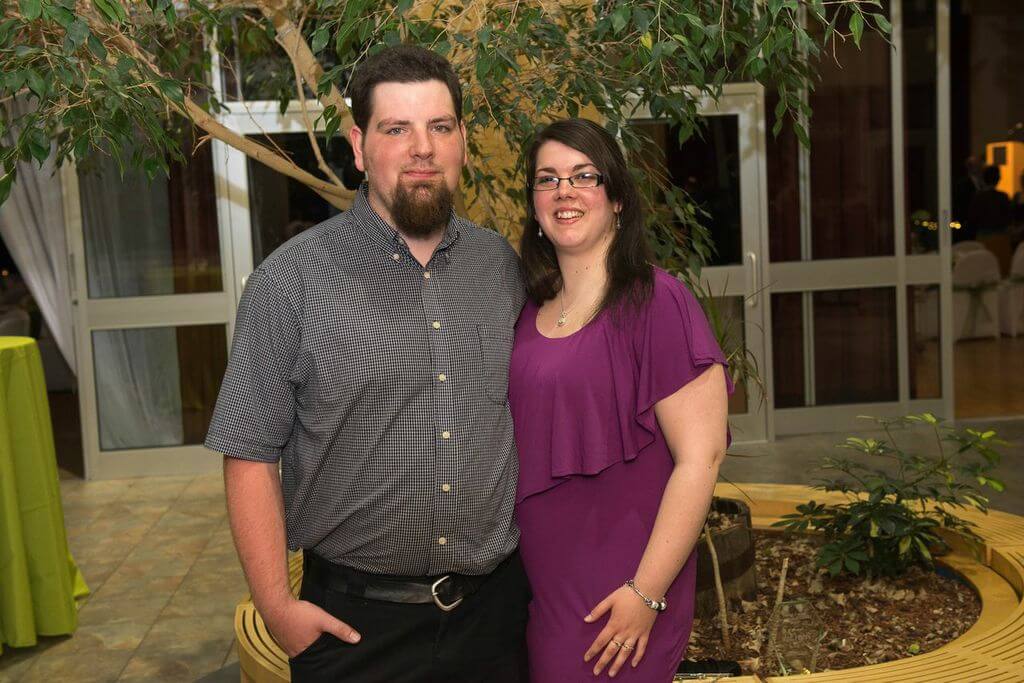 1. Name, age, where you live?
Emily Chafe, 27, Glencoe.
Steve Rankin, 30, Glencoe.
2. CB born and raised? Or recent transplants? (And however much biographical info you feel like giving.)
I (Emily) was raised in Port Hawkesbury and Steve is from Mabou. We are lucky that both of our parents still live in our childhood homes. After high school we went to college and worked in Halifax for a number of years. We eventually found ourselves coming home more often and dreaming about building a life in Cape Breton. Before we knew it we were packing up our city lives and moving into an amazing home, surrounded by trees, a river and peaceful solitude in gorgeous Glencoe. That was 3 years ago and it was one of the best decisions we've ever made.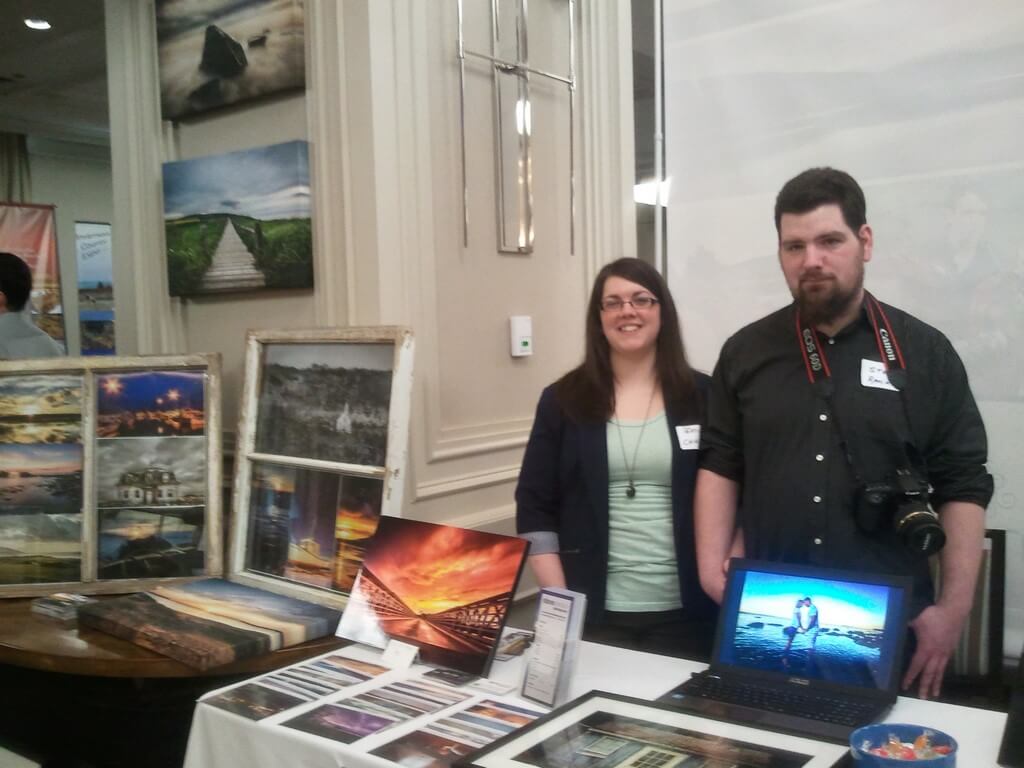 3. What are you up to these days? (I.e what do you do for a living, are you a student, etc?)
Emily: I work full time at Chafe's Flooring and Furniture in Port Hawkesbury, a business that my parents have run for the past 29 years. It is quite a special thing to be able to work alongside your parents on a daily basis.
I also am a graphic designer and operate a business called Take Note Graphic Design. I have worked with many local businesses, organizations and individuals on a variety of different projects. This line of work is really what inspires me and sets my heart on fire.
Steve: About 3 years ago Steve and I got a digital SLR camera for Christmas from our parents and I don't think Steve has put it down since! He taught himself how to use it and has been able to create a full time gig for himself under the name Steve Rankin Photography. We live in one of the most beautiful areas on earth where there is no shortage of inspiration for him. We are also wrapping up our first year of shooting Weddings and I have to say it looks like Steve has found his calling!
4. Why is it so great to make a living as creatives?
I think we both value adventure and making a living as a creative, especially in Cape Breton, is full of adventure. In both design and photography every job is different. You meet amazing people, work on interesting jobs, and get a big sense of accomplishment and fulfillment. We love the people, landscapes and lifestyle in Cape Breton, and whether it's photography or design we are able to use our talents to help promote the island in our own little way.
5. What is hard about making a living as creatives?
There's no steady pay cheque. As much as we love the work and the freedom it brings, there can be a bit of uncertainty. We trust that as long as we follow our hearts, keep our wits about us, work hard and make sure we are having fun, things will find a way of working out. It can be hard to keep that perspective sometimes but doing what we love and living in a place that we love makes it worth it at the end of the day.
6. Favorite Five: what are your favourites of the following five categories, on or from CB?
Beach –We go on a lot of photo adventures together so naturally we spend a lot of time at beaches. Steve is quite fond of the sunsets and the views at Pig Cove and West Mabou Beach. My family owns a bungalow in Ironville along the Bras d'Or Lakes so I have a soft spot for that area. And Inverness beach because I am addicted to finding sea glass and my most interesting pieces have been found there!
Restaurant– Well the place we visit the most is definitely Sandeannie's Bakery & Tearoom in Harbourview. Even if Steve's parents didn't own the place, I would still say they hands down have the best breakfast going. And it's served all day! We also have a few other regulars that we love to go to when we feel like treating ourselves like The Clove Hitch Bar & Bistro in Port Hood, Papa's Pub & Eatery in Port Hawkesbury and The Village Grill in Inverness.
Hike/walk/run/bike/snowshoe/snowmobile – The Celtic Shores Coastal Trail is an old rail line that runs from Port Hastings right through to Inverness and that is one of our favorite places to go. Each stretch has its own amazing views. We take the four wheeler out, go for walks and have had many photo shoots on the trail. There are so many volunteers who work hard maintaining it and we try not to take for granted that we have this amazing trail system right in our back yard.
Veggie – That's a tough one! We have been working on our green thumbs for a few years in the garden in our back yard. We even built a green house with some friends of ours. Steve's favorites are the potatoes we dig up every year. They taste amazing, last us most of the winter and go with just about everything! I was really impressed with the carrots we produced. They were some of the best tasting carrots I have ever had!
Band– Ou, another toughie! Haha There is a lot great local musical talent from here! We really enjoy Town Heroes who are from Mabou and Inverness. I also love Soho Ghetto. They are based out of Halifax but Shawn Burke who plays the drums is from my hometown of Port Hawkesbury. But how can we only mention two? It seems so wrong because of all the talent from the area. The Eddie Cummings Band, Lisa Cameron, Company Road, and the wonderful voice of Joanne MacIntyre, to name a few more!
7. Are you planning to stay in CB? Why, or why not?– 100% Yes! Cape Breton has everything we want in life. As long as we can continue to make a living here we will be happy staying right where we are. It will take a lot for us to move away again. The Cape Breton we know and love is full of interesting characters, hard working individuals and so many more adventures to be had. The best way we can contribute to helping this place grow is sticking it out, being creative in the way we make a living and committing to making this our home.
8. Dream big for a moment: what are your hopes and dreams for this place?
We would love to see the day when people our age not only want to stay here but can stay here. And we know we are not the only ones. There is no easy fix for that and it has to be a communal effort over time. But hopefully someday we can be rid of the "you have to leave to get ahead" mentality.
I also would love for this Island to break through the stereotypes. For many people, when they think about Cape Breton they hear stories about outmigration, unemployment, and other depressing statistics. While you can't avoid these facts, we also can't ignore all of the good things that are happening either. I would love for people to see Cape Breton the way I see it. I see committed hard working people, unique small businesses, effective shop local campaigns, events like Lumiere in Sydney, an abundance of Farmer's Markets, and more of our friends moving back home every year. I believe that if you focus on the negative, that's what you will get. More negative. If you focus on the positive, well, you get the idea. I think that there has to be a shift in mindset.Instead of people waiting for change we need to be the change. Life is what you make of it and we need more people to make a life here.
This Q+A with Emily and Steve is part of an ongoing series of interviews with people associated with Cape Breton in some way – mostly young people, but not necessarily. The complete list of interviews is here.