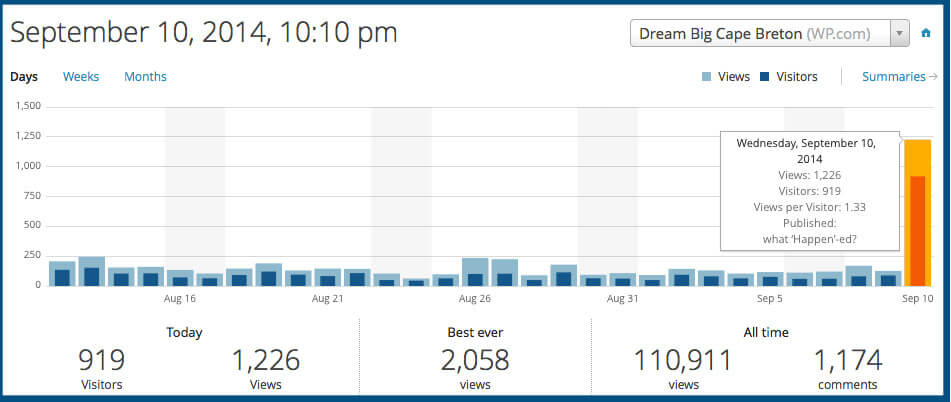 So it seems a lot of people are interested in the new brand at CBU! Yesterday my site traffic ballooned after I wrote about my reaction to the "Happen" brand, people left a bunch of comments (some anonymously as they are CBU employees), and shared the link a bunch too. (Thanks!)
I kept waiting for a comment from someone who really liked the brand, but that didn't, err, happen.
Also, I was somewhat hoping someone from CBU would see my tweet and respond, but that didn't happen either.
Someone I know at CBU did write and suggest I meet with their Marketing Director to chat about the brand, and put us in touch, so I'll likely do that. Hopefully that's not an exercise in futility (I can imagine a person in a role like that essentially reading the press release back to me), and actually is an interesting meeting that provides some answers to the questions I posed in the post yesterday. We'll see! I'm nothing if not optimistic.
Anyway, I always like to share stuff like site stats, because it's so interesting to me, you know, which posts do well, which ones strike a nerve. I don't want to just write about controversial stuff for the sake of driving up my site stats, but when it's done right and it's topical and it's something I actually care about and want to write about (like the post last year about the Bell Museum, another high-view day) then it's neat to see when the stats confirm that people are interested in the topic.
I'll keep you all posted!