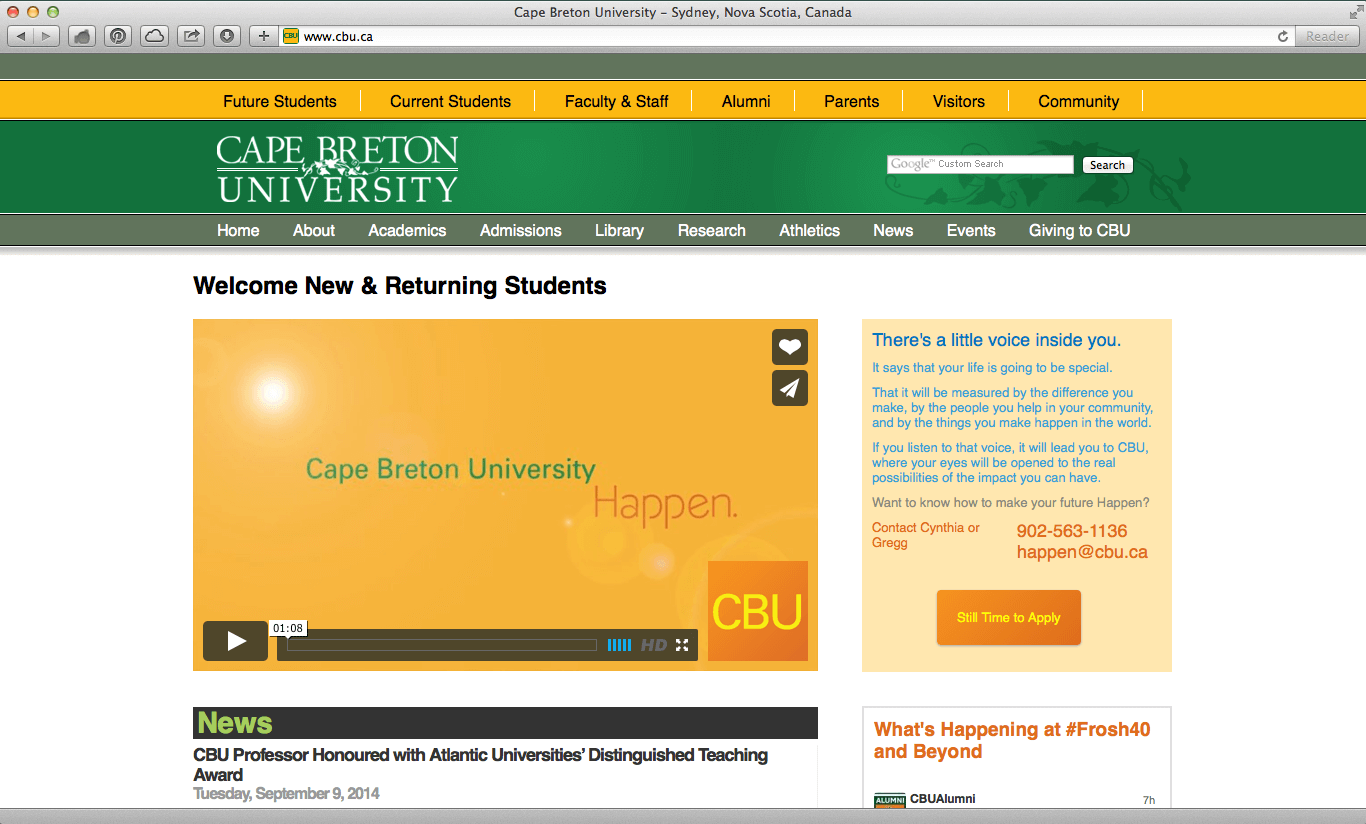 Recently the local university, CBU, went through a rebranding. It took a year or so.
At the end of it, just last month, they released their new brand to the media and the public. It's essentially one word: Happen.
I'm underwhelmed. I'm also confused. I know the university says in a press release that "'Happen' encapsulates the spirit and drive that is inherent in CBU today and which will become increasingly clear to the world in the future," and that it's about "the journey, the experiments, the things we learn along the way," but for me as a designer, this feels like the focus groups and the designers just found a slick-looking sans-serif font and came up with a word that could apply to a number of situations, and worked out a vague design rationale for it.
It doesn't feel like it grew, rooted, from the soul and history of the university, this one or any other, frankly. It feels like it just, well, happened. (Sorry.)
(It also happened to Staples, apparently.)
Mind you, I didn't go to CBU. Nor was I part of the branding process. I also don't know enough about the culture of studying or working at CBU, either, to comment on that. So that's where I'm confused. Since this brand doesn't really do it for me, as a CBU outsider, I'd love to know more about the process they went through, and why they did go with what they went with. I love branding and rebranding, and I love design. I guess I should qualify that: I love rebranding when it comes from somewhere genuine, and isn't just a fresh coat of paint. I think the process of designing a rebrand starts way before you pull out the Pantone swatches and the slick fonts — I think it begins with a deep and honest look at what the existing brand is, what people think about it already, and figuring out ways to serve your customers better. The process fascinates me, and I'd love to know more about it in this particular case.
I must also say that I'm disappointed that the university went with a Toronto design firm. Imagine what a bold statement and shot of confidence into Cape Breton's economy it would have been, if CBU had announced they were trusting a local design firm like Vibe Creative Group with their university's branding process?
Again, I don't know what went on behind the scenes. Maybe local places like Vibe submitted a bid and were thought too expensive. Maybe local firms were too busy to take on the work and never submitted a bid. I don't know. I mean, I want to be supportive of a local institution, CBU, and not just be critical for the sake of being critical. But, I've got questions, and I'd really love genuine answers.
What about you? Does this brand speak to you, make you feel excited? Or are you in the 'underwhelmed' camp?