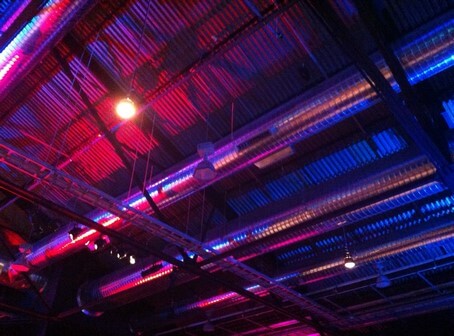 Oh man, there was SO MUCH to take in at the Creative Economy Conference! (It even made me feel a little "hungover," as I wrote about yesterday.) I was just blown away. I scribbled lots of things in my notebook, lines and inspiration and ideas, but especially stuff to follow up with on the Internet, and share with you all. So here is a list of links to some of the rad stuff I heard about or saw at the Conference! I hope it inspires you to be part of it next year: the Creative Economy really does affect all of us.
Lisa Bugden of Film & Creative Industries Nova Scotia spoke. She shared this video about how the show "Haven" is shot on the South Shore of NS (2:33), using it as an example of how the creative industry promotes places in the province around the world.
She shared this video, a book trailer for "Damaged" by Pam Callow, as an example of how people can get creative with promoting old media in new ways.
She talked about how Sarah Richardson (speaker at the conference the day before) had visited the Centre for Craft and Design's shop and been blown away by the work there, and shared it on her blog. Ms. Bugden used this as an example of getting your products into the hands of "influencers".
Anne Manuel of the Quidi Vidi Village Plantation (Newfoundland) spoke about how the Plantation works to incubate artists and launch them into their careers. (Some of the artisans who work out of the Plantation include Renee Scott (Brindy Linens), Graham Blair Woodcuts, and Joelle Blandford (Nature's Threads).)
Mark Barone of ArtsmArtcities spoke about how the Paducah Artist Relocation Project that he led in a blighted city in Kentucky. This 2:45 video by ABC News shows a bit more about the project. He also talked about his new project, An Act of Dog: A Museum of Compassion.
When Tonya Surman took the stage I fell in love a bit. She's a fantastic speaker, smart and funny and relaxed. Forgive me for swooning a little! Here is a 3:09 video where she describes the Centre for Social Innovation in Toronto she helped to found and run. Her message was: "It's up to us," and I couldn't agree more.
Check out Gavin Sheppard's Instagram account to see his photos of his two weeks in Cape Breton working with youth.
Folks from the Centre Line Studio as well as Youth Art Connection (YAC) were there for the panel discussion, too, to talk about the importance of connecting youth with art that they are passionate about.
I got to meet Mitchell Bailey, a 16-year-old hip-hop artist from the CBRM putting out videos on YouTube. He's fantastic! You can hear the interview with Gavin Sheppard and some of the Bud Squad on CBC's Information Morning here (it's 15:06). In it Gavin says the brilliant line, "There IS nothing to do here, until you decide there is something to do, and then there is a hundred things to do!"
Find out more about getting involved in the National Youth Arts Week happening in May, and one of the sponsors is the Michaelle Jean Foundation, which I hadn't heard about, but it sounds like they do really neat stuff too.
Sabine Fels of Arts Express (Halifax area) was also there and talked about her program and all the cool stuff they've done. (She mentioned in her talk something in Chicago called "After School Matters," which I'd like to check out when Adam and I visit the city this summer!)
And Brian Riley, an Artist in Residence at the J.L. Ilsley High School, gave a talk about his work. This is his website.
And here is a piece in our very own Cape Breton Post about the Conference.
And this isn't from the Conference exactly, but it's a shout-out to my friend and classmate Hollie's fiancée Matthew, who makes a living from streaming himself playing Minecraft online, in New Waterford. He's on Twitter here and his Twitch channel is here. I had no idea about Twitch gaming before I met Hollie at NSCC, and have loved seeing Matthew build his dream career. One of these days I'll get around to having him share his story here on the blog!
So basically, we live in an amazing place with so much talent and potential, and creativity and sustainability is up to us. And it excites me so much.
Have a great weekend!