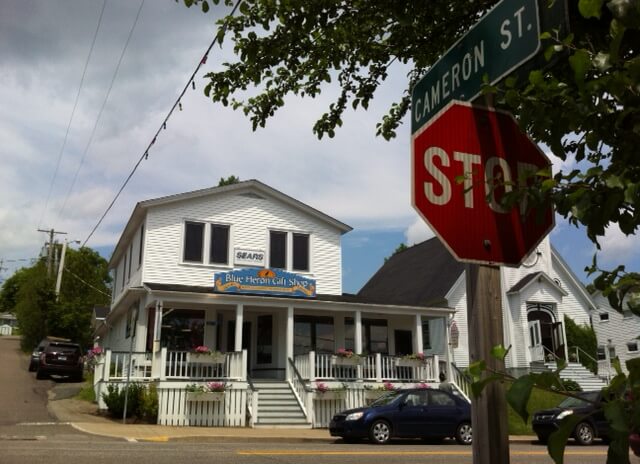 Today was super warm. Somewhere in the high 20's, and the Humidex made it feel like low 30's. That's a hot summer's day around here.
I walked uptown at lunch time and these are some shots I took with my phone. Baddeck's main street, all lovely.
I took this one the other night. This week I have been working 8 am to 8 pm, getting ready to take next week off for a sweet little trip to Toronto for some vacation time with my honey. It's long days but the evenings have nice light and I get to play some music for myself. I've been playing India Arie's new album "Songversation" on repeat, and it's making my summer!
I'll admit that I found June hard. I think it was a mix of things: the switch from school all day every day, to being back to work (and working with boats, which, I'll be honest, isn't my passion in life). And the switch from being in North Sydney and my independent home, to being in Baddeck and living with my family again. And it was cold and rainy for the most part. And, I think I was burnt out just a touch.
So I stopped doing some of the things I'd been doing. I left the Writers Festival. I quit a part time job I hadn't started yet. I decided on just a few priorities, the main one being myself and some down time. I'm not a machine. I'm a human being, one who loves and needs to just sit and read. Or stroll. Or whatever.
And I decided to be positive about things, like being in Baddeck. To welcome it instead of enduring it. (Baddeck is beautiful, I know, and the people here are lovely. But, when you feel like your life is going great in another place, and then you feel uprooted for several months to another place, well, it can be hard.)
So now that it's July I'm happy to report that I'm much happier. It's warm (most of the time). June is over. Summer is here. And the living? Well, it's pretty damn easy, to be honest. Work and all.