I've known Angelo for over ten years now, ever since I used to work for Deanie Cox when she ran her shop "Shape Shift" in North River. My best friends Will and Claire and my brother Mat worked for Angelo at his business, North River Kayak Tours. Will, Claire, Mat and I would bike around North River on its variety of dirt roads (the Oregon, the Murray and the Meadow), eat lobster and mussels, drink beer and live the good life. Those were idyllic summers, looking back!
Angelo has always struck me as being relaxed, yet an devoted entrepreneur who goes after his goals. And for as long as I've known him, he's always shown his passion for the outdoors, as well as for gathering people together to sing, play instruments, and have a good time. These simple, yet truly good things are what drives him.
Angelo is not only a successful business owner, but a musician, a teacher and a traveller. I'm proud to call him my friend. Here is a little Q+A with him. He has lots more cool photos on his Facebook profile, so just hook up with him on there!
1. How old are you?
43 big ones!
2. CB born and raised? Or recent transplant? (Plus whatever biographical details you feel like giving).
Born and raised in Sydney, NS. A professional musician for 25 years, Sea Kayak tour operator/owner of North River Kayak Tours for 18 years. I travel extensively and with a backpack and guitar seeking another song and new relations with my road folk friends.
3. "What are you up to these days?" I.e. what do you do for a living, what are you working on, are you a student, in the workforce, writing songs, etc?
Still running tours. Freshly back from a month in Spain and Morocco. Recently won a NS Music Week award for Aboriginal Recording of the Year. Also won Destination Cape Breton's Product Development Award for 2012! I am teaching children songwriting on First Nations on Cape Breton Island. I am a board member on the St. Ann's Bay Development Association. I am hoping to volunteer at Alderwood Rest Home to perform music for them. I am also figuring out where my next trip will be.
4. Tell us about the songwriting project you did with Eskasoni students. What did you learn, about Cape Breton, from doing this project?
Well, about 4 years ago I taught kids at the Harbourview Montessori school and the tune we wrote and recorded got airplay on CBC radio. Someone heard this and approached me, asking if I can teach on the First Nations reserves. I agreed and have been doing so ever since. We were nominated for an ECMA last year with the compilation of tunes that we have recorded over the past 4 years. Imagine!
What I learned about Cape Breton doing this project was that the kids have a deep connection to the Island. You can hear it in the lyrics that they wrote with me. All the songs have a connection with Mother Earth. They know this and they feel it. That to me is encouraging and exciting.
5. What are your favourite things to do out of doors, in CB?
Ice climbing, kayaking, swimming, sleeping outdoors, living life and learning from nature.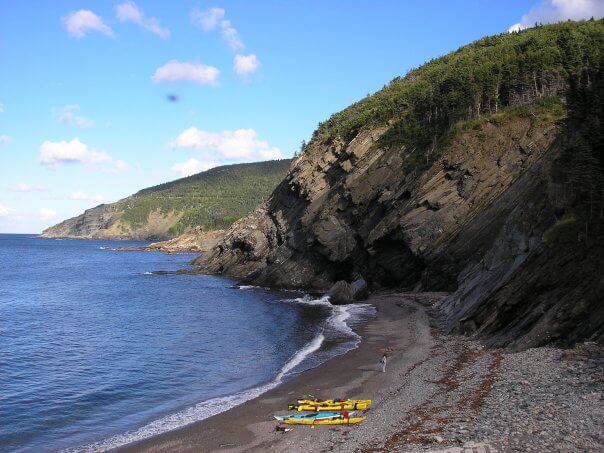 6. Favourite CB music venues, past and present?

Well… there are not that many but let's just say: Bunkers, Savoy and the Red Shoe in Mabou.
7. Tell us a bit about your creative process.
1) Don't think just let it flow when it is flowing and hope you can write as fast as it comes to you.
2) Does anyone have a pen by chance?
8. Are you planning on staying in CB? Why, or why not?
I have no idea where I will be from day to day but I really hope I can continue to etch out a happy life here in the woods on this great island.
9. "Dream big" for a minute: what are some innovations or events or just plain old "big ideas" you think Cape Breton could use?
A tapa bar
, a seafood bar with fresh seafood, 
an authentic grass-roots-y venue where artists can come and perform intimately. A small church maybe. There seems to be lots for sale right now!
10. Finish this sentence: Being from Cape Breton, to me, means… that I can walk outside and be within a 20 minute drive to clean, clear water. I can also keep my doors unlocked and not have to carry a weapon to protect myself. There is a kindness here that people from away think at first cannot be real. "What do they want from me," they wonder. "Why are they so nice to me?" 
In reality all people here really want is to hear your story and wish you well on your travels. We all want to feel wanted and connected with others, it is in our nature. Here it can happen unpretensiously.
Have a nice day!
More Q+As on this blog can be found on the Interviews page.