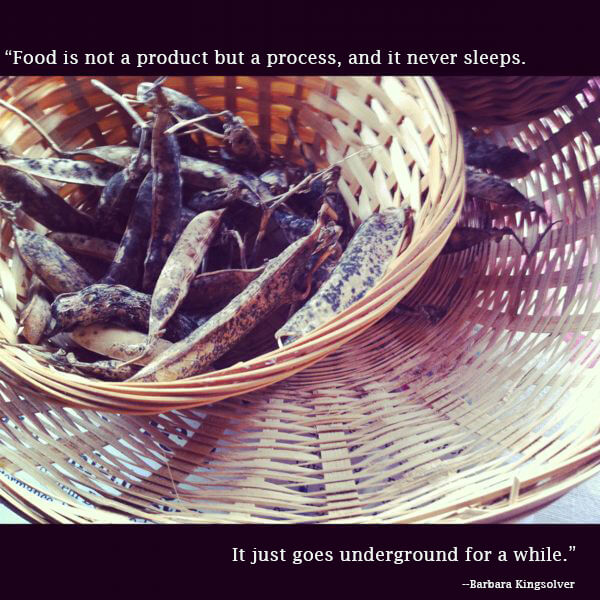 From one of my very favourite books (and authors):
"Who can decide? A sucker for seed-catalog prose, I ordered six varieties and planted about a dozen cloves of each. Buried under the soil with a blanket of straw mulch on top, each clove would spend the winter putting out small, fibrous roots. The plant begins working on top growth in early spring, as soon as air temperatures rise above freezing. By midsummer it will have from eight to a dozen long leaves, with one clove at the base of each leaf nestled into the tight knot of a new head. I pull them in late June, and tend to think of that moment as the end of some sort of garden fiscal year. It never really stops, this business of growing things — garlic goes into the ground again in October, just as other frost-killed crops are getting piled onto the compost heap. Food is not a product but a process, and it never sleeps. It just goes underground for a while."
-Page 270, Animal, Vegetable, Miracle: A Year of Food Life, by Barbara Kingsolver.
(Note: Kingsolver lives in Virginia. My mother here in Cape Breton pulls her garlic in late August. Also, the photo is of peas, not garlic, I know.)
I spent a happy weekend at my mother's in Baddeck. I saw friends, went to see a play that my brother was in, and attended a board meeting for the Bras d'Or Stewardship Society. And then I got two orders of spicy noodles from Wong's and headed back over the mountain, Kelly's, to home. New home.