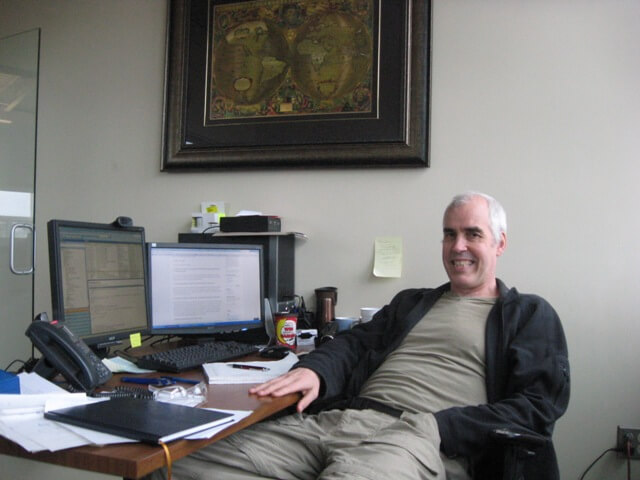 Last week I posted a photo tour of Protocase, Inc, a Sydney-based manufacturer of custom electronics enclosures. This is a Q+A with the co-owner of that company, Doug Milburn.
1. What's your age?
Hmmm … I'm in my forties now. Wow, how did that happen? I guess I should start to think about growing up …
2. CB born and raised? Or recent transplant? (Plus whatever biographical details you feel like giving – age, education background, employment background, hobbies, family, etc).
Proudly born and raised in CB. I was born in Glace Bay General Hospital, and lived there for my first three years. My parents then packed up the family and moved us to the big city when I was three, and I stayed in Sydney until I went off to Mount Allision University. I then went to Waterloo, Ontario for grad school. Finally, the nice folks at the University told me it was time to move on, and my wife Michelle and I and our first child (who was 6 weeks old at the time, now 16) moved back to Cape Breton. And here I am, 16 years later.
3. "What are you up to these days?" I.e. what do you do for a living, what are you working on, are you a student, in the workforce, etc?
I work full time at Protocase Inc, the company that I founded with my business partner Stephen Lilley. I also spend time at Advanced Glazings Ltd., a company that I founded with Michelle, who now runs it as General Manager.
4. What is a typical "day in the life" for you, during the week?
I obviously spend lots of time at work, mostly Protocase but also Advanced Glazings Ltd. There's always lots of variety, and sometimes its tough to get home at a decent time.
When I'm home I like to try to spend time with my kids, but now that they're older, they're not so enthusiastic about it and have other preferences than hanging out with dad and mom.
I also try to get as much exercise as I can fit in, which is not always as much as I'd like. I try to get to Sydney's wonderful new YMCA in the morning. I also used to play hockey a couple times a week in the winter and soccer in the summer, but a knee injury sidelined me for the last couple of years. I had some major rebuilding done before Christmas (thanks Dr. Yepes!), so I'm hoping I'll get back to that, it's great psychological therapy. (I note that Evgeni Malkin hit 50 goals this season for Pittsburgh after having an ACL repaired, so maybe there's hope for me after the same surgery.)
5. Tell us about starting Protocase. What was the process like? What was the biggest lesson you learned?
Protocase was the second company that I was involved in starting. It was way easier than the first time. In fact, Protocase has been a relatively easy run in a lot of ways. That's not to say that there weren't a lot of really tough times in the early years, wondering if we'd survive, or be able to make payroll. But we made it, and Protocase was and is a lot of fun.
We've been able to collect a great set of employees, and we have a really great set of customers, who are highly creative engineers who design and build electronics.
Our customers are located around the world, anywhere where people create technology, and they tend to love what they do. So do we, so overall, a day at work is a good experience. I think overall, I've learned that, in business, if you like the people you serve as well as your employees who serve them, and you look after everyone well, you can have fun and prosper.
6. Balance, efficiency, "small-scale" and positivity seem to be very important at Protocase. Is this is on purpose? What would you say are the best examples of these values in your company?
Totally by design. Work/life balance is important if our people are to avoid burnout, which is a real danger in today's work environment, and particularly for people who love what they do and work in a fast growing business. If we burn out our people, it will hurt our business.
Efficiency is critical for us in a number of ways. We serve the engineering community, who have smaller-sized jobs, so we have to minimize the overhead to be profitable. We've achieved that through the use of technology. We also know that to grow, we have to work smarter, not harder.
Small-scale is also a key part of who we are. We do small jobs for our customers, and as soon as our attitude and ego becomes too big for our customers, dealing with Protocase could become like, say, dealing with a cell phone company, bank, or automaker. Not to say that each interaction with those companies are bad, but generally, most people walk away feeling less than satisfied, and with the impression that their business is not really important to the company.
Finally, we rely heavily on positivity . At Protocase, we work hard at things we love to do, in a place that we want to live. We feel lucky to do so. This attitude helps motivate us, and comes through when we deal with customers. And we want every customer walking away from each interaction feeling as positive as is possible, so that it maximizes the chance of them coming back.
7. What are your favourite CB eateries and food sources?
Hmmm … lots of choices, I'll stick to Sydney and area so I don't take up too much space. Allegro and Flavour (downtown or 19) for a sophisticated lunch, and of course, you can't beat the burgers and fries at Kay's Kozy Korner. For food and drink after work, I happen to be a fan of Don Cherry's wings, plus they have my favourite beer, Newcastle Brown (as long as Steve Lilley doesn't drink them out of stock). Boston Pizza has great draft (cold Rickards Red), and Governors has a great beer selection and is a short walk up the hill from my sailboat's berth at the Royal Cape Breton Yacht Club.
8. What are your favourite things to do outside?
In the summer it is sailing. I have a 33' sailboat that I love spending time on. Cape Breton has the best sailing on the east coast of North America by far, with relatively warm water, incredible scenery, and more beautiful and secluded anchorages than you could ever wish for.
I keep my boat at a club that is 15 minutes walk from my house, and I can drive there after work in minutes. Sydney Harbour is becoming a decent piece of recreational water, since our sewage treatment came on line a few years ago (it's hard to believe that many Canadian cities still crap in their own water!). The Bras d'Or Lakes are a revered sailing destination, but most east coasters have to slog their way up through the foggy and rough coasts of Maine and Nova Scotia. I can get there in about 4 hours. Plus we are in a great location to get to interesting places such as PEI, the Magdalens, and that magical place called Newfoundland.
9. Are you planning on sticking around in CB? Why, or why not?
Absolutely. Why would anyone ever want to go anywhere else?
Seriously, I spent 10 great years in Waterloo Ontario, and met a great group of friends and had a great time. It was a good place to live, and I'm sure I would have been happy had I stayed. I bet there are a ton of other places that would be great to live. But my family is here, and I love our landscape, ocean, people, and culture. Everything that I like doing is close by. So I doubt I'll be going anywhere permanently.
10. Finish this sentence: Cape Breton needs…
Simple – Cape Breton needs economic self confidence. The toughest part of living here is watching so many people move away. Everybody believes that this is a tough place to earn a living, and to do business. But based on my experience doing business here, I believe that is a bunch of garbage. Granted, career track jobs are scarce compared to today's boomtowns, but those who have gainful employment here have an easier time living, because of our cost of living, and our lifestyle that doesn't require you to show off your expensive material things. Also, we worked on a New York highrise apartment building project in Manhattan recently, and these 600 sqft studio apartments rented for $3500 per month. Really, no type or slipped decimals! We don't have to deal with that here. It is good to come to the realization that, if you earn a similar salary here, you are miles ahead of those in the large urban areas where most people migrate to.
But our negative attitudes to Cape Breton as a business environment are a bigger problem. Doing business in Cape Breton has its challenges, but every other community has its own set of challenges. For example, in Toronto, the road system is totally congested and unusable for about 6 hours a day now, and you could pretty much travel from Sydney to Halifax in the time it would take you to get from Toronto airport to downtown and back in rush hour. But business there just find ways to adjust. Likewise, here, if you just accept the strengths and weaknesses, and adapt to them, you find that we actually have a lot of advantages.
But in Cape Breton, we have come to believe that there is something particularly special about our poor economy, like there is a curse on the community or something like that. There isn't, this is just another place. Once we get rid of the cloud of economic negativity and are able to see straight, we will see ourselves as just another part of the incredibly prosperous North American trading block. We are close to the North Eastern US which is the largest block of prosperity in the world, and Western Europe is just 4 hours east of us. We have great internet connectivity which is the nervous system of today's economy. So we have everything we need here. We just have to believe in ourselves.
Finally, I think we need to give up on government. We've looked to government for the leadership required to transform our economy since the decline of our traditional industries, but they've totally failed. Cape Breton has always been made up of private sector communities, and anytime we've relied on government to help it hasn't worked. We have to make this place friendly to people who create prosperity through business. I think we'll really turn the corner when our young people truly believe that this is a great place to come and start businesses or to work. When Cape Bretoners buy into that positive vision, it will become a self fulfilling prophecy. Likewise, if we continue to falsely believe that there is something wrong with Cape Breton as a place to do business, that vision will continue to shape us. I believe this will happen eventually, but I hope that we'll see a leader emerge who will accelerate the process.
You can connect with Protocase on Facebook, Twitter, and their blog.