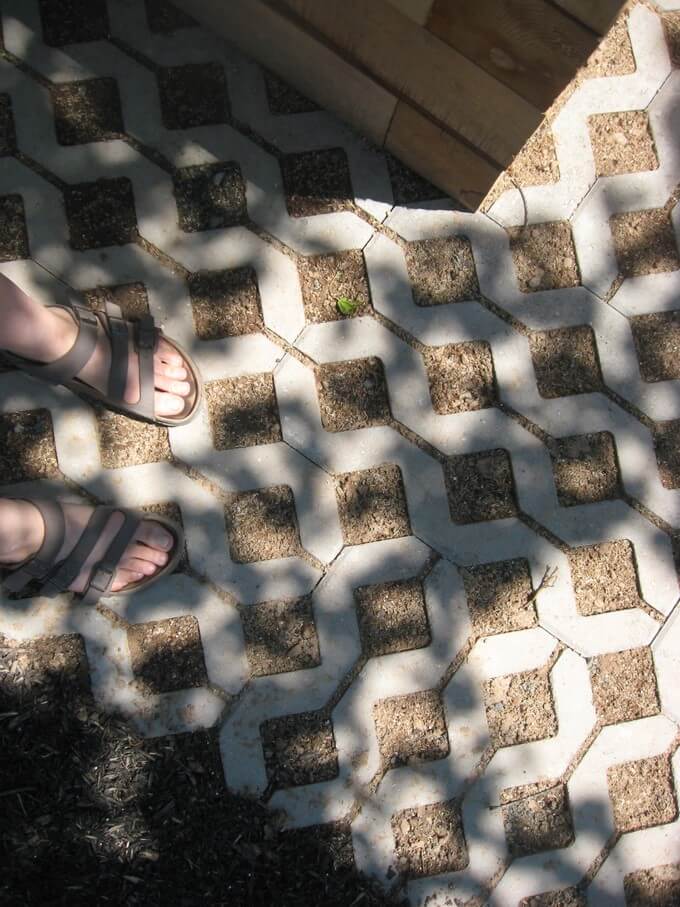 This is the Community Garden I've talked about before. It's continuing to take shape. I like the tiled-sort of bricks between the beds. Very wheelchair-accessible, and also pretty. Nice!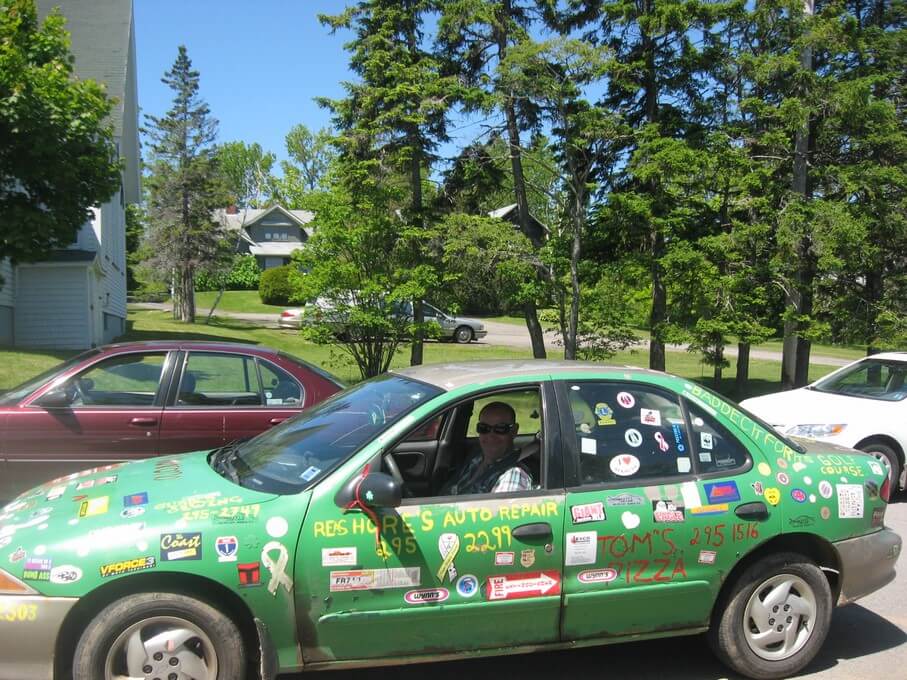 Myself and my friend Kate were sitting there at the garden, eating our lunch together, and Graham drove by. (He's a Baddeck person. I like to call him the "one-man parade".) He slowed and stopped and chatted with us.
"Hey!" I said. "Can I take your picture?"
"Sure."
"Can I put it on the Internet?"
"Sure."
"You don't give a crap, do you?"
"Nope." Then, he said, "Take a picture of the front, I got a Ford symbol above the other one."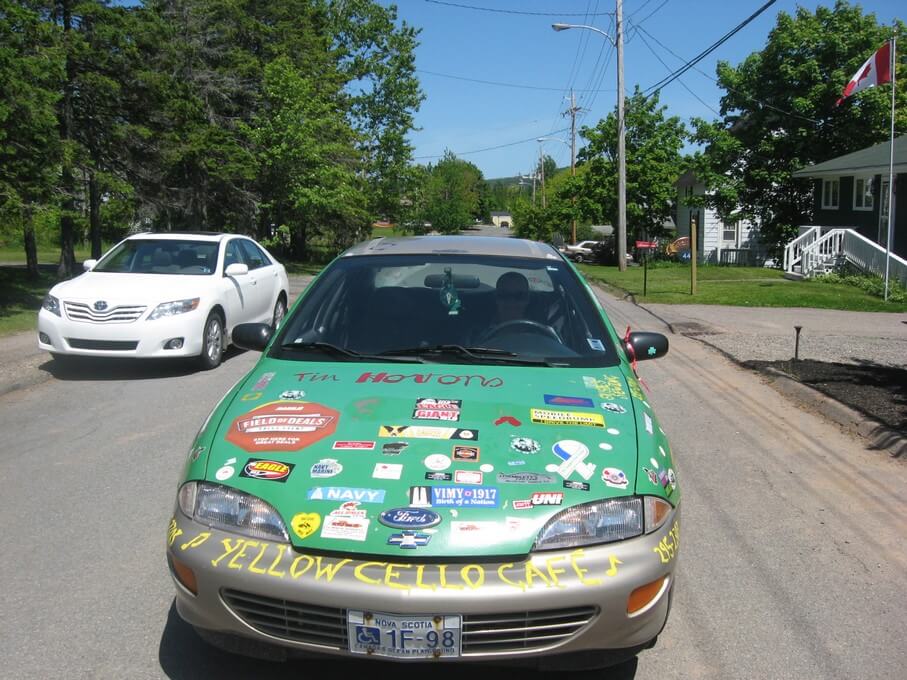 So, I did.
Then, these last few photos were taken Tuesday night. I was just loving that evening light, how it comes in over the blueberries and in through the woods. My cat was loving it, too!
So, lately! I'm…
Learning… that no-one is perfect and has it all together – not even me, ha HA! (I'll have a great day and feel on top of the freaking world, and then… my mood shifts and suddenly I'm grumpy and nothing could ever be right. Funny how that happens. Oh, being human. It ain't for sissies.) Learning that things change, always, always. Everything is in a state of flux. Even minute to minute, even if you can't feel it.
Thinking… about blogs, blogs, blogs! Ever since I launched myself on this crazy "Dream Big" adventure, it's nearly all I think about. And now I'm taking an online course from Elise about design for bloggers, as well as reading books on blogs, and reading lots of other blogs… then add to that my constant emailing with people about future blog posts (like for Q+As and meet-ups and stuff), and writing by hand in my spiral-bound notebook, all my various ideas for future content… and man, I've got blogs on the brain! It feels GOOD, but … a little obsessive. But, I keep on just trusting that it's OK. That a painter who just wants to freaking paint already feels the same thing. Like, "get outta my way and let me do my thing!"
Feeling… rather good. Damn lucky, really. Feeling in love and happy – which is kind of a surprise. I guess I'd really believed that I'd never find someone who it would all work out with! I'm not sure why I believed this, but I did. And I'm feeling the fresh summer air on my skin. Heck yeah! Do you find the summer around here feels like a surprise, too? Like something you thought would never come?
Eating… probably not as well as I should. Some local foods, though, so that feels virtuous! Like lettuce and bread and carrots from last year. Also, in the not-local category, chocolate bars. And peanut butter from the jar. It tastes better that way, right?
Drinking… red wine. Vodka and cranberry with ice cubes. The odd beer. Lots of water. Coffee too.
Loving… the green green grass (mowed or unmowed). The evening light. My honey, the awesome Adam. My kitty cat.
Wanting… it to be beach weather already!!! I can't wait to start on my beach adventures.
Needing… more time in the day, because I work eight hours and then I blog for a couple more and then darn it, I still want to go for a walk! And, make a wholesome supper, and have good catch-up chats with friends, and, and, and… oh my.
Trying… to be in the moment and happy with what I've got. (It's so easy to get distracted.)
Playing… with my iPhone. Angry Birds, and Solitaire. And of course taking lots and lots of pictures! Loving playing with Instagram, too.
Planning… a trip to Halifax this weekend to see my besties there! I'm anticipating lots of fun and goofiness. Also planning a trip to Eastern Passage for Canada Day. We stay with Adam's cousin and it's a nice laidback time with his family. But mostly I'm trying not to plan much! Trying to have more time unplanned, open, ready to be spontaneous with.
What are you learning, thinking, feeling, eating, drinking, loving, wanting, needing, trying, playing, planning these days?