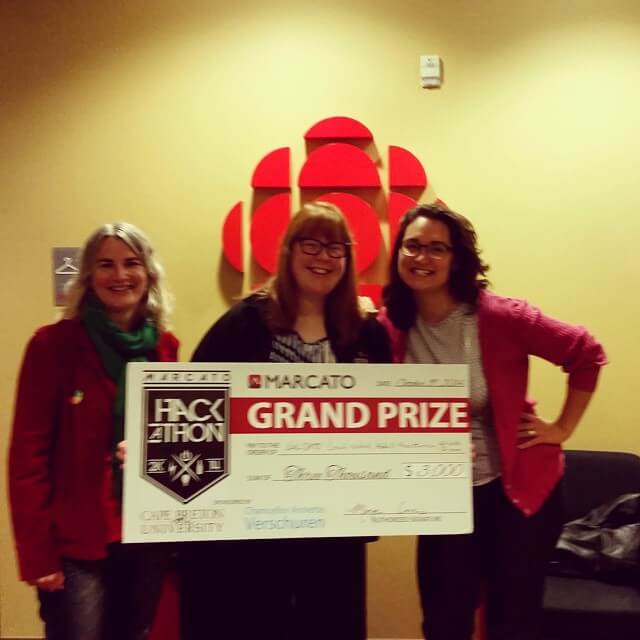 I'm interrupting the "Photo A Day" series to bring you some radness!!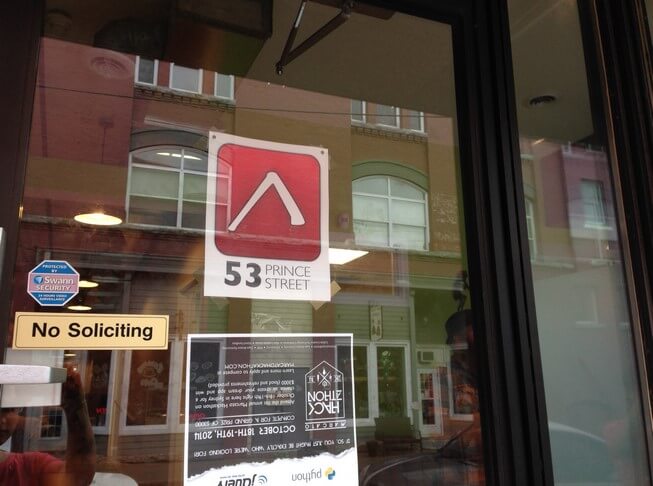 So remember a week and a half ago when I told you all about the Marcato Hackathon and how I was going to enter it?
Well, I did enter it! And spoiler alert: my team won! But more about that in a bit.
I asked my friends Ardell and Nicole to be on a team with me about a week before the Hackathon, and they agreed, making us the only all-female team. Ardell is a programmer at Pure Project Relations here in Sydney, as well as being an NSCC grad like me (that's where I met her), and Nicole, as well as being an amazing fiction writer, is also the Electronic Resources Librarian at the CBU Library. Our skill set is really nicely balanced: I bring the graphic design piece, Ardell can code her way out of nearly anything, and Nicole wrangles data and databases with ease.
We had decided before the Hackathon even started that we wanted to work on an idea of Ardell's, which was to create an app for the Cape Breton branch of the SPCA. The app would allow people to browse available pets, using their mobile devices.
We all also agreed that while winning would be great, we were doing this to learn new stuff and meet more tech people in the local area. It was fun, no matter what the outcome would be.
On the first day, Saturday, we arrived at the Marcato offices on Prince Street in Sydney just before 10 AM. The offices are large and clean and modern, and the smaller rooms off the main room were left open for teams. (Individuals could sit at tables in the main area.) Since we already had a team, we nabbed an office for ourselves. After everyone arrived and found workspaces, the Hackathon officially started, and we got down to work.
We used paper and a whiteboard at first, to map out what we wanted in the app and how the app should flow when you use it, and then we moved to our computers and started the different pieces of the project.
I made the visuals in Photoshop and then gave Ardell the whole Photoshop file to slice up and use parts of (the buttons, the images, the colours). Nicole found the data (a list all the pets currently at the SPCA, along with the information for each pet) through the website Pet Finder (which the SPCA uses to display animals on their site already). She got the list of data and gave it to Ardell, who plugged it into the Android app she had built.
All of this took the whole first day and part of the second, and by 3 PM or so we were done. Our app worked, we were happy with it. We decided it would be best to quit while we were ahead, and we actually went for a walk and went shopping! (At Gala Upstairs, on Charlotte Street.)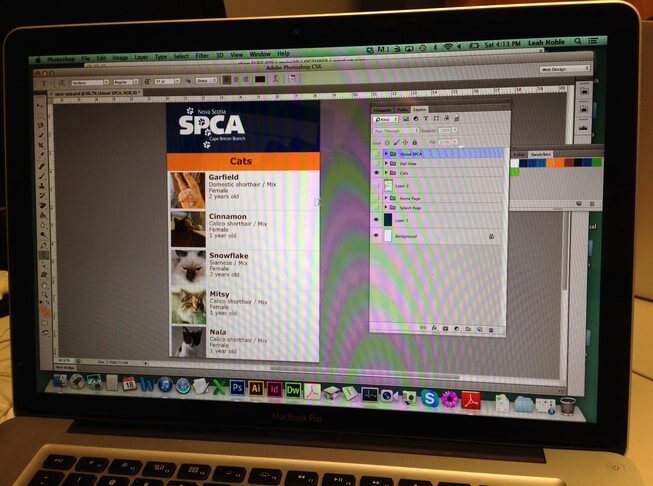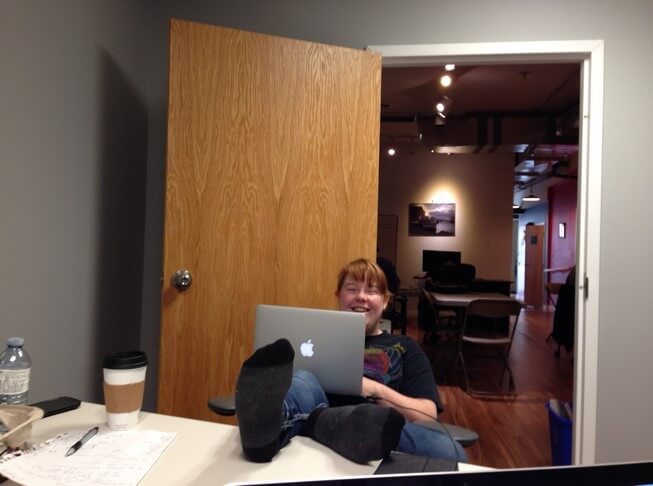 (Ardell getting comfy to code, on the second day.)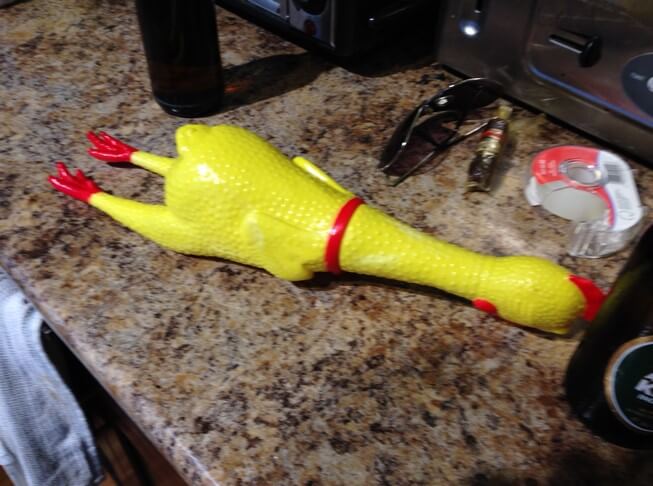 This is the loud chicken the organizers were using to get everyone's attention before announcements through the event.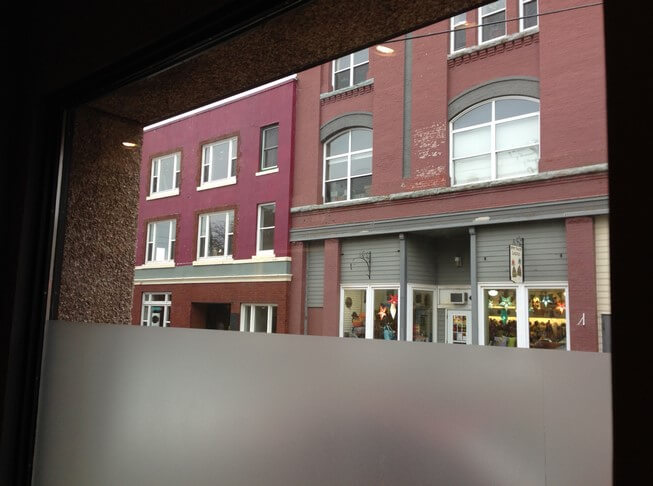 The view from the front room at Marcato, across Prince Street.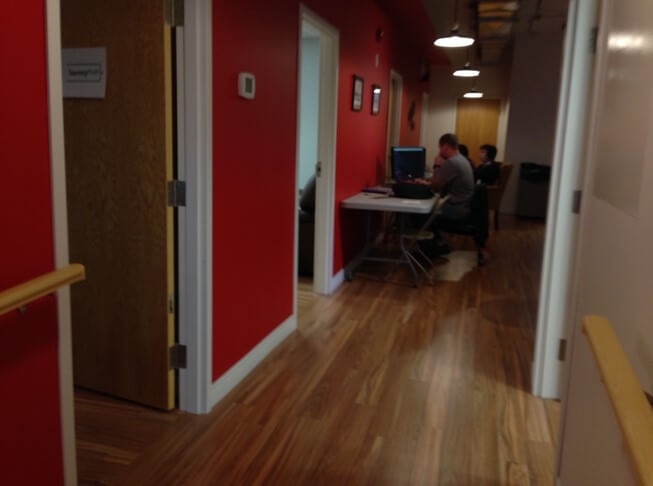 The view down the hallway. You can see some of the other developers hard at work on their programs and apps.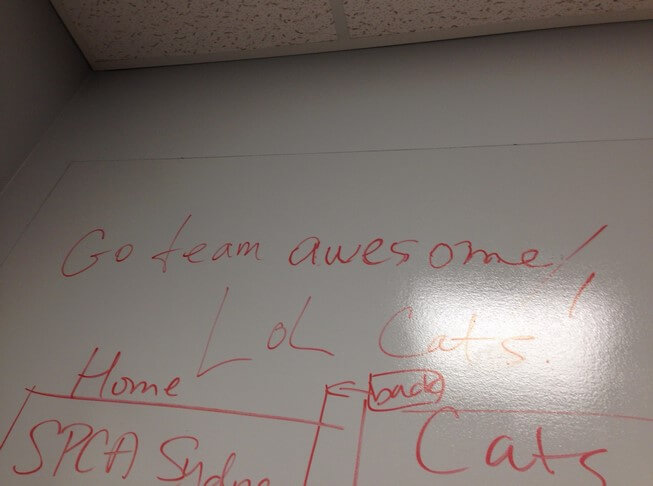 Our whiteboard space.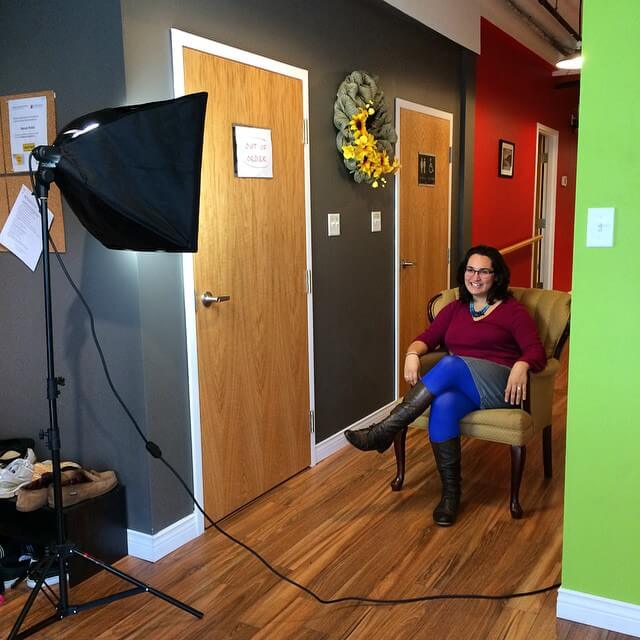 At one point in the afternoon on Sunday, my friend Jenni Welsh arrived, hired by Marcato to film the goings-on and interview people. This pic was taken by Nicole, of me chatting on camera about how great events like these are, and how women can and should get involved in tech, because it's actually really awesome and fun!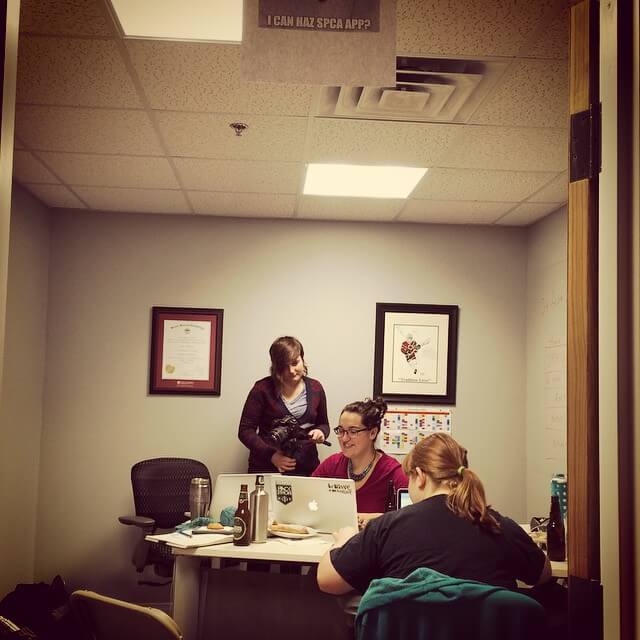 And here is Jenni in the office with me, checking out our work. Ardell's back is to the camera. Photo again by Nicole Dixon.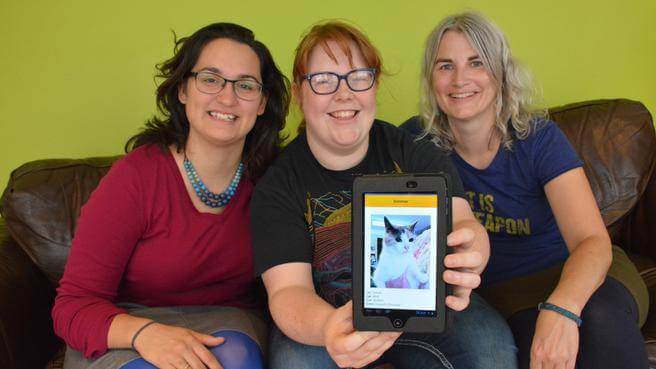 Also on Sunday afternoon, after we were done, we chatted with Tom Ayers of the Chronicle Herald, who took this photo above. Then he used it in his piece in today's paper! At this point we hadn't won yet, but we were still pretty proud of our app.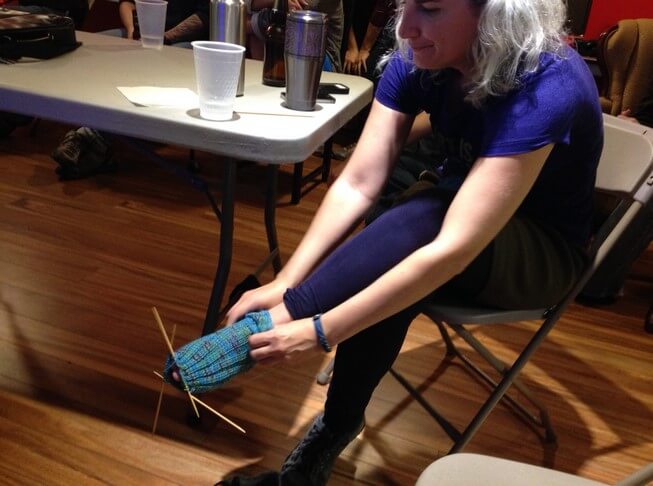 Then after we went shopping, haha, it was time for the presentations at 6 PM. That was the time when everyone had to stop working on their project. Everyone gathered in the "Thunderdome," or the main big room at Marcato. Nicole brought her knitting, as you can see above!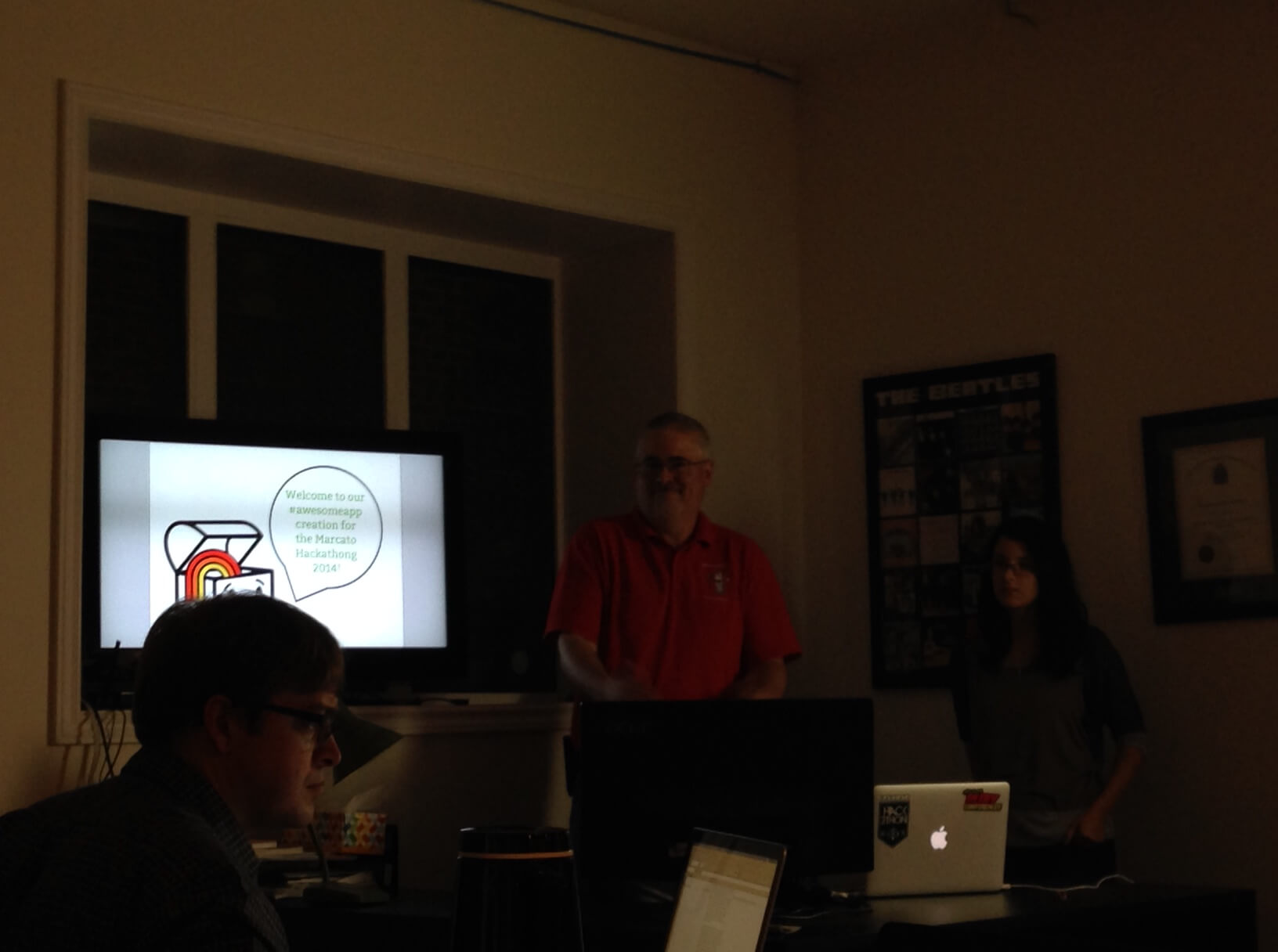 Above: Darren Andrews of Code The Solution Canada and my dear friend Jacquie Blanchard of Pure Project Relations are presenting their neat app, "Hidden Treasure," for finding out about flea markets and farmers markets.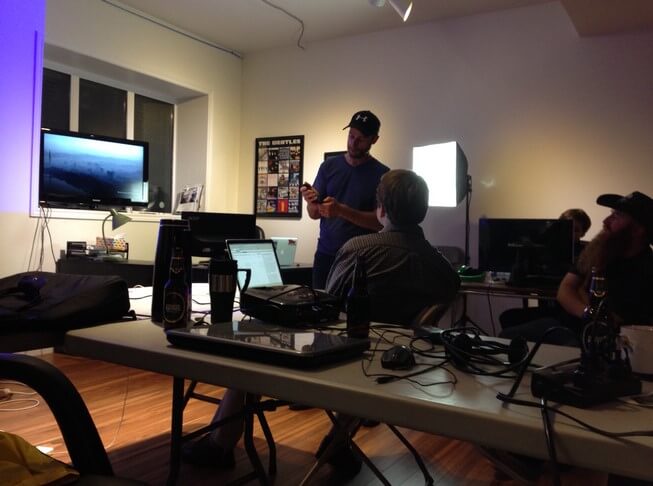 Here, Andrew Barrett shows his Bottle Recycler app to judge Douglas Ronne of Protocase.
Then after all the presentations (which took two and a half hours — I think there were around 20 projects to present), the judges deliberated for another half hour. Ardell actually left because she had to go play in a hockey game! After what felt like a while (we were all getting pretty tired by this point), the judges came out of the little room they were in and announced the two prize winners. First, they gave out the $1500 prize from Protocase, for the Coolest App, and it was Andrew Barrett who won, with his app for counting bottles that you recycle!
Then they got ready to announce the grand prize. I felt sure that another app, something more complex, or a grander idea than ours, would win, so I listened politely as Mike Targett talked about how they reached their decision, how they had picked the project which solved a real problem, that was the most complete, that was done within the scope of the two days of the competition. He turned the giant cheque around and said… "Team LOL Cats!"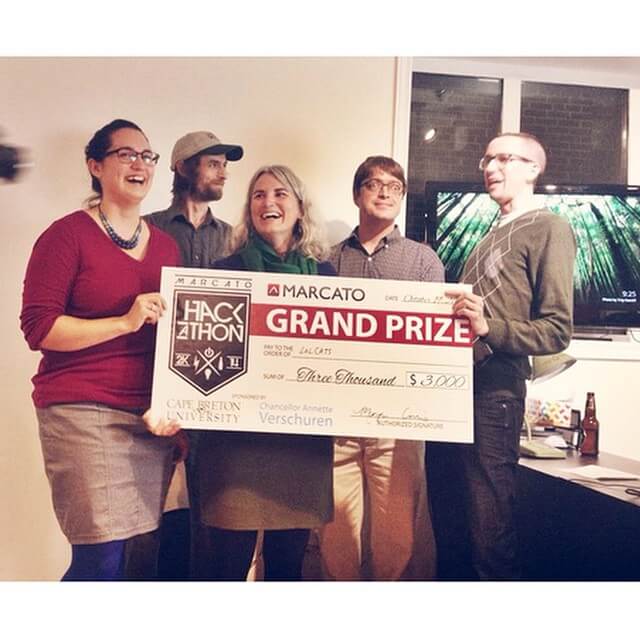 Nicole and I both said fairly loud: "What?!?" And then we looked at each other, and then we lost our minds a little. The judges motioned for us to go up and get the cheque, and we did, but if the pictures taken of us up there look like we're laughing hysterically, it's because we were, and saying over and over, "Holy shit!!"
The next hour passed in a bit of a blur, in a bunch of conversations as everyone packed up and made their way out of the offices, congratulations and celebrations. We texted Ardell who was about to go out on the ice, to tell her, and she didn't fully believe us.
This morning we gathered again, at 7 am, to go be on the CBC with Andrew Barrett and the event organizers. You can hear that piece here if you like.
So now that it's all over and the dust has settled a little, I just wanted to share the five things I learned from doing the Hackathon, although five seems like a super small number… I'm sure there is a lot more that I learned!!
1. A really great team kicks butt. The three of us had skills in the three different areas that we needed to build a solid app, and that gave us confidence and made the job fun.
2. You never know how you'll do if you don't give something a shot. I know that's super cliche, but it's true! When I first heard about the Hackathon, I didn't think I'd be able to be a part of it, since I'm a designer and not a developer. But I asked anyway, and it turned out I had something to contribute, for sure! And then our team went on to win the grand prize, which wouldn't have been possible if we hadn't given it a try.
3. Sharing helps: My friend and former classmate Jacquie Blanchard was on another team, but we visited each other's offices frequently and showed each other what we were building. That helped us learn stuff that we wouldn't have learned if we'd just stuck to our own rooms.
4. There are a lot of really rad people working in tech in Cape Breton right now. And this even brought us all together in one space, instead of being in our own offices and classrooms scattered around the area. I learned more about local companies like Heimdall Networks, and the new UIT program happening in Sydney.
5. Tech work is really about giving it a try. No-one knows everything. We all knew a bit about one area or one aspect of tech, but there are a lot of areas and aspects! And, every single person is tech is constantly learning new stuff. Don't know how to do something? Google it, try it out, or ask someone! Tech work really is trial and error, over and over again. Spending this two-day stint solidly doing tech work is going to make me so much more confident in my day job, I know. So what if I don't know yet how to make databases: I can learn it.
Anyway! Thanks for reading, as always! And if you have stuff to add to the conversation, be sure to leave a comment below… I love to read them.