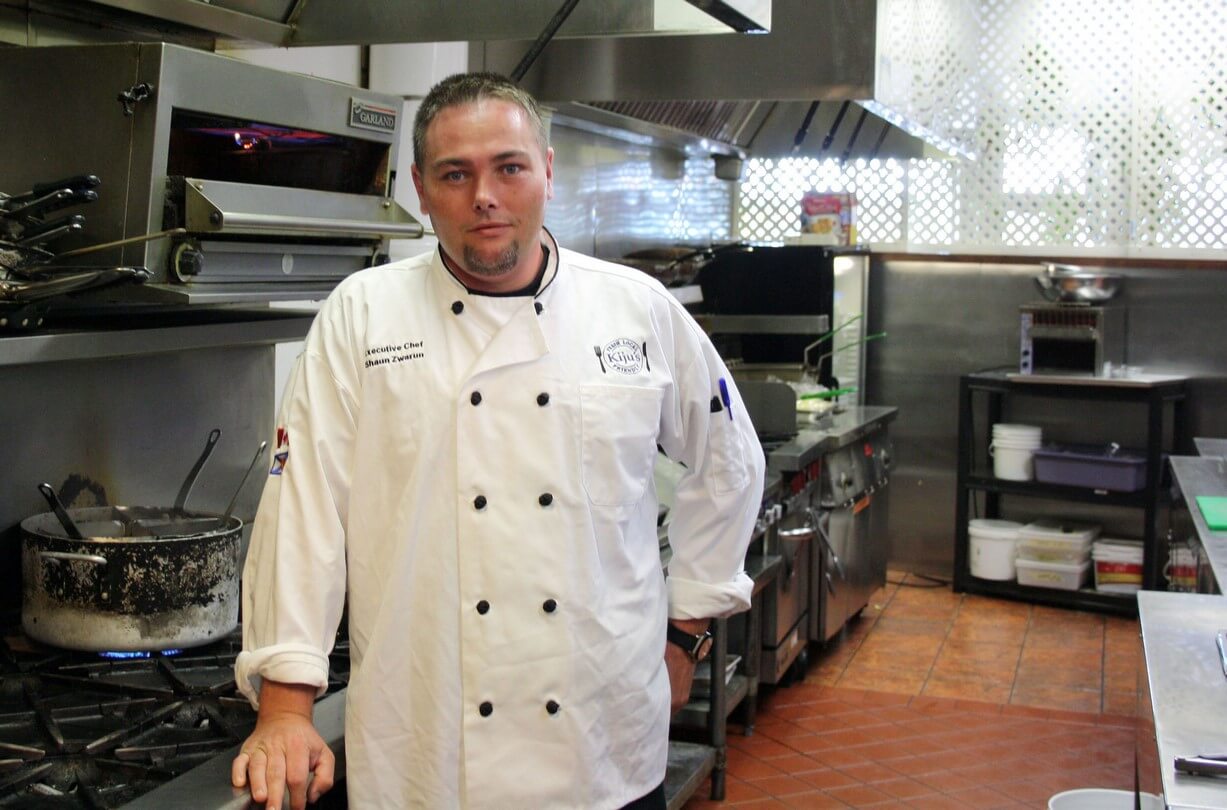 Three weeks ago when I went for a meal at Kiju's, I got to sit down with Membertou Trade and Convention Centre's Executive Chef, Shaun Zwarun, for a chat.
We met up in the morning, and sat in a special events' section of the restaurant, empty at that time of day, of course. We chatted for almost an hour about local food, growing up in Cape Breton, why supporting the local economy is so important, and how he sees the future of Cape Breton. Then he took me on a tour of the kitchen, which is when I snapped the photo above.
You can click here to see the post about my meal at Kiju's, which was really tasty, and also really pretty!
Without further ado, Chef Shaun Zwarun…
On growing up in Glace Bay, and learning about food from his family: "It was a good place to grow up, Glace Bay. My Dad did most of the cooking at home, and I was into food from a young age. His heritage is Ukrainian, so I remember we'd make perogies and borscht, and sauerkraut. My grandfather came over to work in the coal mines, so he was born in Ukraine, but my Dad was born here. There were nine in his family, and nine in my mother's family. She's the Italian side, and there were always different kinds of Italian dishes, too, that I remember."
"My family has a greenhouse, and gardens, they had those the whole time I was growing up. My family on both sides, you know, they're really into food. I have aunts that make jams and preserves. You go visit this one aunt and come home with a whole box of relish, or breads that she's baked. She's really into chutneys, vinegars, flavoring them herself, all of that before it was popular. In fact I used to buy fruit salsas and chutneys from her when I was the chef at the Markland, we'd use her stuff on the menu there.
"Another story about gardening, when I was a kid I remember I used to get a nickel a bucket for picking rocks out of the garden. Me and my buddy Danny who lived next door, we'd pick the rocks. But we'd pick the really big rocks, you know, just one rock would fill a bucket! So my Dad caught onto that, he didn't let us do that for too long. We had to pick the smaller rocks."
On having the Hampton Inn close to the restaurant: "When people check in at the Hampton Inn [attached by a pedway to the Membertou Trade and Convention Centre], they get a 10% off coupon for the restaurant. The hotel is pretty busy in the summer! It's great to have it right there. I know myself, when I'm travelling, if I'm somewhere for two or three days, I'll check out the local place where I'm at, and the second night I'll find somewhere else, unless the food's really good at the hotel restaurant! And in the winter, the pedway means you can come across from the hotel without having to go outside."
On places he's worked throughout his career: "After school, I went up to the Markland in Dingwall, for my first job. I was there for a while, then I left and went out to Lake Louise in Alberta to work there. When I came back to Cape Breton I went back to the Markland, and there was a new chef there from Uganda, so I worked with him for a summer. And then I went back out west, to Vancouver Island, to Victoria. I ended up being the Chef at the Markland, later on, which is neat, since I started off there in my first job. I've worked at the Casino here in Sydney, and at the Sheraton in Fredericton. I love to learn from the different chefs I work with. Then I was at the DesBarrres Manor in Guysborough. That's where I met Audrey, who is now the General Manager here at Membertou. We managed three properties there, a golf course, a pub and a restaurant. While we were there we had gardens, our own herbs.
"In PEI, I was at two properties, the Stanhope Beach Resort and Dalvay-by-the-Sea, but they were only a few minutes apart, and I lived on the property at Dalvay, so I'd start my mornings there, and then go over to the golf course. We did almost fifty weddings in a year, the last year I was there! I had gardens there too, and the owner there was great to help out with the gardening."
On a good team: "We have a strong team not just in the kitchen, but throughout the Membertou Trade and Convention Centre. Our management team is experienced in the food, beverage and hospitality industry, and it shows."
On seeking change and what motivates him to come back to Cape Breton: "Cape Breton's home for me. I was in PEI, before, which I loved. It's similar to here, you know, that close-knit island mindset. But I found I was driving a lot, to come home to Cape Breton on my days off. My Dad's in his seventies, and I wanted to be near him.. So when the opportunity came up here at Membertou , I knew I wanted to be back at home. And I came in a few times and checked the place out, and the kitchen is phenomenal, a dream kitchen for a chef. I am very happy that I have made the move back home."
On the breakdown of his day: "About 30% of it is spent in the office, just dealing with paperwork, food orders and numbers, and usually with the Executive Chef position, that percentage is higher, but it's set up in such a way here that I can be out on the floor more,thats where my passion is. I'm not much of an office person, I'd much rather be in the kitchen! I move around the kitchen which can be busy since food for both the restaurant and catered events. Wherever its busy, that's where I'm at. Wherever someone needs help, that's where I'll go. If my team needs help in the dishpit, then I'll do the dishes!"
On eating local: "I do still order from a large food supplier. It is necessary and makes business sense. If I'm doing a catered event for 700 people, there's no supplier on this island who can supply me with 700 chicken breasts. Now, the restaurant is different, because I might only go through 10 chicken breasts in a night. And there are local suppliers that supply us with fish, for example. I'd like to see that local supply grow. It's an ongoing thing, finding new suppliers. I'm always meeting new suppliers. It's funny, you know, I just came from PEI, and if you wanted to get anything sourced, all you had to do was go to the Farmer's Market on Saturday. Any kind of meat, poultry, seafood, any kind of herb, just about anything was there – it's a big market. I go to the market here, but it's less developed than the one I was used to in PEI. Here you have to really network to source out all of the local suppliers.
"Here in Cape Breton, I think one of the challenges for the local food movement is that there hasn't been a large scale "Foodie" movement the way there has been in other places. If you look at my menu close enough, you'll see I'm really kind of doing two menus in one. There's a menu for the people who are used to more traditional food, so there's the burger, the fish cakes and beans, for example, and I try to keep the prices low enough that I'm not scaring them off. And then for people who want to branch out and try something different.
"There's a lot of thought that goes into a menu, you know? I write them, then I write them again, then I want fresh eyes on them, so I go to the food and beverage manager, and the GM, give them a copy, and ask them to be honest and see what they can pick out. It's a real process.
"We generally do four menus a year, one for each season. The winter menu tends to be heavier, more braised veggies, slow-cooked food. This year we didn't really do a spring menu! Because that's sort of what the weather did, it went from winter into summer. I was waiting and waiting for the weather to ease up a bit, to introduce the spring menu, But the weather just didn't cooperate!"
On visiting suppliers: "It's hard to get out to visit food suppliers as much as I'd like to, just because of all the work there is to do here. It ends up being on my days off sometimes. Sometimes I like to make a day of it, go to Mabou, for example. When I do this, I find thereare a lot more people around who are getting into the foodie stuff. It's coming along. In five years, who knows where we'll be? Ten years ago til now, if you look at that change, it's been a lot."
On the influence the Food Network has had: "I think the Food Network (the television channel) plays a big role. There's people who I would never have thought were into food, who watch these shows! The Food Network made it fun, you know, made it real entertainment. There are so many talented people on there. My buddies, you know, they're tradesmen, they call me, ask me to come over for a couple of hours, I think they want help putting a deck on, but they're smoking a chicken in the backyard smoker! They ask me for tips, you know. It's funny. It's great!"
On why it's important to buy local: "When I think of buying local, I try to buy Cape Breton first, and then the mainland, and then New Brunswick and PEI. That's still fairly local to me. And the product is good.
"There are a lot of good things about eating local. One, you know where the food is coming from. It's not coming from some big huge company in God-knows-where, so you know what's going into it. A lot of times the stuff grown locally is organic, too. And it adds up, these smaller farms, you're helping the economy, the money is going back into the community. It doesn't seem like a tonne, but when you add it all up, it does make a difference. I get my steak spice from the Taste Brothers, for example. You know, it's not that I couldn't make my own spice, but it's about getting these small businesses going, and giving them exposure, and for us, it's trying something new. They made four steak spices for us, we tried them all, and picked the one we liked."
On features: "I like to do a feature every night. I don't call it a special, because then people think, "OK, what's the kitchen trying to get rid of?" I'll bring stuff in special for a feature. For the meal tonight we had a table of five that requested rack of lamb, so I brought some in, and I'll use that for the feature for the whole restaurant. And then other times Jim Gillis, or Shaw's, or one of the other fish guys call, and say "Listen, I got a monktail," so, I'll put that on as a feature. Every day at lunch we do up, a soup and sandwich combo, fresh everyday. And then the dinner feature, could be, you know, if I got good price on lobster, I'll do something different with lobster, or rack of lamb. It's funny, you know, if I put rack of lamb on as a feature, I could sell 20 of them. If I put it on the menu, I could go days without selling it."
On staying in Cape Breton: "I don't think I'll be leaving any time soon! As far as I'm concerned, things are going really well. I don't think they're getting ready to get rid of me! But seriously, I like it a lot. Membertou is growing, and it's exciting, and I'd like to grow with it., . We put an herb garden out on the deck here at Kiju's, . and I'm getting more and more connected with the suppliers, learning more and more where to get stuff. Cape Breton's got a lot to offer, I guess it's just… getting it out there! That's the trick."
This Q+A with Chef Zwarun is part of an ongoing series of interviews with people associated with Cape Breton in some way – mostly young people, but not necessarily. The complete list of interviews is here.
Thanks so much to the team at Kiju's for partnering with me. It was great to meet the team there, and to sample the delicious food! I'll definitely be going back.