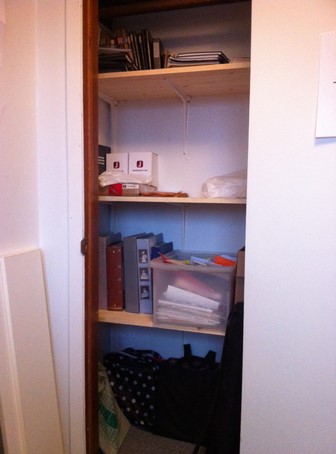 My friend and classmate Katie MacLennan writes a great blog called Polka Dot Soup. On it she writes a post some Mondays called "Multitude Monday." She writes, "Mondays are about documenting the little (or big!) things in life that make me oh-so-happy. Let's make Mondays a day to reflect on the goodies, and not the baddies."
A few months ago I read Brené Brown's book "Daring Greatly," in which she writes, "The shudder of vulnerability that accompanies joy is an invitation to practice gratitude, to acknowledge how truly grateful we are for the person, the beauty, the connection, or simply the moment before us."
The last Multitude Monday post I wrote, a whole month ago, is here.
Here are the ten things right now that I'm thankful for:
51. Classes are done and my work term starts today!
52. Adam put new shelves in my office!! I geeked out a little a lot. I filled them with stuff and then went and got the bookcase that I was using in the bedroom for my clothes, and brought it in and filled it too, with all the books I'd had in storage. I am a very happy bee now, with my office nearing completion and all my books at hand! (My clothes are now in a big pile on the floor, but as Adam says, "Isn't that how they are normally?")
53. A great meeting in Baddeck on the weekend with the Bras d'Or Stewardship Society (I'm the Secretary) and then a lunch date with a lovely friend at the Bean There Cafe.
54. Crocuses and daffodils poking up out of the ground! Spring is here, ish.
55. A ginourmous sleep-in on Sunday. So much lazy! I was a bit grumpy to do my chores (laundry and dishes), as I was enjoying the lazy lifestyle so much.
56. Looking forward to another Laughter Yoga session next weekend!
57. My friend Katie's baby is due this week!!
58. My rental car is swanky and has heated seats! A gal could get used to this.
59. Enjoying this quiet pop album by Malaysian artist Yuna a lot.
60. Having fun with my pal Jacquie making the "Share That You Care" graphics.
Have a grand Monday!