(Also known as, "me turning my boring day-to-day routine into a post!")
(So these pictures aren't actually in chronological order, but the writing will be. They're just shots I've been taking over the last couple of weeks, thinking to myself that I'd like to write a "Day in the life" sort of post. Someday I'll get it together enough to actually take pictures and notes of one day as it happens, as Elise does here, but for now, this is what I got.)
So first things first. The alarm goes off and I roll out of bed anywhere between 6 am and 7:30. (Depending on how sleepy I am and if I messed up and hit "Off" instead of "Snooze".) I eat breakfast, usually yogurt and Special K Oats N Honey and some fruit, and get dressed. Sometimes I'll do email and stuff like that before I leave for work. Sometimes not. Sometimes I find random animals or puke that the cats have 'left' me, on the floor. Nice.
I drive in to work along the Baddeck Bay Road. No matter what the weather is, it's always a beautiful drive. It's 10 minutes or so. Sometimes I stop and get a coffee at Bean There, but more often than not I just go to work.
I sign in to MMS, the computer program we use to make sales, keep track of inventory, and billing. I check the dock and mooring book/clipboard to refresh my memory and see if there is anything to attend to right away. I check the work email. I take yesterday's weather off the door and print off today's weather, and tape it up. I cut yesterday's weather into pieces and put it in the scrap tupperware on the counter.
Usually quite soon after I start, the phone rings. "Baddeck Marine, good morning, this is Leah," I say. I've said it so many times, and I think I sound quite polished. It's my "professional" voice. Most of the time the calls are for Stuart, my boss. Often I'll say, "He's here on the property, but he's not available right now. May I take a message?" We have a message book by the phone, one of those ones with carbon paper and four message slots per page. We go through three a year, roughly, I'd say.
If the customer needs to talk to him, I put them on hold and go for a walk – in to the big room attached to the store where we can have up to three boats on jackstands, and if he's not there, I go through the back door to the parking lot and then out onto the docks. I get a lot of exercise in the run of a day!
Between 8 am when I start and 10 am coffee break, depending on the day, it's usually busy. Sometimes it's not and I read blogs. (Shh, don't tell!) I always look forward to 10 am though, because my co-worker Flossie brings her coffee downstairs and we hang out and chat. The other workers usually sit on the bench outside or hang around the front desk inside, unless it's super busy and then they take their break upstairs.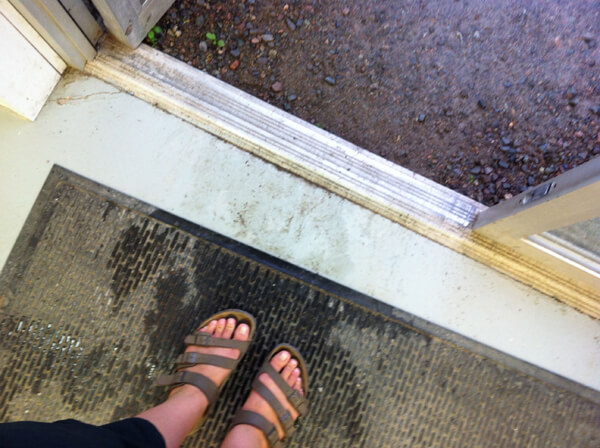 After coffee break time usually goes pretty fast. The phone rings a lot, people come in, and I'm kept busy behind the desk ringing in sales, answering questions, looking up parts. Usually Flossie goes to lunch at noon, as do most of the other workers, and it's a little quieter. From noon to 1 I place the orders I have to place with my main suppliers. (The cutoff time for most of them is 2 pm, to get the goods by the next day.)
At 1 it's time for lunch. Flossie covers the store for me while I either go upstairs to the staff room or go uptown for errands.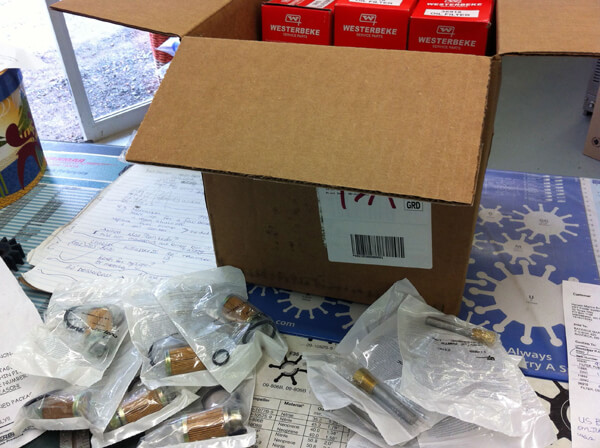 I return at 2 or a little after depending on what time Flossie got back and I got to leave.
Often there are orders that came in that I have to receive. This means going into MMS, our system, and telling the computer that the product is here, matching it to the invoice. I print off labels and affix them to the products. I check the Excel spreadsheet that has all our orders on it, to see what customer the parts are for. If the parts are for a job the boys are doing, I punch the numbers into the Work Order module and then write a checkmark on the barcode.
Other things that tend to happen (at no set time or place): getting calls on the VHF radio, reminding the dock attendants to check the bathrooms for cleaning (they get really dirty really fast!), making reservations for the docks and moorings, checking people in who have come in on a boat. I've also been working on getting the marina's website re-designed – I wasn't doing the design, but I was the person making the phone calls and emails with the design firm and making sure it happened. That was fun! And I tend to be the person who puts things on the marina's Facebook page.
It can get pretty chaotic, especially during Regatta Week, which is the first full week of August. We're booked months in advance for that. Between the VHF radio, the phone, and customers coming in, it can be busy! But that's balanced by the quiet of evening.
There is another coffee break at 3. The next significant time of day is 5 pm when some of the other workers clock out. Some days I do too but not often. Most of the time I work til 8 pm. The evening gets quiet. I wrap up loose ends that I didn't get to during the day, like entering the day's orders in the computer so that tomorrow when they arrive I can receive them, or calling people back with answers to their questions.
Then once I'm done all that, I take out my computer and do a bit of personal stuff. Sometimes that's design work – I'll be sharing some of my client jobs in future posts. Sometimes that's blogging – I write posts and deal with photos. Sometimes that's answering emails. Customers come in, usually at this time of night tourists who are walking around the village. They come in and say, "I'm just looking." I say, "Be my guest!"
Then I'll sweep the floor, count the till, and call it a night at 8 pm!
I go home. I'll talk to my Mom for a bit about her day. I make my lunch for the next day. I FaceTime with Adam for a bit. I might read or watch a bit of a movie on my computer. Then I turn the light out usually by 11 or so. And do it all again the next day!