Last week my friend Kelly wrote on her Facebook that she was giving away her books. She wrote out a list of all of them, and each person who wanted to could pick out five. There were like a hundred books on the list, a whole wide variety from non-fiction to fiction, old textbooks, cookbooks and kids' books. It was fun, to look the list over and pick out just five. It was like shopping! And with a sort of 'budget,' too — I could only claim five.
Kelly wrote that she would put your books in a bag with your name on it and leave it in the porch outside her apartment. Pick them up at your leisure, but do it before she had to move out the following week.
When I went to pick up the books I had picked out, I liked seeing all the other plastic bags with people's names on them. So I took a picture (above).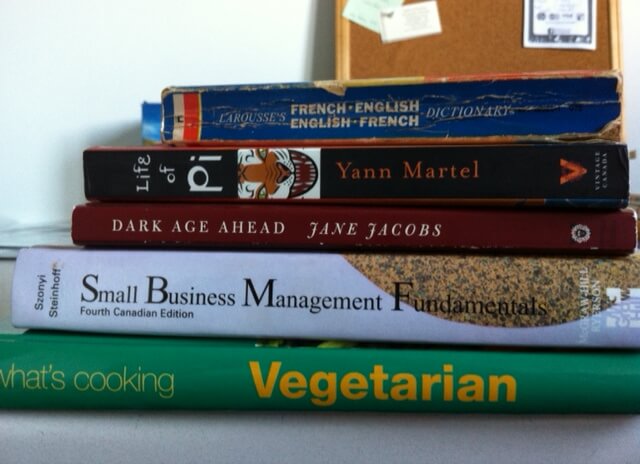 When I wrote to Kelly to thank her for the books and let her know I had gotten them, I asked her if it was liberating to give away all her books like that. She replied:
"It was! I was getting things ready for a move and thought – how many times have these books moved with me? How many have I not picked up again since the first time I read them (except to pack them in a box and put them on another shelf)? So, I put aside a few reference books (cookbooks, craft books, and a few sentimental favourites) and decided the rest had to go.
"I polled Facebook for the best way to get rid of cherished books. The answer was unanimously to give them away to friends and take pleasure in the fact that they will be read and enjoyed. So, this was my goal: to get the books to as many of my friends as I could and inspire the most reading possible (rather than the lot of them ending up on someone else's shelf, unread). I decided on a 'five books per person' rule and put a list of the books up on Facebook for friends to pick from.
"Making a typed list of the books was enjoyable in and of itself. I had time to pick up each book and remember it. It was comforting to know that even though I was giving the books away, they were in my list and I wouldn't completely forget about them. My favourite part of the whole process was seeing who picked out which books. There were several times when I thought 'that is the PERFECT book for that person!' – but would never have thought to offer it to them out of the blue.
"Those leftover after the giveaway will be distributed to waiting rooms, book swaps, coffee shops, local women's organizations, and other small libraries – hopefully with a message inside that says "read and release" so the books will continue to make the rounds. I thoroughly recommend a giveaway to anyone feeling weighed down by their book collection and am considering doing the same sort of thing with my 10 year old collection of craft supplies."