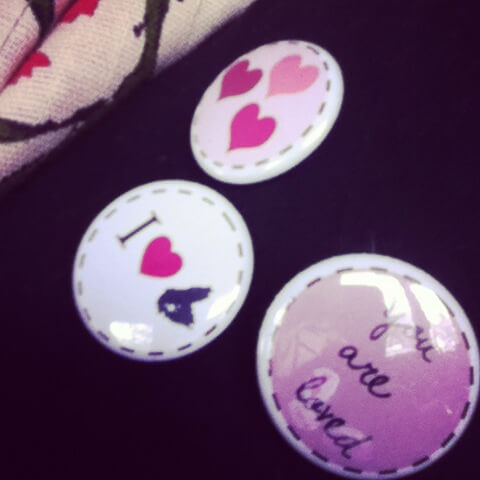 The other day in one of our classes we were allowed to make buttons! I stuck the design from a postcard I'm going to be making on one of the buttons – that's the "I heart CB" one. The others are quick and dirty little graphics I made. I'm wearing these three buttons today.
February 14th is Valentine's Day but it's also the International day of action against violence against women. One Billion Rising is the name of the day. From their website: "When One Billion bodies rise and dance on 14 February 2013, we will join in solidarity, purpose and energy and shake the world into a new consciousness. Dancing insists we take up space. It has no set direction but we go there together. It's dangerous, joyous, sexual, holy, disruptive. It breaks the rules. It can happen anywhere at anytime with anyone and everyone. It's free. No corporation can control it. It joins us and pushes us to go further. It's contagious and it spreads quickly. It's of the body. It's transcendent."
I'm really excited to be taking part in the rising over at Cape Breton University – I can't say any more than that now, but if you are in the cafeteria at 12:45, you will see what happens! And I'll share more once it's over.
Here is a post by Magpie Girl about choosing love – despite the difficulties. It's beautiful, you should read it.
x's and o's!
Love, Leah