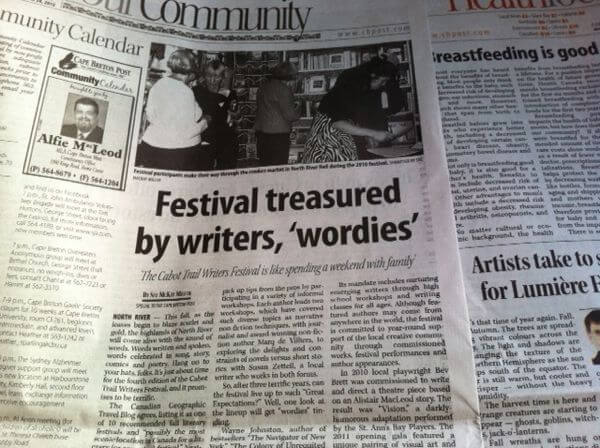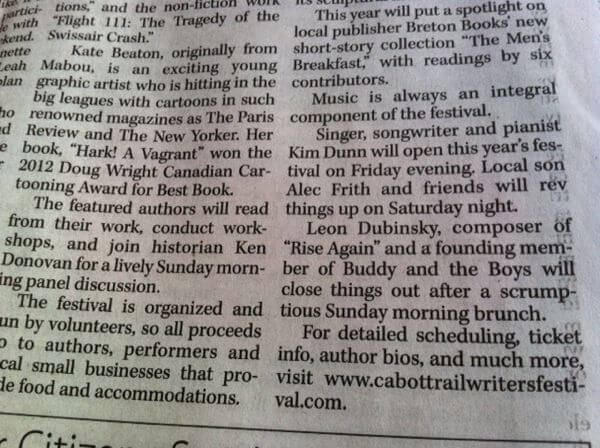 I am so frigging excited for this weekend, you guys.
The Cabot Trail Writers Festival – get your tickets here! – is something I've been working on, along with Gary, Jeannette, Mary Ann and Loreto, all year. And this weekend it all comes together!
Remember when I went to Banff? I was representing the festival in a meeting of festival directors from across Canada. Remember when I interviewed Kate Beaton? Well, she's going to be there!
I first attended the festival in its second year, as a participant. I LOVED IT. It's a weekend getaway in North River – where I used to work for Shape Shift Pottery – spent entirely in the company of other writers. Aspiring, published – doesn't matter. Everyone is kin there. There were workshops, and meals, and music. I took a few walks down dirt roads, either in the rain or in the cool aftermath of a rain shower. (Hey, it's fall. Rain happens.) It was bliss.
In the festival's third year, which was last year, I volunteered to organize the workshop for high school students that takes place the day before the festival itself starts. As a result, I got to sit in a small rural hall while Shauntay Grant led twenty teens though exercises in poetry and finding your own voice. It was incredible. Then I helped out for the rest of the festival, again enjoying the company of other writers, the food, and the weekend getaway.
The other organizers asked me to join the board. So, I did. And this year might just top all the years before – we've got Wayne Johnston, Kate Beaton and Stephen Kimber as our featured authors. We've got six local authors reading short stories from a collection called "The Men's Breakfast". And we've got some incredible musicians performing as well – Kim Dunn, Leon Dubinsky, and Alec Frith and Becky Siamon Band.
Not to mention, local chef Yvonne Leblanc is our caterer. If you've been to other festivals, you'll know that what she does with simple food like quiche, salad and lasagna is mind-blowing. You see? Even the food at this festival is memorable.
Unfortunately (or fortunately? because that means there is lots of local art going on?) the nocturnal art festival Lumiere is also taking place this weekend, which means both (A) that I can't attend it too, even though it sounds awesome and I'd like to, and (B) that those who would like to come to both, but are closer to Sydney, will likely attend Lumiere, and not the Writers Festival. Ah well – c'est la vie.
But I'll just note, for those of you more likely to attend Lumiere, that the Festival gala on Friday night is only $25, and you get to see all three featured authors reading, as well as Kim Dunn performing his spellbinding jazz. As well, Saturday's workshops take place well before sundown! So I urge you Sydney-siders to come on over the mountain and check us out.
All festival details to be found on the website: www.cabottrailwritersfestival.com