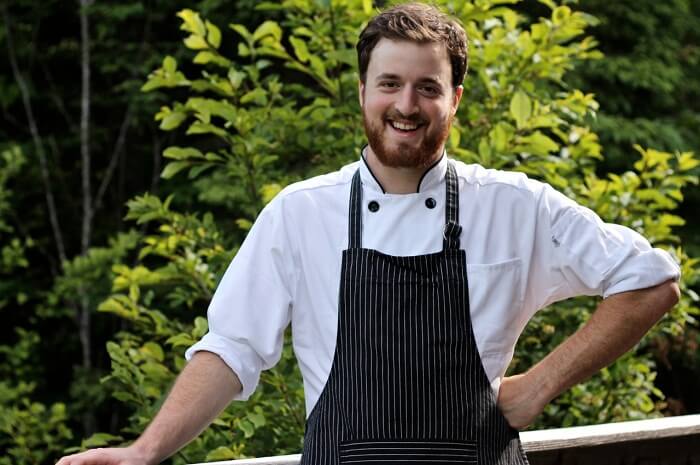 Right now the culinary event known as Right Some Good is taking place around Cape Breton Island. A local chef, Bryan Picard, will be cooking with international chef Surjan Singh Jolly, at the Keltic Lodge, for an event called "Restaurant Take-Over."

Bryan took the time to answer some of my questions in between his full-time job cooking at the Chanterelle Inn, moving into his new house with his fiance, and preparing for his Right Some Good event. Thanks Bryan!
1. Tell us about where you grew up and your childhood. Did you always love to cook? What were the foods your family ate?
I grew up in Saint-Hilaire, a small rural village in New-Brunswick, and we always had good food. My mom stayed at home, so she had the time to cook delicious meals from scratch, and a lot of the greens and root vegetables that she served were grown in the backyard by my grandfather. We also ate a lot of wild meats and fish like moose, grouse, trout since my dad is an outdoorsman. Our whole family has always been excited to try different foods and recipes. Even now when my parents discover a new favorite cheese, they call me just to rave about it.
2. How did you get into cooking as a career?
I went to the University of Montreal for a stint before opting for a more hands-on career. I then applied for a place in the professional cooking program at the Institute of Tourism in Montreal (ITHQ–Institut) and was accepted. But even after graduating two years later, I continued to learn new techniques and preparations while working in various professional kitchens in Montreal. The process has been a lot of fun.
3. Your blog The Bite House is widely read. You must work hard on it! Why did you want to start a blog? What do you get from it?
I started the blog last December while in New Jersey visiting my fiance's parents. I was cooking all that week and everyone was in the holiday shutterbug kind of mode, so a lot of my dishes became artsy photographs. Because my own family was still in New Brunswick, I was keeping them updated on the festivities down south via email. So it wasn't too great a leap to start uploading the food photos onto a blog webpage instead of an email.
Now every time I make up an interesting dish, I post it on the blog. The feedback has been terrific. I love hearing that someone across the world has prepared and relished one of the plates. Even the process of writing and presenting clear, user-friendly, and, of course, appetizing recipes has allowed me to hone my English (French is my mother tongue) and to learn more about photography and web design. The Bite House has also given me the chance to meet other avid bloggers such as yourself!
4. Why are you excited to take part in Right Some Good? Tell us about the event you'll be part of, too, please!
Our event is at the Keltic Lodge and is called the Restaurant Take-Over. We will be serving a lot of food from Cape Breton to celebrate the island's outstanding bounty.
Participating in all Right Some Good events will be an renowned international chef, one of Cape Breton's own professional chefs, and an aspiring chef in training from the area. I'm really excited to meet the Restaurant Take-Over team and to get cookin'.
5. How did you come to live in Cape Breton? Do you think you'll stay for a while?
I moved here with my fiance from Montreal in search of more space, ethical food, lush environs, and a sense of community. We needed a serious break from the big city. Now we live near Baddeck, and I work at the Chanterelle Country Inn, whose owner Earlene Busch has always prioritized local, organically cultivated food (different from the label "organic", which is often too expensive for small-scale farms to adopt).
Cooking at the Inn has made me prouder than ever to be a chef. Food tastes the best when it hasn't had to travel thousands of miles, and by supporting local food the Inn also supports local communities. What could be better?
For all these reasons–the fresh food, the friendly people, and the gorgeous landscape–Cape Breton feels more and more like home to me, and I definitely hope to stay a while.
To read more interviews that I've done with Cape Bretoners, click here!