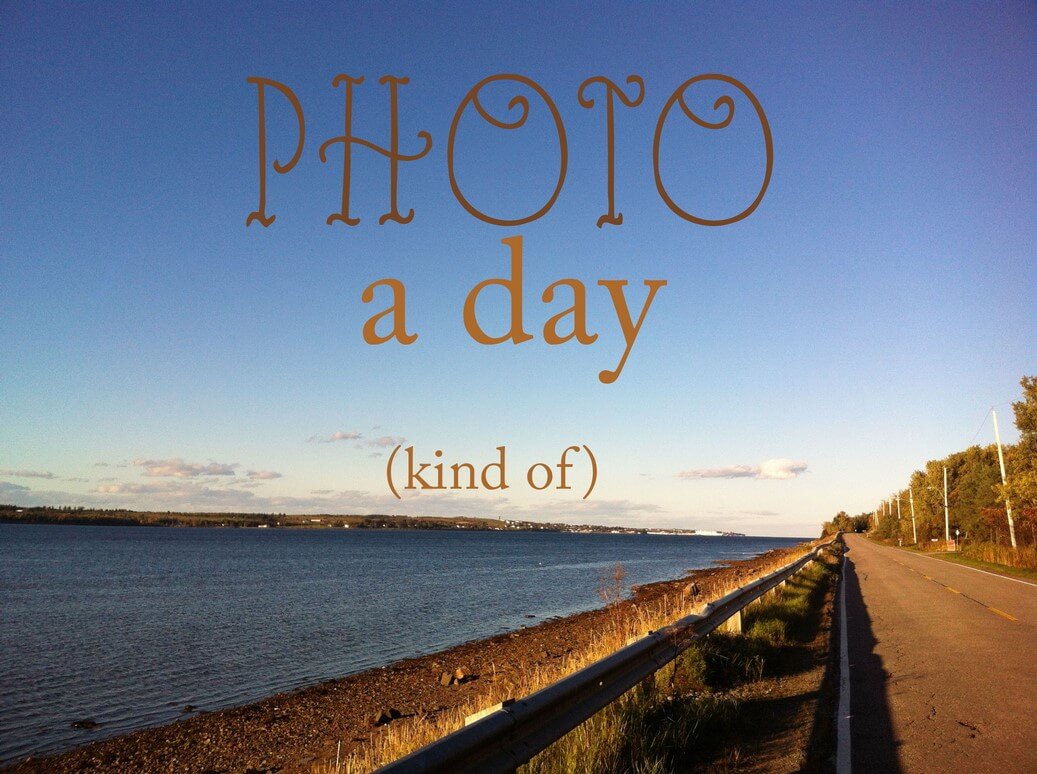 Well! What a lovely long weekend it was. (This photo isn't from it, though. My phone took the, ah, opportunity on Monday evening to just up and quit, before I had the chance to take any photos off of it, so… this is from Friday. But, I think you get it. Beautiful, sunshiny, lovely.)
ANYway. What a weekend, hey? The weather was wonderful. I got over to Inverness one day, for a Celtic Colours concert, and over to Whitney Pier another day for another concert. And in the middle I spent a day at home with Adam, cooking and then hosting a Thanksgiving dinner for my Dad and Adam's Dad, and of course Adam and myself. It was "Leah and the gents". It was good.
(I'd show you pictures of all this Cape Breton/holiday loveliness, but I can't, because my phone is being a lazy jerk.)
So, I hope you all had a great Thanksgiving weekend too! Or if you're not in Canada, just a good weekend.
++++
So I'm going to do something a little different for the next month here on the blog! What it is, is a "Photo A Day," except for when I have something that's not a photo.
Consistency is key in blogging, right? LOL. It will all work out, I figure.
The reason is that I'm really itching to focus and work on some other stuff for a little bit. I signed up for not one but two online courses, one being the 100 Rejection Letters by Tiffany Han, and the other being 30 Days of Curvy Yoga.
I also really want to spend a Fall season being a bit more inward, a bit less productive. The last two years, for me, in the Fall things ramped up, but I feel that's sort of opposite to how it's meant to be. The Fall calls me to be slower, to go to bed earlier, to snuggle up in the evenings and relax.
Funnily enough, my phone died right as I decided to do the photo-a-day, so that's going to force me to use my "fancy" camera, as I call it in my head. (A DSLR.) At least for a bit, until the phone sitch gets figured out.
Anyway, without further ado, have a grand old Tuesday!