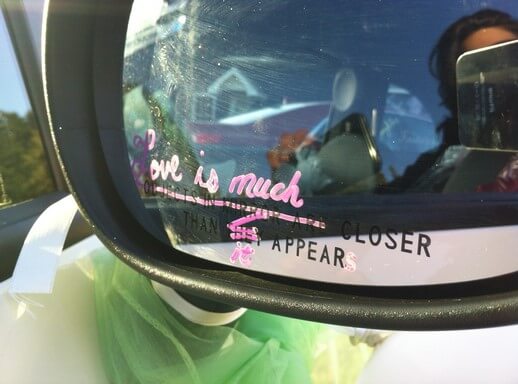 I just love this shot above from the wedding I went to yesterday. The bride's friends decorated the getaway car, and wrote all over it! This little detail is cute: "Love is much closer than it appears."
So here we are again, and it's a fine weekend on the island so far! Sunny, crisp and clear. I'm off to the farmer's market, but first, some Links Loved: a weekly roundup of some rad links I loved from the Interwebs, inspired by Elise Blaha Cripe's weekend links series.
A clever ad campaign from Toronto to combat littering.
Gorgeous stationary and website.
A great garden tour from Niki Jabbour.
I'm craving pressing flowers and using them to decorate my home.
Love this pastel drawing by Linda.
I'd love to make a wall like this in our home!
An unconventional way to stop the oil companies.
Love this outdoor dinner party.
As of September 1st, I'm making 50% of my diet from food grown and produced in Nova Scotia. Sign up here to take part in the month-long fun challenge!
Have a fantastic weekend, friends!