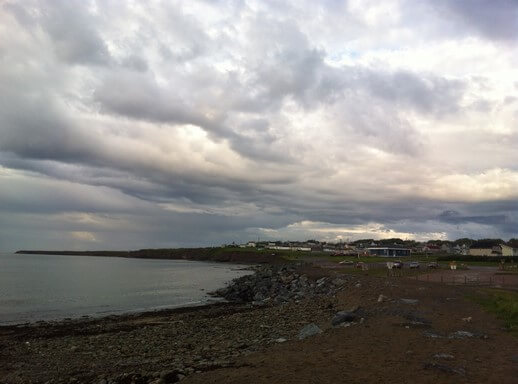 This was Dominion yesterday, after I had dropped off my friend Hollie, and took a quick stop at one of my favourite beaches. (And took this video.)
Today is graduation day! So I'm quickly getting some coffee into me before I make us some breakfast, and then get ready to head over to Membertou where the ceremony is happening. But first! Some links loved lately, inspired as always by Elise Blaha Cripe's weekend links:
Elise's super sweet letter to her baby girl Ellerie on her first birthday.
Also I'm really loving Elise's podcast and it is making me inspired to start my own. I'll keep you posted!
A great idea: make a website in one weekend with rad designers to help!
Pugly Pixel is learning Illustrator. Here she talks about (and shows!) what vector paths look like, and just how frigging many of them there are!
I just discovered "Meg In Progress" and pored over her archives last night on my phone. This was one of my favourites, about how we shame other women and about what "womanhood" really means.
I also loved this one she wrote about why she hopes her daughters will wait til marriage to have sex (not that I agree 100% with that, but I really liked what she had to say). "Sex is the power to create. I am not just talking about procreation, although heaven knows that is a divine thing. I am also talking about the creation that comes from speaking the language of sex with someone that walks with you through life."
A great post about working from home by a fashion blogger.
Love these mood boards and inspiration for an office makeover! Can't wait to see how it turns out.
And loving this sweet necklace by a Cape Breton artist/crafter. Might just be my next Etsy purchase!!
Have a great weekend y'all! Hope it's equal parts indulgence and laziness. Thuh bessst.