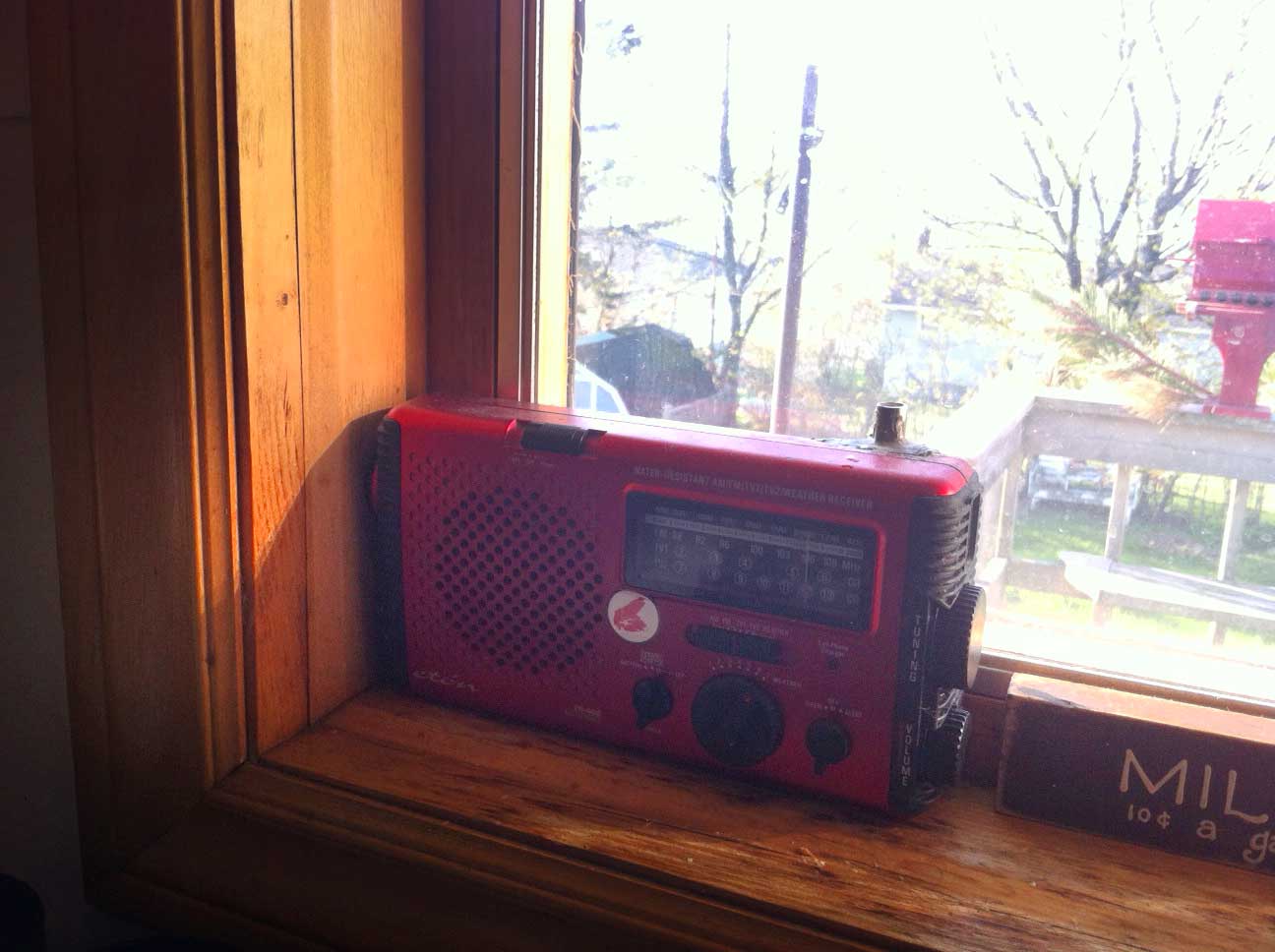 This is my little radio, in its place of honour on the windowsill above the sink, this morning, broadcasting true Cape Breton content as I drink my coffee and make my breakfast.
CBC Cape Breton, through its hard-working reporters and staff, keeps me connected to the island I live on and the communities around me! It is a rare morning when I don't turn on the radio as I get ready for my day, and when I'm listening to the radio, I'm always educated and entertained. CBC is an important voice for everyone in our community, all groups and sectors, and is a space for public debate and discussion, a role they play with true professionalism. What we have on this island is unique and needs to be represented with its own CBC station.
I'm scared that my little radio will not always broadcast such quality Cape Breton content, however! I was frustrated to learn this week that our local station is in danger, yet again, of funding cuts which would hurt it further and possibly lead to closing. (Article in the Halifax Media Co-Op here.)
All of this is to tell you that there is a rally today in Sydney to show support of CBC Cape Breton. While I can't physically make it there (a meeting at school to wrap up our work terms is unfortunately more important to me today), I'm showing my support by both posting this post, sharing the information about the rally, and drafting a letter which I'll be sending to the appropriate people. (Email list follows.)
So, the rally is from 12-1 in Sydney, downtown, behind at the Civic Centre on Esplanade. In case of rain — which, thank goodness, looks unlikely at this point! — it will be in the Round Room at the Civic Centre.
To send letters showing your support of CBC Cape Breton, write to the following:
Minister of Culture and Heritage Shelly Glover: shelly@shellyglover.ca
CBC President Hubert LaCrois: ht.lacroix@cbc.ca
CBC Board Chair Remi Racine: remi.racine@bhvr.com
CBC Board Member for Nova Scotia: george.cooper@mcinniscooper.com
CBC Atlantic Canada Managing Director Andrew Cochran: Andrew.Cochran@cbc.ca
Peter MacKay, MP Central Nova: peter.mackay.C1@parl.gc.ca
MP Sydney-Victoria Mark Eyking: mark.eyking.a1@parl.gc.ca
MP Cape Breton -Canso Rodger Cuzner: Rodger.Cuzner.c1a@parl.gc.ca