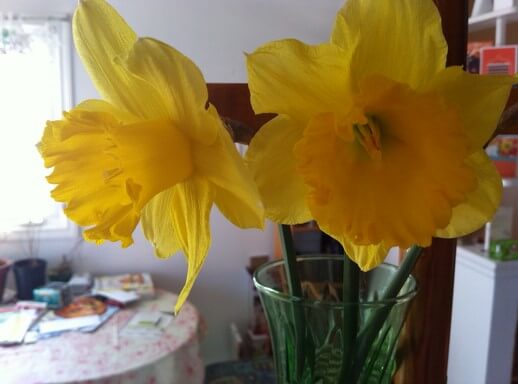 Oh man, another week gone by, it's just crazy! This long weekend ahead is a dream.
All last week I had been thinking ahead to it and thinking, "Oh man, I want to go for a hike! And a drive around the Cabot Trail! And visits with friends! And! And!" and then… I didn't plan any of that. Thank goodness, because I would have had to cancel my plans, and I do hate to do that.
The reason I would have been cancelling is that three days with no plans, right now, in my life, is like someone handing me a giant gift-wrapped box complete with a pretty bow and saying: "Here, open this, my love." Inside would be three days to basically decide what I want to do, in the moment, and do whatever I want. All I can say is: Ahhhhhhh.
I get to hang out with my boyfriend. I get to sleep the heck in. I get to putter in my garden. I get to putter in my office, and do some of the work I've been having to put to the wayside. (Which, as long as its done with the windows wide open, and music playing, is actually fun.) The only plan I'm making is to go to the Farmer's Market on Sunday here in North Sydney, and that too is relaxed, I mainly just wander around with a coffee and a bratwurst and catch up with friends.
Anyway! Without further ado, to help sweeten your weekend a little, here are some links I've loved lately:
The Twitter account Heard at CB Bars is hilarious.
5 Tips for Prolific Living from gals who know all about it!
Beautiful paper goods to drool over.
The wonders of grow-lights! (Also, the blogger lives on Cape Breton!)
Elise talks about using stamps in all her branding materials. Which makes me want to order some Cape Breton stamps, immediately.
My friend Krista using recycled and reused materials in her home renovations in Halifax.
A neat way that some rural folks in the USA are making hitchhiking a safe travel alternative again.
Not that I'm getting hitched any time soon, but I stumbled across this website a few weeks ago and really dig it. It's colourful, down-to-earth, well-designed and, well, practical! This piece about the children of divorced parents who dare to get married anyway really struck a chord with me.
Have a real rad weekend, everyone. Thanks again for all your support, it means the world to me! Now off to my garden. 🙂