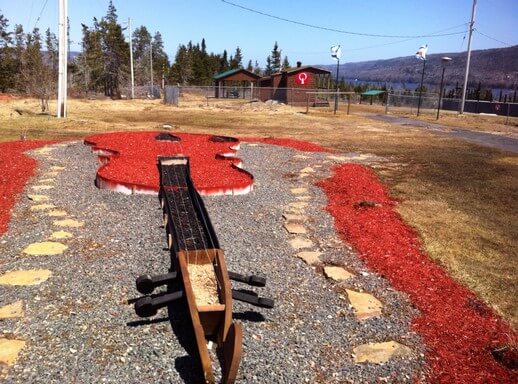 Well, after spending one full work week at Colaisde Na Gaidhlig / The Gaelic College, I'm hooked on the Celtic culture! I suppose one can't help it, being surrounded by it. The place is so lively! Margie's office, where I have a little desk (and it really is wee, I'll have to show you a picture sometime), is right next door to the Tartan Room, where the master kiltmaker and the apprentice kiltmaker make, well, kilts, but also hats, scarves and lots of other products for the Craft Shop downstairs. It's great; as I'm working away on ads and posters I can hear the snick-snick-snick of scissors and the whirr of the sewing machine.
New this year, they're making tartan infinity scarves, and I knew as soon as I saw them, I wanted one! My last name, Noble, is a sept of Clan Macintosh, so that's the tartan mine will be made in. Pretty cool! I'll show it to you all when it's done!
Anyway, this Saturday I decided my "Links Loved" post would all be neat stuff I love and have found online, that have something to do with the Celtic culture I now find myself immersed in. Enjoy!
I love this high-waist tartan pencil skirt by Halifax-based designer Veronica MacIsaac.
This 1:41 video is an interview with that same designer.
Hilarious Rick Mercer visits the Gaelic College in 2010 for Celtic Colours, and gets to learn some Gaelic, wear the Great Kilt, and play a harp. You might even see someone you know! Video runs 6:47.
I might order myself this rad little notebook from a Scottish Etsy shop for my own ideas!
The videos on this page of the Gaelic College's website are just adorable. (Kids speaking Gaelic!)
Beautiful music and beautiful design! Cape Breton fiddler Chrissy Crowley's website.
A blogger's walk through Killarney National Park in Ireland.
A Celtic-themed wedding photographed at Ingonish's Keltic Lodge.
These embossed Celtic-knot cards (from an Etsy shop in Victoria, BC) are gorgeous!
An Edinburgh university study found that students taught all their subjects in Gaelic keep up with their English peers.
Learn a few sample Gaelic phrases from Mary Jane Lamond and Jim Watson on the Highland Village website.
Well I could go on… there is no shortage of beauty in the Celtic culture. But it's time to get on with the weekend. Hope you have a great one!