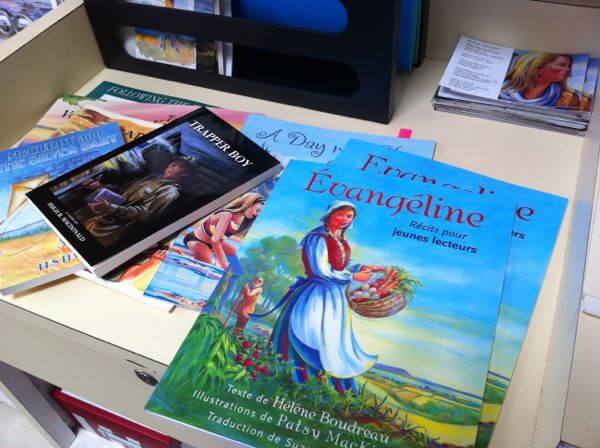 Yesterday some of my classmates and I went to visit Patsy MacKinnon in her studio in New Waterford.
My instructor Heather Kennedy MacIsaac arranged it for us as part of the third semester, this little short bit on the end. (The week before we went to see Kenny Boone, and I'll likely post photos of that at some point.)
We spent about an hour in Patsy's studio space, talking to her, and looking at illustrations that she has made. The windows and the skylight brought lots of natural light into the room. Although it's a small room, Patsy uses it well, displaying her art on the walls, and using high bookshelves to store her art books. She was a gracious hostess, bringing out some chairs for us to sit on.
She shared with us her background: how she used to be a nurse, how she built a studio onto her house about twenty years ago, and took the leap of faith, to leave her career and start a new one, painting. (Her husband said, "You can always go back to nursing.")
She told us about raising her kids and being there for them, while also carving out time for her work. ("I would set the alarm for 5 am, come and paint, then go get everyone up around 7:30, get them ready for school, them come in and paint more." Me: "Weren't you exhausted?!" Patsy: "Of course!")
She showed us the illustration process, from roughs to finished pieces, and we learned how the process of creating illustrations for a children's book, and dealing with an art director at a publisher to do so, takes about a year.
It was a fascinating visit with a very neat lady, and I came away from the afternoon with some great bits of wisdom to mull over:
Put the time in. Every day.
Take the leap of faith.
Lean on someone (who also leans on you), like your partner, if you've got one, or your dear friends. Trust that they'll be there for you. But go into the studio, turn on the answering machine, and work.
Things change, in every industry. In the nineties she sold lots of reproductions, and now people want more original work. Change is a constant, so get over it. Keep on working.
It just so happens that Patsy has a show on right now at the Cape Breton Centre for Craft and Design. It's called "Character Reference".