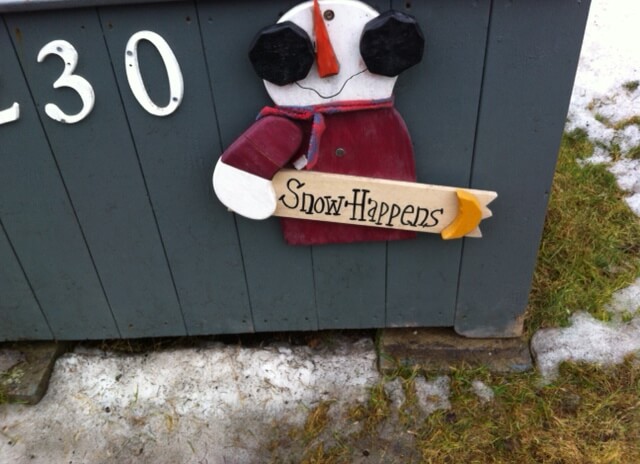 I want to talk about climate change.
Not all the time, not ad nauseum. I don't want to focus on it manic-style, unable to do anything else but read the terrifying facts and guesses. I also want to fold my laundry, make my supper, take my walks, live my life.
But I can't do these things, while thinking about the solid fact of climate change, and not talk about it, anymore. Not go public with my feelings.
Grandmother analogy
Here's my analogy: several years ago, my father's mother was dying of emphysema. She lived in New Jersey and I lived in Nova Scotia. I was also ill: I had depression and my energy levels were absolutely shot. The thought of going to my local grocery store was overwhelming, much less getting on a plane and going to see her as she was dying, so I stayed where I was.
Over the months that my grandmother, Isabel, was lying in the hospital bed, I was in touch with my aunt and various cousins who lived near her, or relatives who could go see her, and they would keep me updated on how she was doing. One day she might have energy, another day she would have very little. She might have to breathe through a tube one day, and another day she could breathe on her own. But the overall trend was toward death, there was no question about that. And after a while, she could only breathe through the tube in her throat.
All around me in Cape Breton, people were getting on with things. As normal. No-one outside of my immediate, small family even knew who my grandmother was. Yet all the normal day-to-day stuff my neighbours did just made me think of what wasn't normal, that my grandmother was dying. That everything would change in my life after she had died, but I had no idea how. I just knew that I was afraid, that I would grieve her loss, and that with all of my being I didn't want it to happen. Yet it was happening.
And sometimes I could think about it, and focus on it, and other times I had to just get on with the normal business of living. In order to do that normal business of living, I had to just not think about Isabel in the hospital bed in New Jersey, a thousand miles away.
Likewise, climate change is happening, but so far, other than mild winters and weird, wacky weather, it's still happening somewhere else. So all around me, it seems, like as in a bizarre, parallel universe, life goes on. It has to. We drive to the supermarket. We put groceries in the cart, wait in line, read headlines, buy gum on impulse, and then drive home. We talk about normal things: when children will be born, when meetings will take place, when graduation will happen. We have to, it's what keeps us sane.
Climate change is the bad news: "Your grandmother is dying." We've been given the news, and we each deal with it individually in our own way. For some the keening and grieving starts immediately. For others it is shelved mentally, to be dealt with a piece at a time, as the mind is able to handle it.
Recently I read "Flight Behavior" by Barbara Kingsolver, which was published just this past year. It's a novel, about a woman who lives on a farm in Tennessee, whose life is changed when a great number of monarch butterflies land in the woods nearby instead of wintering in Mexico as they have for thousands of years. A scientist comes to study them and basically monitor their extinction, as they may or may not make it through the cold winter, and she goes to work for him as his assistant. Climate change is central to this book. It's not a maybe, it's not a possibly. It's real.
And while reading this book I realized: I need to stop pretending. I need to admit and talk about the fact that climate change fills me with a despair and a fear so big I can barely face it. That I don't think the little things (recycling, driving a hybrid car, etc) will make a difference now, besides keeping us comfortable for a bit longer, comfortable in the belief that nothing will change.
The grandmother has died. And I can deny that to myself, or I can face it and grieve.
Grieving her means talking to others who are also grieving. It means sitting with the grief and feeling it. It means getting used to life without her, even though we have no idea yet what that looks like.
Let's talk, OK?