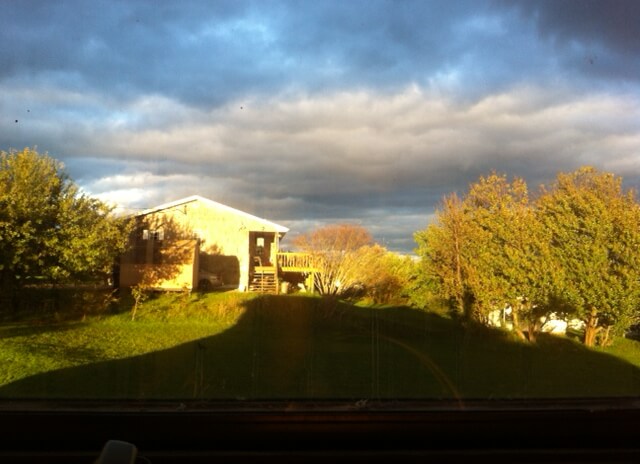 This is the view from my wee office. (The room formerly known as the guest room.)
I took this picture on the weekend. I was working away on something on my computer and glanced up and saw this. How pretty! I love when the sun lights up something in the foreground, yet the background is dark and grey and moody.
I've been reflecting a lot lately that my dreams have come true, that I am living the life that five years ago I wished so fervently for.
When I was first back on the island after university, unemployed, without a car, living at my mother's, this is what I dreamed of: I wanted a car of my own, so I could go on little trips around the island and off of it; to be living on my own (or at least, not at my parent's home), a place where I could choose the paint colours and the artwork, and put little knickknacks around, and keep tidy; and to fall in love, to be someone's lovely gal. I wanted to be on a career path that felt meaningful and right, instead of wondering what the heck to do with myself. And I wanted to have creative time, time to write or draw, as well as work time, time to be productive and to earn money.
And, I wanted all of this to be on Cape Breton.
Lo and behold, lo and behold. With time, and with hard work, and with luck, and with love, these things have come to pass. With support, with friends, with patience, with a sense of humour. With walks to vent steam. With lessons learned. With years gone by.
I've got to remember: Living a dream is still living, is still real life, with stubbed toes and early mornings and cranky days. That doesn't make it any less the life I wanted. It is magical, really, this life. This dream come true.
So what do I dream of now? What are my future dreams, the goals I'm slowly but surely making my way towards?
I want to further refine the art of balancing and prioritizing activities so that I don't feel stressed as a regular thing. (Occasional stress is OK. Everyday stress is not.)
I want a garden. Of my very own.
I want to stay with my Adam and be his lovely gal. With all that that entails, all the growing, learning, challenges and the sweet, sweet joys.
I want a career in graphic design and/or something creative. If that's not possible, then I want meaningful work of some kind. That pays the bills.
I want a family, somewhere in the next five-ten years. Some little rugrats to call my own.
I want to cook from scratch more and celebrate the shared meal as the centre of a happy household.
I want to grow as a person and practice kindness, compassion, and generosity, towards myself, towards my loved ones, towards all those in my community and beyond. (In that order.)
I feel like I could think of many more, like "I want more chocolate fudge brownies" or "I want more shoes", ha ha. But these will do for now.