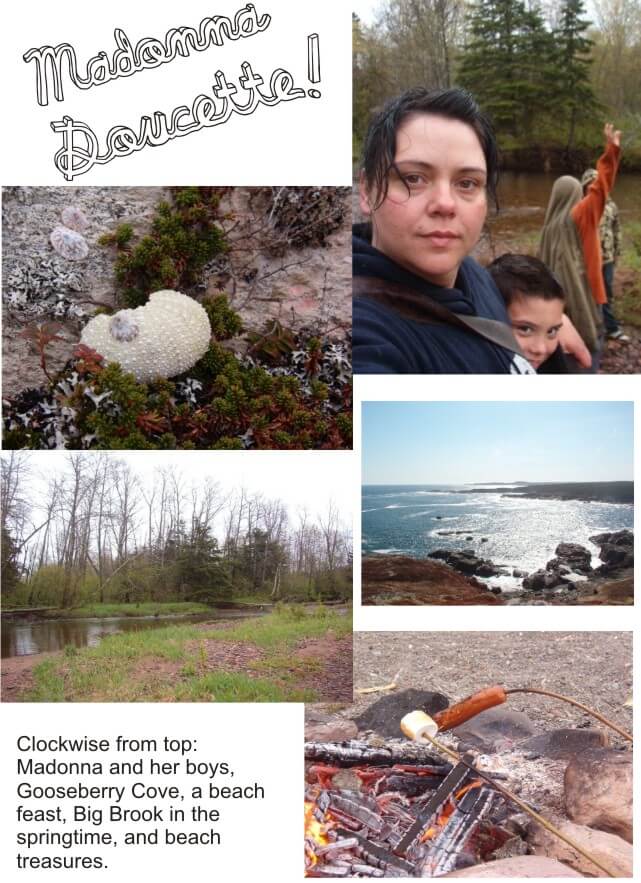 Oh, Madonna.
I like to call her my "evil twin".
(I got that term from Elsie Larson's online class "Blog Love", which is all about developing your blog to make it the very best it can be. In the course, one of Elsie's tips in terms of promoting yourself is to find your evil twin – or, another blogger who is a lot like you, but slightly different, and then promote each other. I thought, "Well, who the heck is that going to be? There isn't anyone really doing what I'm doing." Then a few days later Madonna Doucette marched into my life – she emailed me to introduce herself, or something – and I've loved her ever since.)
Like me, Madonna is a Cape Breton writer, striking out on a new venture to promote how awesome Cape Breton is. Her twist? The LGBTQ community.
Madonna is the editor of Coastal Braid, an online magazine that publishes once a month. "Coastal Braid was the lovechild borne from the idea that creativity and activism could combine to be both fulfilling and life-changing. The spirit of this publication is to be uplifting and unifying," writes Madonna on the website.
This Saturday, May 12th, Madonna will be a speaker at the tenth annual International Day Against Homophobia in Sydney. It's from 2-4 pm at the Wentworth Park band shell, and there will be entertainment, guest speakers, a rally walk, and a hot dog boil. You can find out more at the Facebook Event page here! I'm hoping to have the time to get out there myself, so perhaps I'll get to meet some of you there!
Ms. Doucette took some time from her busy schedule to answer a Q+A for this blog. I know once you read her answers, you'll love my evil twin as much as I do.
1. What's your age? (Or age range – I say I'm a "twentysomething", or you can say whatever you're comfortable with.)
37
2. CB born and raised? Or transplant? (Plus whatever biographical details you feel like giving).
Born and raised in New Waterford, graduated Sydney Academy in 1992 from French Immersion. I am an out lesbian, raising my three teenage sons Breton, Gabriel and Rowan in the bustling metropolis of Sydney.
3. "What are you up to these days?"
I am currently working on an online magazine for the LGBTQ community of Cape Breton, available at www.coastalbraid.com. I have very strong feelings about equality and social justice. I want to make a difference in the lives of people who are living in the closet and afraid to be themselves. I want to educate those who are afraid of the unknown and bridge the gap that exists between people for no other reason than ignorance. I want to help build a gay community here in Cape Breton that encourages people to live, love and raise their families while feeling supported by both members of the queer community and our allies.
4. Top three favourite local foods? (Could be a vegetable, a menu item at a local restaurant, however you choose to interpret it!)
Hmmmmm…. food! Well, I guess ice cream isn't specifically a local food so I'll skip that answer. But I'll have to pick more than three!
So I'll start with my mom's meat pie. It's so delicious and completely reminds me of my family growing up.
Fiddle Heads in the spring time with fresh butter melted on top – OMG so good!!!
My dad's blueberry and strawberry wine. Never to be tasted again.
Hotdogs roasted on a fire made from driftwood.
Sole, pan fried with lemon.
A cup of tea that someone else makes and serves me… this may my absolute favourite one.
5. What is a typical "day in the life" for you?
Well, my life has never been very typical! It starts at 7:30 AM getting my kids up from bed (that's easier said then done) and out to school. I spend a lot of time with my keyboard writing and a lot of time cooking food for people. If I'm lucky, I'll spend some time with my boys watching Dr Who or telling stories to each other. If I'm really lucky, I'll see my friends and play board games or go out dancing.
6. What was your career background before you launched "Coastal Braid"? What were the inspirations and driving forces behind creating the magazine?
I have over 10 years in Call Centres – mostly as management. It's a job that fed my family, paid my mortgage, and allowed me to meet some incredible people over the years, but that ate away at my soul.
Whenever I felt sorry for myself working at a call centre, I'd think of my dad who worked in the pits and reminded myself that a cushy office job isn't the worst thing in the world. However, it does take an emotional toll on your spirit and I found myself having to get out of that industry.
Before that, I have nearly 10 years in various arts admin jobs. From Celtic Colours to Dangerous Dreamers to Festival on the Bay, I squeaked out a living from the arts. But that type of work is very time consuming for a single mom and I made the choice that while raising my boys, the shows would have to go on without me. Both of these careers provided me with lasting friendships and experiences that have served me well over the years. I am jack of all trades, master of none.
I started the magazine because I love words and I love people. I love the idea of story telling. I sincerely believe that everyone's story is interesting and inspiring as long as it's honest. I think that people isolate themselves and forget to reach out to others when they need help. So I decided that perhaps I could help connect people though words. The rest, as they say is history.
7. Do you think you'll stay in CB down the road, or have you thought about moving?
I am a true Cape Breton girl. I chose to live here because I believe it's the best place in the world. Some day, when my boys are grown and flown the nest, I may do some travelling for extended periods of time but I will always return to the island. I feel so blessed for being born here.
8. Swimming – ocean or river?
Is there anything more glorious that ocean swimming at sunset on an August evening? I love the rhythm of the waves as the sand slides beneath my feet. I love finding treasures in the water and along our beaches. I love riding a wave into the shore and having it crash over me, causing me to tumble ass-over-kettle like a 5 year old. Sand dollars, sea urchins, star fish and crab catching…. the ocean fills my heart and renews my mind.
9. What are your favourite things to do, when you go out with friends or for entertainment?
I always get a kick out of people who say there's never anything to do here in Cape Breton! We LOVE campfires. We will go and build a fire and stay at a beach for three or four hours, laughing and singing songs with each other. We will go out dancing – who cares who else is there or where we are dancing! As long as the music is good and you're with your friends, we have a great time every time we go out.
I also love having people over for meals. I may not always have enough chairs, my dishes don't match and there's always a slightly crazy energy to my house but it's ALWAYS a good time with awesome food and great people.
I love the variety of personalities that my sons have been exposed to over the years. They are now the most accepting, non-judgemental people I know because of that experience. We'll sit around all night drinking pots of tea, playing board games and loving life.
10. What excites you about where you live? (This could be community stuff, or it could be stuff you love about the natural world, or whatever!)
Whew – that's a big question!!!! Where do I start?
First of all – I'm in love with our landscape. I feel like Gooseberry Cove, Margaree's Big Brook, St Ann's Bay and Sydney's beautiful cathedral tree-d streets are inspiring.
I love our people. We are traditional and forward-thinking at the same time. We are gifted artists capable of creativity that would rival that of any other place in the world. We are kind, generous and loving.
We have FANTASTIC summer festivals, amazing musical performances and impressive restaurants. I love our history and I love our future.