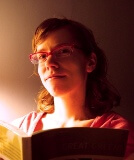 By Erin Phillips
When Leah asked me to do this book review segment for the blog, I instantly knew the kind of books I wanted to share – books relating to building a sustainable community and books which offered practical how-to information; e.g. How to garden, how to start businesses, how to make your own cheese, etc.
I'll probably start into some gardening books next week but first: Sustainable communities and libraries. What is the connection?
The idea of creating sustainable communities has become so popular that it is now mandatory for municipalities to have Integrated Community Sustainability Plans (ICSPs). So what exactly is a sustainable community? It is a community with:
Cultural Vitality
Economic Health
Environmental Responsibility
Social Equity
Together these are known as the four pillars of sustainability.
I first started reading about these four pillars a few years ago when I attended a library conference focused on the themes of Creative Cities and municipal cultural planning. The link between sustainable communities and public libraries seemed quite obvious to me, being a librarian, but not everyone uses public libraries! Many people value the public library as a place only for kids, or conversely, only for seniors. But it really is a place for everyone!
Libraries may seem pretty archaic compared to iPads and Blackberries but they have kept pace with new technologies and are actually experiencing higher usage than ever before. A vibrant community library supports the four pillars of sustainability through offering a rich variety of information resources, as well as educational and cultural services and programs.
Libraries support community culture through author readings, writing clubs, art exhibits, and exciting programs such as Teen songwriting contests and Storytellers in Residence. They can contribute to economic health by providing resources to entrepreneurs, internet access to job seekers, and literacy programs for children and families. The model of loaning books instead of purchasing is of course environmentally responsible and as for social equity the library is open to everyone and it is free! In an era of difficult financial times libraries provide free access to information through books, internet access, online magazine databases, and digital books (ebook and audiobooks).
The branch library is a gathering place. It is a place for children's programs, lectures and workshops for adults, a place for teens to go after school, and a place to informally meet up with old friends. And in areas without a branch library the bookmobile is often the only way (besides online shopping) to get the newest hot bestseller or DVDs.
For those of you who aren't using the library, why not? It's free. It's all free!
And Library services may be closer to you than you think. I think we're lucky in Cape Breton to have two really great library systems – Eastern Counties Regional Library (ECRL) and Cape Breton Regional Library (CBRL), which provide these essential services to our communities. ECRL has branches in Margaree Forks, Petit de Grat, and Port Hawkesbury. It has Library Links community stops in Cheticamp, Inverness, Judique, L'Ardoise, Mabou, Port Hood, St. Joseph du Moine, St Peter's, and Whycocomagh. Check out this neat video for a visual tour of the mobile library stops: http://youtu.be/jk1w7AvsYDM
CBRL has branches in Baddeck, Dominion, Donkin, Florence, Glace Bay, Ingonish, Louisbourg, Main-a-dieu, New Waterford, North Sydney, Reserve Mines, Sydney, and Sydney Mines. It also has two bookmobiles, which drive a combined total of 20 routes, stopping in almost every foreseeable community in Cape Breton County and Victoria County at least once a month.
And although ECRL and CBRL are two separate library systems, you can easily borrow books in Baddeck and return them in Margaree! Or borrow a book in Port Hawkesbury and return it in North Sydney – this is called the Borrow Anywhere Return Anywhere initiative.
Yes, I am biased, I am a librarian, but what other community facility exists that perfectly complements so many aspects of sustainable living?
For more information about the specific libraries, visit the websites http://www.ecrl.ca and http://www.cbrl.ca
Next week, I'll share some of our libraries' great resources for planning your garden!
Erin Phillips was recently interviewed on Dream Big Cape Breton, along with her partner Brian Dean, a luthier. She is a Whitney Pier resident and currently on maternity leave from her position as Victoria County Libraries Supervisor for the Cape Breton Regional Library. (Note: her views and opinions as expressed in the blog do not represent the views of CBRL.) She'll be writing for Dream Big Cape Breton weekly on great books that help healthier and more sustainable living , that are available at our local libraries!